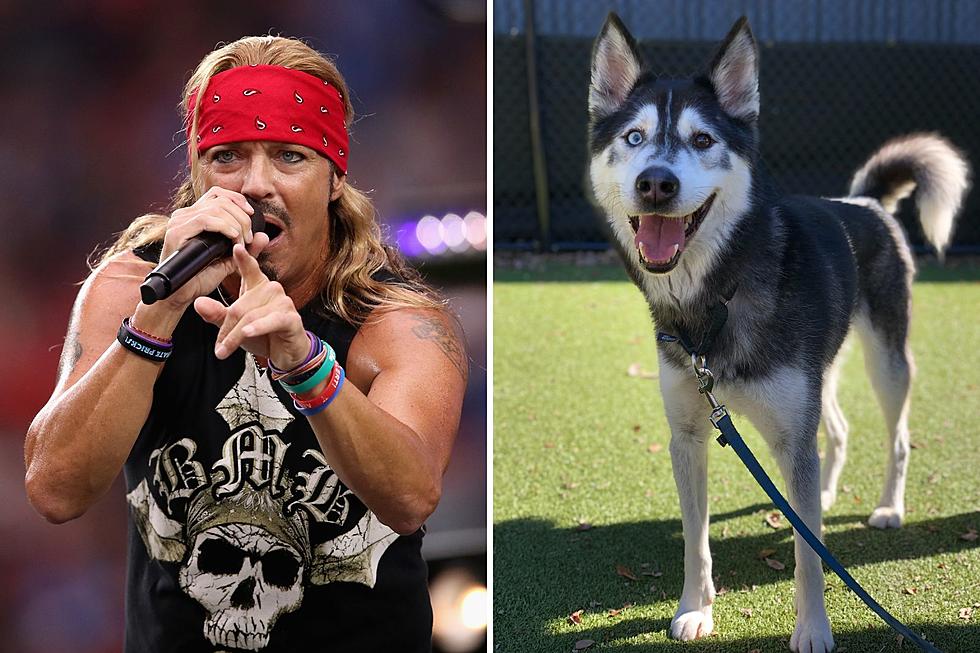 Bret Michaels Adopts 'Heroic' Shelter Dog That Was Named After Him
Christian Petersen, Getty Images/Nebraska Humane Society via Facebook
A dog named after Poison's Bret Michaels is now living with his namesake after he was adopted from a shelter in Omaha, Nebraska.
The 6-year-old husky mix's lifesaving efforts in recent weeks may have helped grab the rocker's attention.
You can see photos of Michaels' new pet below.
How Bret Michaels (The Dog) Saved A Life
According to the Omaha World-Herald, Bret Michaels the dog was needed to donate blood to save the life of a kitten with flea anemia at the Nebraska Humane Society. FirstVet.com says the condition is often deadly for kittens as their systems are not strong enough to combat heavy flea infestations.
"Transfusions (to a cat) from a dog can be done once," Pam Wiese, shelter spokesperson, told the newspaper about the rare procedure. "That gives the kitty time to build antibodies."
The dog was chosen as a donor since he had just recently had his blood checked by Humane Society staff. The shelter shared on social media there wasn't enough time to wait for a feline donor.
The World-Herald reported a family offered to cover the dog's adoption fee for anyone who wanted to bring him home as a reward for his heroic efforts.
How Bret Michaels (The Human) Got Involved
In the days following their Facebook post about the procedure, the Nebraska Humane Society got a call that Bret Michaels of Poison wanted to adopt the dog himself.
"One phone call later and guess who's gonna be living the rock star life from her on out?" the shelter shared in a follow-up post.
Michaels was grieving the recent death of his German Shepard and wanted to bring home a new dog. His dog, Phoenix, died earlier this month.
In a post announcing the dog's adoption on social media, Michaels said "he's got everything that says - I'm Bret Michaels A Husky and I've been adopted by Bret Michaels The Rockstar."
The kitten helped by the procedure continues to improve. It has since been given the name Roses & Thorn in keeping with the Bret Michaels/Poison theme.
80 Debuts That Helped Shape '80s Pop Culture
Movies, music, fashion, food - there were some incredible firsts during the decade.
Gallery Credit: Corey Irwin
More From Ultimate Classic Rock