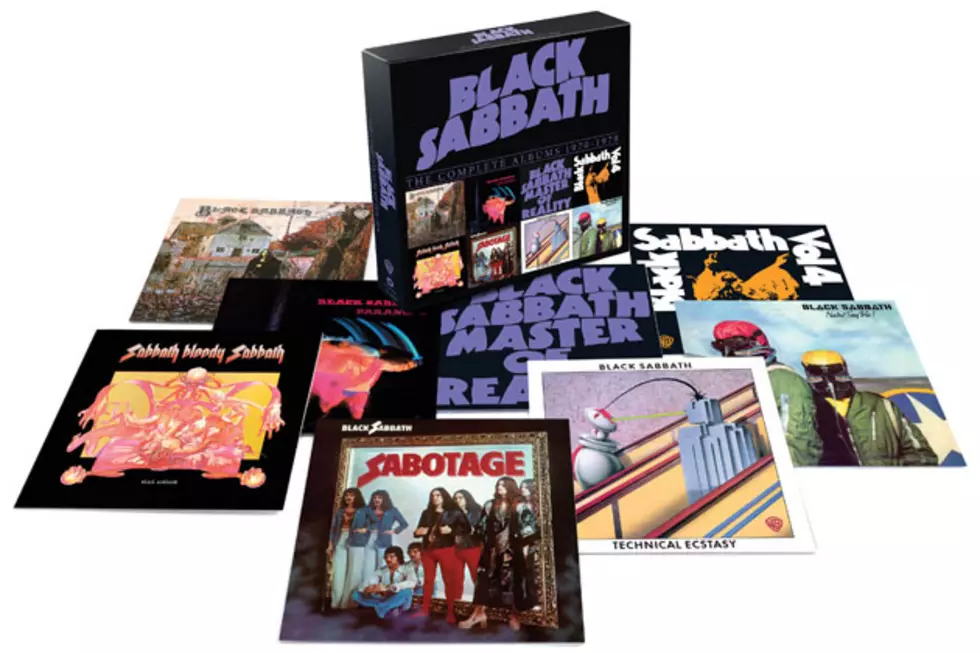 Black Sabbath to Release Box Set of Early Albums
Rhino
The albums Black Sabbath recorded during their first go-round with Ozzy Osbourne will be collected in a new box set. Rhino will release 'Black Sabbath: The Complete Studio Albums 1970-1978' on April 15.
Included in the set are compact discs -- housed in a clamshell box -- of the eight records they made in that time frame, from their 1970 self-titled debut all the way up to 1978's 'Never Say Die.' Following the tour in support of that album, Osbourne was fired due to his substance abuse issues replaced by Ronnie James Dio.
Black Sabbath's successful reunion last year, which saw them win a Best Metal Performance Grammy for their song 'God Is Dead?' and embark on a world tour, will continue in 2014. They will play 12 dates -- two in the U.S. and 10 in Canada -- over the course of a month beginning March 31 in Brooklyn. However, they have dismissed talk of recording a follow-up to '13,' while admitting that they are ruling nothing out.
'Black Sabbath: The Complete Studio Albums: 1970-1978'
'Black Sabbath' (1970)
'Paranoid' (1970)
'Master of Reality' (1971)
'Vol. 4' (1972)
'Sabbath Bloody Sabbath' (1973)
'Sabotage' (1975)
'Technical Ecstasy' (1976)
'Never Say Die!' (1978)
More From Ultimate Classic Rock