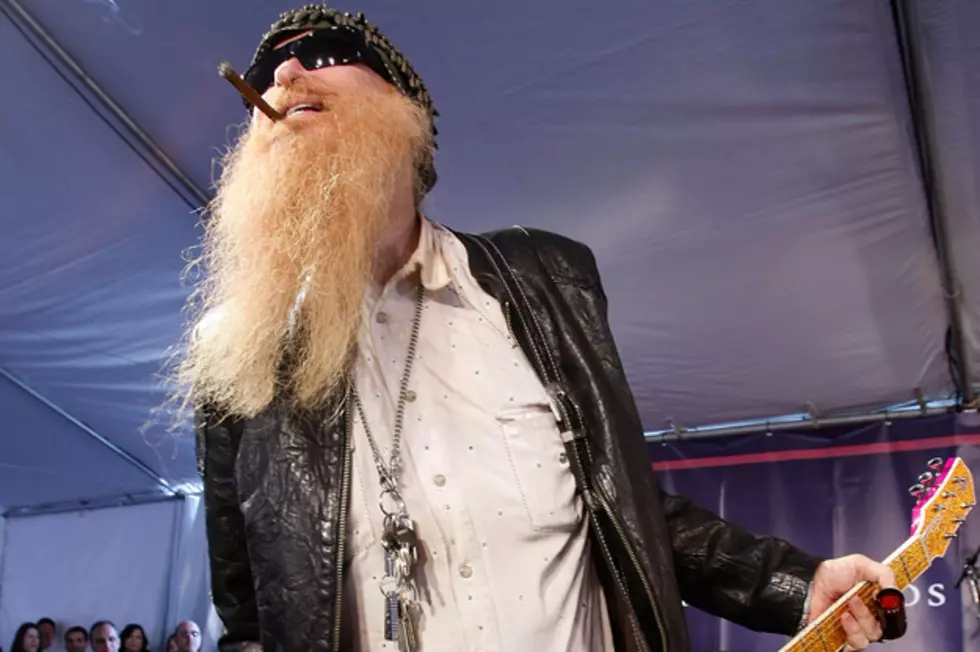 Billy Gibbons of ZZ Top Talks New Album, Surviving Four Decades on a Tour Bus
For over 40 years, ZZ Top frontman Billy Gibbons has been one of the coolest guys in all of rock n' roll. He's always sharply dressed, always managing to wring new interesting twists and riffs out of the trio's well-established sound, and always good for a good turn of a phrase. So imagine our excitement when he agreed to chat with us.
Billy talked about going through ZZ Top's archives for recent box sets and concert videos, and what impact that exploration might have on the band's next record. We also got his views on how technology is going to change how people enjoy music in the future, and which new bands he's been digging on lately.
The end of 'Nasty Dogs and Funky Kings' is pretty much the coolest minute of music ever. How much longer did you keep playing it in the studio and how did you find the strength to stop?
A 'Fandango' favorite!  Truth be told, that session went on for quite a while after the fade you hear on the record 'cause when you get yourself in a great groove, why bother to get out except for Mexican beers and a little hot sauce and Renegade guacamole.
What can people expect from your next album? Any ideas for an album title or song names?
It's gonna be loud, down and dirty.  We thought about calling it 'The Whole Enchilada' or 'Burrito Deluxe' -- however, they're already in service.  We're open to suggestions.
Has the recent series of re-releases -- the box set, the 'Double Down' 1980 concert - influenced your plans or methods for future projects?
Quite so...!  It's back to the basic elemental ZZ sound that got us up and running just four decades back.  And then again, it's about getting down on doing what we've always been doing on some level or other with the luxury of having the force of history behind the continuum.
How do you listen to your music --  CDs? Albums? Digital?
Digital on the road, but who doesn't like taking a fresh LP out of the sleeve and whipping it on a turntable and dropping that needle down on the first groove.  We could analogize that with sex but we're just not going to go there ... yet!
What do you think of the recent vinyl resurgence?
We think it's quite "groovy" since the rich tone one gets from a fine vinyl pressing has never been equalled (or EQ'd.)
What effect do you think podcasting and streaming radio will have on future generations of music fans?
It's offering a wealth of choices that can be quite overwhelming.  If you know what you like, however, it's easier to find "the good stuff."
How did you get together with Queens of the Stone Age? Were you already familiar with their work? What other young bands do you enjoy? How actively do you seek out new music?
We've been friendly with Josh Homme for quite a while and, of course, a fan of his band's music so it was a result of those relationships that we got together to play.  We knew their earlier music and, of course, they were quite aware of ours.  We're big fans of the North Mississippi All Stars. I mean a drummer, a bass player and guitarist -- sounds like a formula we can totally get behind.
What advice would you give a young band about getting along with their bandmates for, say, four decades?
If each one gets his or own bus it can only help ... When you get to the gig, acquaintances are again refreshed and in that way, band challenges remain keen.  Actually, when we get to the venue parking lot, we emerge and, time allowing, get the lineup of radio controlled race cars out and throw a mini grand prix before the concert cranks up.
Do you use a ZZ Top keychain for any of your cars?
Yes, of course!  There's one connected to the key in the ignition of our latest, the "Mexican Blackbird," a so, so fine '58 Thunderbird with a scalloped paint job that will make you swoon.

Watch ZZ Top perform 'Just Got Paid' from 1980 on the 'Double Down' DVD
More From Ultimate Classic Rock