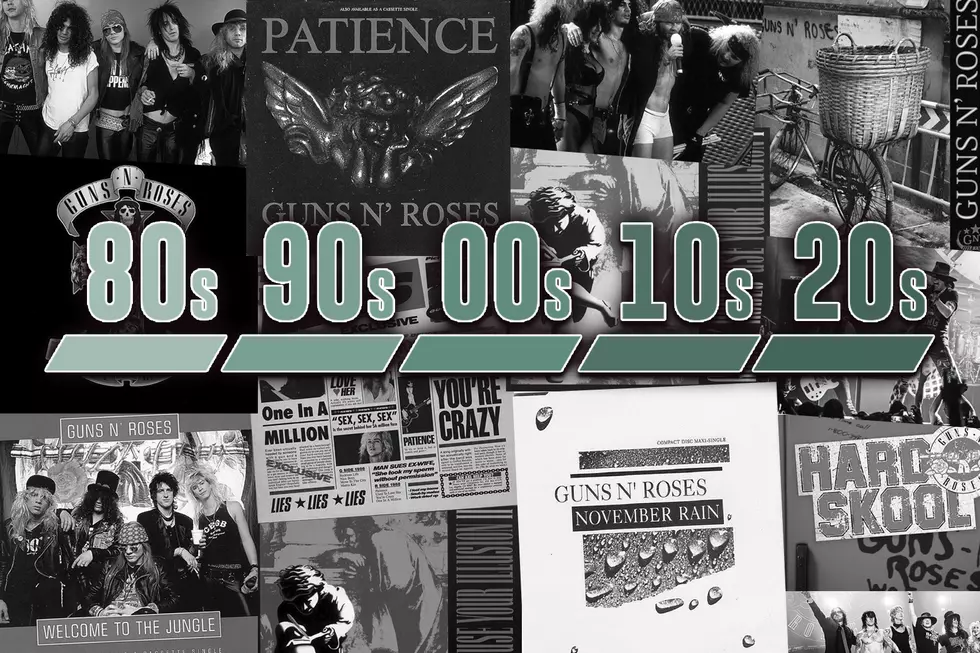 The Best Guns N' Roses Song From Every Decade
UCR
For all of their album sales, accolades, headline-grabbing antics and towering legacy, Guns N' Roses have a remarkably small discography.
They catapulted to stardom with 1987's Appetite for Destruction. The LP sold 18 million copies in the United States — making it the bestselling debut album of all time — and spawned the No. 1 hit "Sweet Child O' Mine" and the Top 10 smashes "Welcome to the Jungle" and "Paradise City."
The stopgap G N' R Lies followed in 1988, selling 5 million copies and producing another Top 5 hit in "Patience." But a proper follow-up to Appetite would not arrive until 1991, when Guns N' Roses issued the dual Use Your Illusion albums, full of furious rockers and grandiose ballads such as the No. 3-peaking "November Rain."
Following the sprawling Use Your Illusion Tour and the 1993 covers album "The Spaghetti Incident?", Guns N' Roses fell into a period of inactivity as all original members besides Axl Rose left. He spent the next decade and a half toiling in seclusion on the exorbitantly expensive Chinese Democracy, which finally saw the light of day in 2008. (The industrial metal-tinged "Oh My God," which appeared on the End of Days soundtrack, came and went with barely a blip in 1999.) Another 13-year drought followed, and in 2021 the semi-reunited lineup (Rose, Slash and Duff McKagan) released a pair of singles, "Absurd" and "Hard Skool," and Slash promised more repurposed and brand-new material in the future.
That's not a whole lot of material to hang a career on, but Guns N' Roses' classic-era albums were so massive that they continue to generate interest decades after the band's formation. Read on to see the best Guns N' Roses song (and the top runners-up) from every decade.
'80s: "Welcome to the Jungle," Appetite for Destruction (1987)
This might be a cliche or predictable choice, but it's also the right one. "Welcome to the Jungle," the opening track on Guns N' Roses' watershed debut album, represents everything they stood for. All of the musical elements that made the band so magnetic and volatile are on display: Slash and Izzy Stradlin's sinewy guitar riffs and solos, Steven Adler and Duff McKagan's loose-limbed grooves and Axl Rose's air-raid siren wail and mildly orgasmic yelps. "Welcome to the Jungle" emanates danger; it's the sound of five hungry street urchins with nothing to lose being plopped in the devil's playground and told to run wild. It made their meteoric rise to stardom seem imminent — and their spectacular implosion inevitable.
2. (Tie) "Sweet Child O' Mine," Appetite for Destruction; "Paradise City," Appetite for Destruction
'90s: "November Rain," Use Your Illusion I (1991)
"If it's not recorded right, I'll quit the business," Axl Rose told Rolling Stone in 1988 about his burgeoning mega-ballad "November Rain." He spent nearly a decade agonizing over the opus, which reportedly swelled to 18 minutes before being whittled down to a relatively lean nine minutes, according to Slash's autobiography. "November Rain" was a complete 180 from the sexist bravado of Appetite for Destruction — a lovesick, string-laden piano ballad that showed the breadth of Rose's songwriting and his affinity for Elton John and Queen. Slash's searing outro solo is one of the most iconic of his career, and "November Rain" is the consummation of everything Guns N' Roses set out to achieve on the gargantuan Use Your Illusion albums.
2. (Tie) "Don't Cry," Use Your Illusion I; "You Could Be Mine," Use Your Illusion II (1991)
'00s: "Better," Chinese Democracy (2008)
Axl Rose spent 15 years and $13 million making the sprawling, genre-hopping Chinese Democracy, and "Better" somehow manages to condense all of the singer's supersized ambitions and mind-boggling idiosyncrasies into one five-minute package. Combining trip-hop beats, alien-like guitar leads, yearning alt-rock melodies, singsong vocal hooks, clobbering breakdowns and skyscraping screams, "Better" sounded simultaneously like the GNR of yesteryear and a brand-new entity upon release. (Tellingly, it's remained a set list staple for the reunited lineup.) Upon release, the song proved Guns N' Roses' frontman was still a peerless, innovative songwriter when he rose to the occasion. He just had to get there on his own terms.
2. "Chinese Democracy," Chinese Democracy
3. "There Was a Time," Chinese Democracy
'20s: "Hard Skool," single (2021)
"Hard Skool" technically isn't a "new" Guns N' Roses song, but a repurposed Chinese Democracy-era track featuring newly recorded parts from Slash and Duff McKagan. Despite its piecemail nature, the song rocks with an urgency and conciseness not heard from the band in decades. Slash lays down effortlessly catchy riffs and muscular, bluesy solos, while McKagan's one-note bass intro recalls the throttling "It's So Easy." Rose, meanwhile, sounds like he's about to explode out of the vocal booth and into listeners' homes when he unleashes his sandpapery scream on the song's anthemic choruses. "Hard Skool" might sound a little clean-cut compared to past GNR rockers, but it proves the semi-reunited lineup still has plenty left in the tank.
2. "Absurd," single (2021)
Guns N' Roses Lineup Changes: A Complete Guide (We Think)
Few bands have impacted rock 'n' roll the way they have, and even fewer have weathered as many changes.
The Story Behind Guns N' Roses' 'Hard Skool'
More From Ultimate Classic Rock