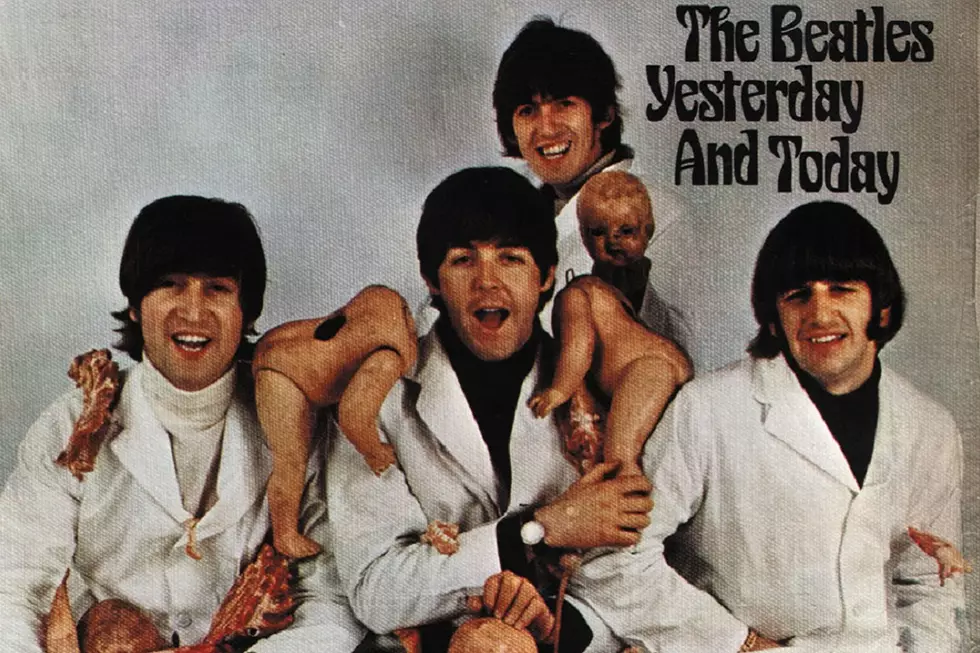 When the Beatles Courted Controversy With 'Yesterday … and Today'
Capitol Records
The Beatles created a slew of classic album covers, but the original sleeve for Yesterday … and Today is more infamous than iconic.
Capitol Records was hungry for more product to sell to fans in 1966. Over the past couple of years, the Beatles' U.S. record label had become accustomed to releasing multiple LPs by the band in a calendar year. They were able to outstrip the rate of British releases by slapping U.K. singles, B-sides and other tracks together to make additional collections (such as Something New or Beatles VI). As the Beatles became more serious about carefully crafting songs in the studio, there were less songs for Capitol to stretch. Also, by 1965-66, John Lennon, Paul McCartney, George Harrison and Ringo Starr were starting to create albums that were more than a slap-dash collection of tunes.
The most-recent Beatles album dated back to December 1965 (Rubber Soul) and the next one wasn't due until the fall of 1966 (Revolver). So, Capitol was getting antsy for a stopgap. Label executives decided to cobble together a track list out of the band's last three U.S. singles – "Yesterday," "We Can Work It Out" and "Nowhere Man" – and their corresponding flip sides. Capitol had shaved off a couple of songs from Rubber Soul – "Drive My Car" and "If I Needed Someone" – so those could be added too. Just like that, the label had created the majority of an LP with leftovers.
To round out the "new" album, the label planned to add on the Beatles' (actually new) single and B-side, "Paperback Writer" and "Rain." But when the band found out, they asked Capitol to let the single stand on its own – as all of their singles had in the Fab Four's home country. The label countered by requesting the first tracks that were deemed ready from the Revolver sessions. The band and EMI begrudgingly agreed. George Martin and pals dashed off hastily mixed versions of "I'm Only Sleeping," "Dr. Robert" and "And Your Bird Can Sing" and sent them stateside.
Yesterday … and Today would include music recorded over an 11-month time span, which might not sound like a lot now, but in "Beatle years" might as well have been a decade. Now, the album also needed a cover, prompting Capitol to ask Beatles manager Brian Epstein for a recent color shot of the boys. He passed along some relatively boring photos of the band posing lackadaisically with a steamer trunk. When the Beatles found out, they reportedly asked Epstein to send some other pictures they had done with the same photographer.
Bob Whitaker had held a photo session with the band in March which he termed a "somnambulant adventure." Whitaker noticed the Beatles were tiring of taking the same group photos over and over, so he jazzed this session up with props like a giant light bulb, a hammer and nails (for Harrison to "torture" Lennon) as well as butcher coats, hunks of meat and baby doll parts. The bandmates suggested that Epstein submit the "butcher" photos, in which the boys smiled while covered in meat, fake teeth and decapitated dolls.
Capitol dutifully printed up 750,000 copies of Yesterday … and Today with the semi-gruesome cover. Some advance versions were sent to disc jockeys and distributors, while the rest were shipped to be sold in the U.S. and Canada on June 15, 1966. And then the uproar started. Stores balked at selling such a product, DJs thought that the picture was a rare misstep by the band and distributors were furious with Capitol.
Lennon and McCartney stood by the cover, claiming it was a comment on the Vietnam conflict, but Harrison later agreed with the critics. In Anthology, he said the idea "was gross, and I also thought it was stupid. Sometimes, we did stupid things thinking it was cool and hip when it was naive and dumb – and that was one of them."
Capitol rushed a recall of all the LPs, demolishing some of the sleeves while replacing the covers of others with a sticker that featured the ho-hum steamer-trunk cover. It all happened quickly enough that the family-friendly version of Yesterday … and Today hit stores five days later, on June 20, 1966. The album was a big success, sitting at No. 1 for five weeks and selling enough copies for Capitol to still turn a profit, despite the costly recall.
Still, a few stores like Sears and Roebuck had already stocked the original version as planned, meaning that a handful of fans bought the "butcher cover" on the first day of release. Some of the big wigs at Capitol also kept an assortment of initial copies. Those who still have an original edition now have a collector's item. Versions that are in excellent condition have sold at auction for more than $100,000.
Today, Yesterday … and Today is more famous for its controversial cover than anything else, although it also marked a turning point in how the Beatles albums would be released in North America. Their albums subsequently began appearing with uniform track listings.
 
 
The Best Song on Every Beatles Album
You Think You Know the Beatles?
More From Ultimate Classic Rock