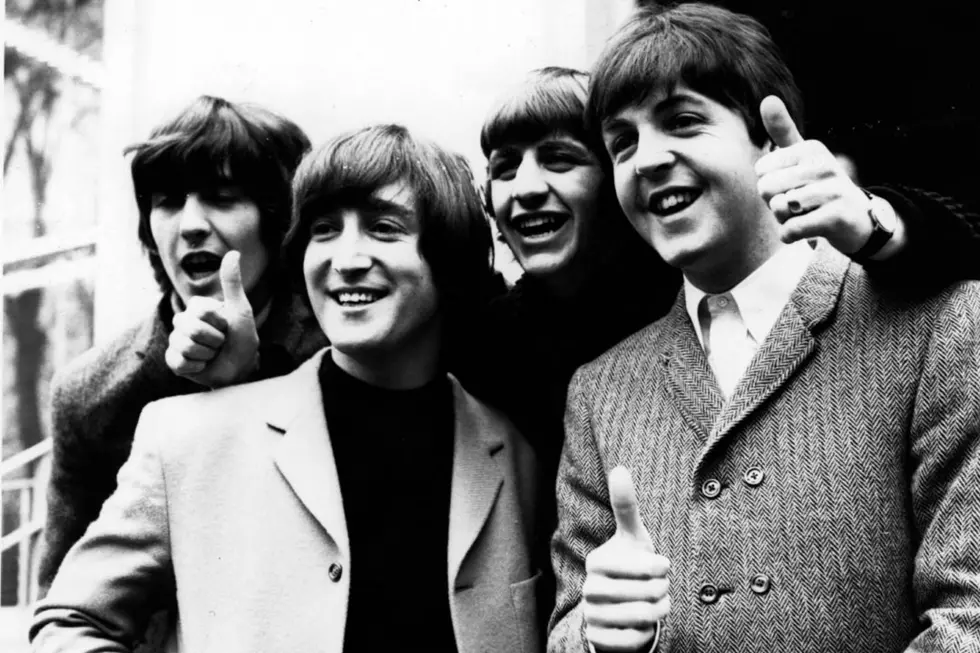 How the Beatles Entered a New Era With 'Drive My Car'
Hulton Archive, Getty Images
The Beatles spent more than five hours in Abbey Road's Studio Two on Oct. 13, 1965 trying to nail down "Drive My Car." Arriving at 7PM, it was the first time the band worked past midnight in the studio. The track would open the U.K. version of Rubber Soul.
Just four takes of "Drive My Car" were recorded that night. The last, which became the keeper, was the only complete run-through. Paul McCartney and John Lennon shared lead vocals, with McCartney later adding piano. George Harrison provided backing vocals and played a funky, low guitar lead inspired by a classic R&B bass track. Ringo Starr played drums and cowbell.
"Drive My Car" was written by Lennon and McCartney at Lennon's home in Weybridge, England. "This is one of the songs where John and I came nearest to having a dry session," McCartney recalled in Many Years From Now. "The lyrics I brought in were something to do with golden rings, which is always fatal. 'Rings' is fatal anyway, 'rings' always rhymes with 'things' and I knew it was a bad idea."
The co-writers dismissed the idea because they had already used the "rings" theme is "Can't Buy Me Love" and "I Feel Fine." "We struggled for hours; I think we struggled too long." McCartney said in Anthology. "Then we had a break and suddenly it came: 'Wait a minute: "Drive my car!"' Then we got into the fun of that scenario: 'Oh, you can drive my car.' What is it? What's he doing? Is he offering a job as a chauffeur, or what? And then it became much more ambiguous, which we liked, instead of golden rings, which was a bit poofy. 'Golden rings' became 'beep beep, yeah.' We both came up with that. Suddenly we were in L.A.: cars, chauffeurs, open-top Cadillacs, and it was a whole other thing."
Cars and chauffeurs have been used as a sly sexual reference as far back as 1939 when Billie Holiday sang "Some tell me baby you're built for speed" in "Billie's Blues." Memphis Minnie's 1941 "Me and My Chauffeur" was even more explicit: "Won't you be my chauffeur / I wants him to drive me / I wants him to drive me downtown / Yes he drives so easy / I can't turn him down."
"To me it was L.A. chicks, 'You can be my chauffeur,' and it also meant, 'You can be my lover,'" McCartney explained in Many Years From Now. "'Drive my car' was an old blues euphemism for sex, so in the end all is revealed. Black humor crept in and saved the day. It wrote itself then. I find that very often, once you get the good idea, things write themselves. So that was my idea and John and I wrote the words, so I'd go 70-30 on that to me."
"Paul's song," Lennon told Playboy in 1980. "He got this 'drive my car' thing and the 'beep beep beep' in the studio. I think we just threw it in."
Listen to the Beatles' 'Drive My Car'
McCartney has pointed out that, like Rubber Soul's "Norwegian Wood (This Bird Has Flown)," there is a surprise twist at the close of "Drive My Car." The woman in the tune admits she doesn't actually have a car "but I've found a driver and that's a start."
"We've written some funny songs — songs with jokes in," McCartney told NME soon after the two tracks were recorded. "We think that comedy numbers are the next thing after protest songs."
Beatles biographers have differed on whether Harrison or McCartney played bass on "Drive My Car." The issue was complicated by Harrison, who said in Anthology, "I played the bassline on 'Drive My Car.'"
But in 1977 Harrison explained in Crawdaddy that McCartney, on bass, mimicked his guitar lines. "What Paul would do, if he had written a song, he'd learn all the parts ... and then come in the studio and say, 'Do this.' He'd never give you the opportunity to come out with something.  But, on 'Drive My Car,' I just played the line, which is really like a lick off 'Respect,' you know, the Otis Redding version — and I played that line on the guitar and Paul laid that with me on bass. We laid the track down like that. We played the lead part later on top of it."
The Redding classic, which featured Donald "Duck" Dunn on bass, was released in August 1965, less than two months before the Beatles' session.
"In the early days, they were very influenced by American rhythm and blues," producer George Martin said in Anthology. "I think that the so-called 'Beatles sound' had something to do with Liverpool being a port. Maybe they heard the records before we did. They certainly knew much more about Motown and black music than anybody else did, and that was a tremendous influence on them."
The uptempo "Drive My Car" was chosen to lead off the U.K. release of Rubber Soul. But in the U.S., folk rockers like Bob Dylan and the Byrds were popular when Rubber Soul was released on Dec. 6, 1965. Capitol Records deemed "Drive My Car" too much of a hard rocker for the times. To maintain a softer sound, "Drive My Car" was left off the LP along with "If I Needed Someone," "Nowhere Man" and "What Goes On." The four songs were later included on Yesterday and Today, which was released in the States in June 1966.
 
 
Ranking Every Beatles Album
You Think You Know the Beatles?
More From Ultimate Classic Rock