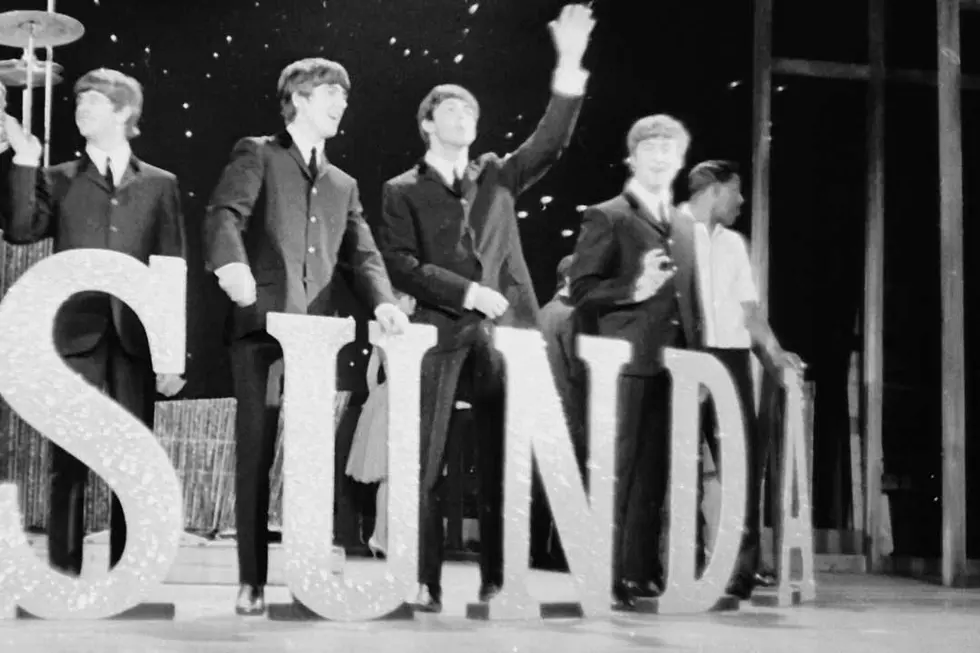 Edward Wing / Hulton Archive, Getty Images
When the Beatles took the stage on Oct. 13, 1963, to perform on the variety show Sunday Night at the London Palladium, they were four lads armed with the simple tools of their early classics: a bass, two guitars and a drum kit.
The psychedelia, the massive studio productions, the brilliance and adoration, suspicion and disintegration – those were years away. In this moment, cited widely as the birth of Beatlemania, it was simply John, Paul, George and Ringo, setting their homeland on fire.
The Beatles' first hit single in the U.K., "Please Please Me," hit No. 1 in early 1963; a full-length LP of the same name was released in March. "From Me to You" and "She Loves You" came next. When the Fabs appeared on the Palladium telecast, they had already completed three tours of the U.K. that year; a fourth would begin on Nov. 1.
In other words, this was a country primed to explode with mania over these four guys. It was the insanity surrounding this single TV appearance that brought the group fully to the attention of the national media and inspired newspapers to invent the term "Beatlemania" to describe this phenomenon. It was unique at the time, mobs of teenage girls filling the streets and caterwauling on Sunday night television over a pop group. Since then, we've seen everyone from Leif Garrett to Justin Bieber inspire similar squeals; it all began in London on this day.
You can find the full performance on YouTube (or at least the audio), and it's like a strange transmission from another planet. There's the constant buzz of teenage screams over everything, then what sounds like cavemen beating on rocks to the ear of a modern listener. There's the brute force of hard-earned experience in their licks and riffs, honed playing multi-hour sets in the rock clubs of Hamburg, Germany.
The Beatles weren't innovators in 1963, though they soon would be. They were using the same building blocks that birthed Chuck Berry, Elvis Presley and other rock 'n' roll pioneers who influenced them. It was the blues, soul, gospel and a sprinkle of pop showmanship they added for extra added spice. Still, when the Beatles brought those ingredients together, something new emerged, something primal. It's the sound of modern pop music being forcefully willed into existence.
 
 
The Best Song on Every Beatles Album
Who Was the Fifth Beatle?
More From Ultimate Classic Rock