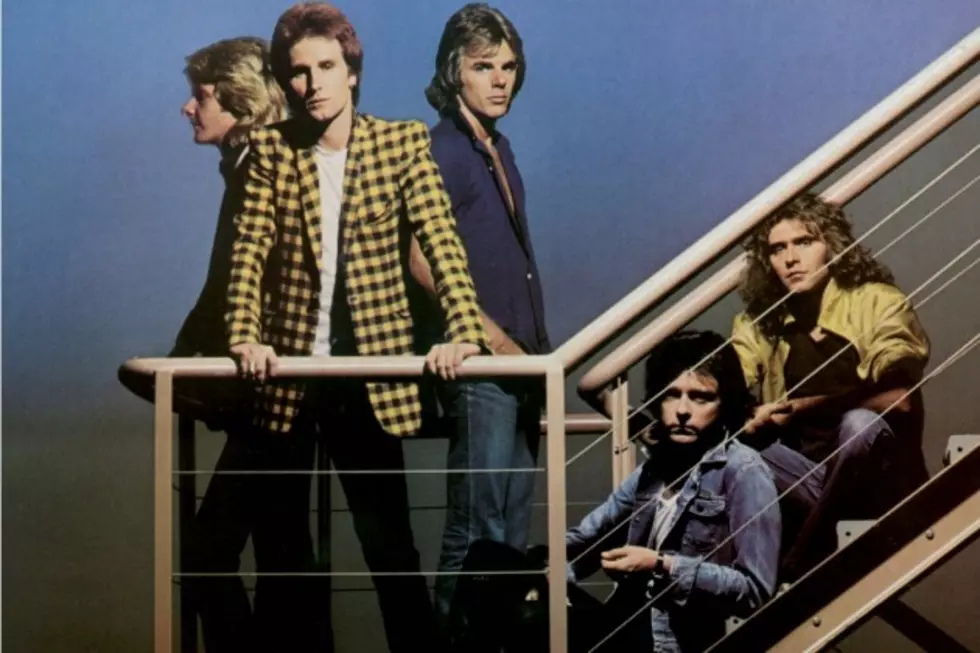 35 Years Ago: The Babys Release Their Final Album, 'On the Edge'
Chrysalis
After the Babys scored a Top 40 hit with "Back on My Feet Again" from their Union Jacks LP in early 1980, they seemed like they might finally be close to a commercial breakthrough — but the title of their next album, On the Edge, had a much darker meaning.
The truth was, behind the scenes, the band had started caving in after a long period of exhaustive touring and recording. They'd gained a fresh creative spark during the Union Jacks sessions thanks to the new arrivals of bassist Ricky Phillips (drafted to relieve vocalist John Waite of instrumental duties so he could focus on singing) and keyboard player Jonathan Cain (brought in to replace departed co-founder Michael Corby), but even after another medium-sized hit and another lengthy round of live dates, they found themselves looking for that one big break that had always seemed to elude them.
"We had huge success at first – really, really big. You could not turn on AM radio and not hear 'Every Time I Think of You.' And you couldn't turn on FM radio and not hear 'Head First.' And they were both on the same record," Waite told Michael Cavacini. "We were touring with big bands, we were all over the TV, all over the radio but then Chrysalis told us we weren't selling records ... and it just stopped everybody in their tracks. I think that's when we almost broke up. Truly, at that point I think we thought, f--- it, it's impossible, we'll never get out of debt, we'll never be able to continue."
On the ropes, the Babys rebounded with the Union Jacks record, only to get another round of bad news from the label. "Again, Chrysalis turned around and said the album didn't sell. So, we really felt like we were done – there was no future."
In the midst of all this, the band started working on what was to become its fifth album, On the Edge, while out supporting Union Jacks with a long tour in support of Journey. With five songwriters in the band, coming up with material wasn't really a problem, but the feeling of exhaustion and low morale wasn't helped by the fact that Cain was drifting into Journey's creative orbit and the Babys no longer had his full attention.
"Three or four things on that were stupendous – 'Turn and Walk Away,' 'Darker Side of Town,' 'Post Card' and 'Gonna Be Somebody,'" Waite told Assignment X. "At the same time, Jonathan Cain left, and was helping Journey write songs, and he would came back every couple of weeks and look at us like he didn't care and then disappear again. It was a tough period, but we managed to turn out half a great record."
"Half a great record" wasn't necessarily what the Babys needed after Union Jacks, however, and On the Edge petered out quickly after its release in October 1980. It definitely didn't help that Waite injured himself during a show shortly after the tour started, forcing the cancellation of a series of dates, but at that point, the band's fate was largely sealed. Looking back, Waite argued that in his eyes, touring was no longer a truly effective method of enlarging the band's fanbase.
"You can't keep going back to Detroit because you're big in Detroit. You can go maybe once a year and sell it out because everybody loves you and looks forward to seeing you again. You can't go back twice in the same year," he pointed out. "You can't go to Cleveland twice. And we were doing things like that. We were on the road all the time, and we ran out of places to play. Chrysalis just dropped the ball completely. But it was a relief when it was over and I went home."
"You could chart our record sales by what city we were in and which way we were moving in the country and that's where we've sold records," agreed Phillips in an interview with Ultimate Classic Rock's Matt Wardlaw. "So being out on the road is where we had to be to sell records. For some reason, the job wasn't getting done by the record company. We were certainly getting airplay, so you would think that would be enough, but it was just one of those anomalies. It wasn't working like it was for other bands. And it was frustrating. Bands loved touring with us — for a while there, we were the opening act for everybody."
After so many years spent leaning into a ceaseless grindstone, it was perhaps inevitable that once the Babys called a halt to the On the Edge tour and came to a temporary halt, the wear on the band members would leap into stark relief. By the end of 1980, with the album lingering in the lower reaches of the charts and other opportunities beckoning, there were no longer enough reasons for the group to stay together. Early 1981 marked their official dissolution, with Cain quickly joining Journey and Waite starting a solo career.
"After that everyone was [wiped out]," Cain added in a separate interview. It was kind of the end of the Babys. All of the radio stations played nothing but [John] Lennon music and our singles didn't matter anymore. So, we did turn and walk away, like that single," he laughed. "That's when I got the call from Journey saying, 'Hey, we want you.' And John had already been playing on getting out of Chrysalis and going solo, so when I called him he said, 'Go ahead and take it. It's a good thing.' So I did."
It certainly ended up being a good thing for Cain — and for Journey — but there was definitely a bittersweet element for Phillips. "I saw a lot of those songs that would have been on the next record on Journey's next record and that was the biggest record I think they ever did," he told Ultimate Classic Rock. "Jonathan Cain, a huge writing force with us at that point — a lot of those big Journey songs would have been on the next Babys record. Which coupled with my songs and John Waite's songs, it would have been a different flavor, a different taste, but who knows? We'll never know."
Even though it's impossible to tell whether greater success might have beckoned if the Babys had found a way to stick together for another album, it's perhaps telling that toward the end of the decade, Waite reunited with Cain and Phillips for the multi-platinum-selling Bad English, suggesting that their creative blend might have been just a few years ahead of its time.
"I always thought that the Babys were five years ahead of everybody else, I really do," Waite told Ultimate Classic Rock. "They were. We had enormous problems inside the band, in the old version and the new version, it was always trouble. It wasn't easy at all, but I think we were always ahead of the curve. But the fact that it might have been too early, isn't that great?"
See the Top 100 Albums of the '80s
This Day in Rock History: October 26
More From Ultimate Classic Rock