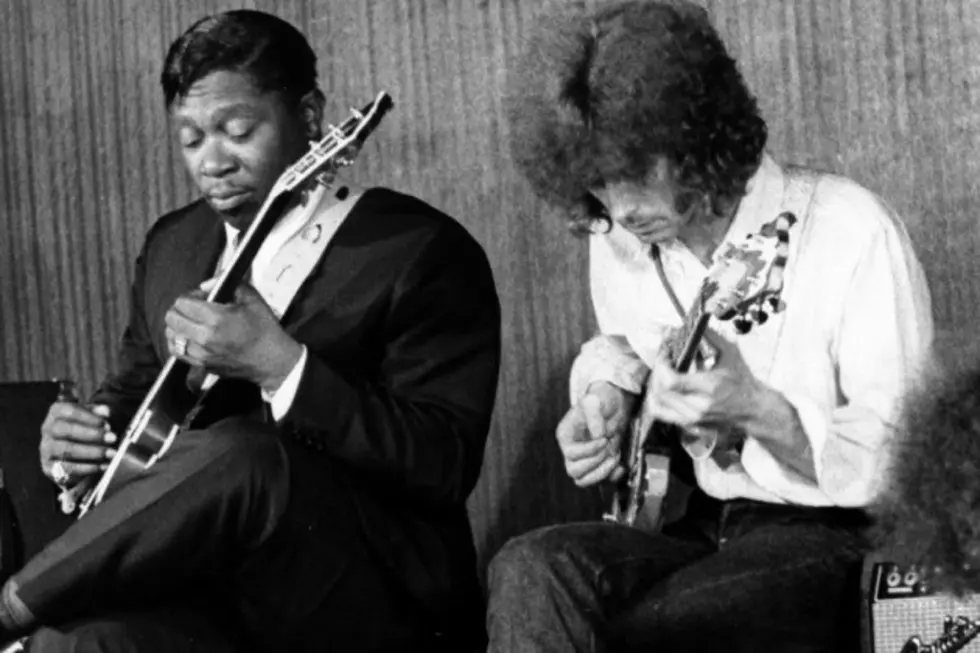 B.B. King's Best Rock Collaborations
Michael Ochs Archives, Getty Images
B.B. King's contributions to the blues inspired countless rock artists who grew up listening to his records — some of whom were lucky enough to make their own music alongside the legend. Here are a few of the brightest highlights from King's many career crossovers.
U2

"When Love Comes to Town"

Rattle and Hum prompted plenty of criticism, with more than one pundit accusing U2 of completely giving in to their most most bombastic, overly earnest tendencies on their 1988 album. Whatever the project's shortcomings, it's hard to find too much fault with any effort that finds a band taking such great pains to shine a light on their musical heroes — and while the soundtrack might be a little short on quality tracks, King adds some satisfying heft to "When Love Comes to Town."

Eric Clapton

"Riding With the King"

The last 25 years or so have seen Eric Clapton more or less stop pretending to be a pop artist, and expend a substantial portion of his commercial capital on projects that honor his blues influences — like 2000's Riding with the King, a collaborative album with King.

Billy Gibbons

"Tired of Your Jive"

To celebrate his 80th birthday in 2005, King released a record of duets, B.B. King & Friends: 80. Among the many guests was ZZ Top's Billy Gibbons, who stepped in for this tasteful (yet tasty) take on the blues standard "Tired of Your Jive."

Mark Knopfler

"All Over Again"

Also from the 80 project, this track unites two guitar legends famous for doing more with less and delivers a satisfying slow burn.

Elton John

"Rock This House"

Is it at all ironic that it took a birthday party for an 80-year-old blues guitarist to inspire one of Elton John's most rocking studio performances in recent memory? Maybe, but we'll still take it.

Roger Daltrey

"Never Make Your Move Too Soon"

Spend most of your career singing in front of Pete Townshend's guitar, then step out for a collaboration with B.B. King? Yeah, Roger Daltrey has led a pretty okay life.

Ringo Starr

"Part-Time Love"

Joe Walsh sat in on a couple of tracks for King's 20th studio album, 1972's L.A. Midnight. On this extended blues jam, he's part of an impressive chain of soloists that includes King and Jesse Ed Davis.

Stevie Wonder

"To Know You Is to Love You"

A pairing that made so much sense, and produced such fine results, that listening to this track makes us a little angry that it didn't lead to a lot more of the same.

Van Morrison

"If You Love Me"

Nothing brings out the best in Van Morrison like the opportunity to strike sparks with an artist he truly respects. This cut, from King's 1997 Deuces Wild LP, would make a sweet two-sided single with Morrison's 1991 rendition of "I Cover the Waterfront" alongside John Lee Hooker.

Bonnie Raitt

"Baby I Love You"

King traded licks with Bonnie Raitt on a number of occasions throughout his career, and listening to this track from Deuces Wild, it's easy to understand why.

The Rolling Stones

"Paying the Cost to Be the Boss"

When faced with the choice between listening to this or Bridges to Babylon, the other record the Rolling Stones appeared on in 1997, we'll happily take "Paying the Cost to Be the Boss."

Joe Cocker

"Dangerous Mood"

Another of the tasty duets from Deuces Wild, and a track that brought out the best in both performers. How did King and Joe Cocker not get together more often?

David Gilmour

"Cryin' Won't Help You"

Two masters of minimalist guitar uniting for a common cause, with the added benefit of bluesy vocals from the incomparable Paul Carrack. What more could you ask for?

Primitive Radio Gods

"Standing Outside a Broken Phone Booth With Money in My Hand"

Okay, so this isn't technically a collaboration — and a person would be hard pressed to argue that it counts as classic rock either — but as an example of how King's massive influence continued to filter down into the drum machine-and-sample era, it's impossible to ignore.
More From Ultimate Classic Rock