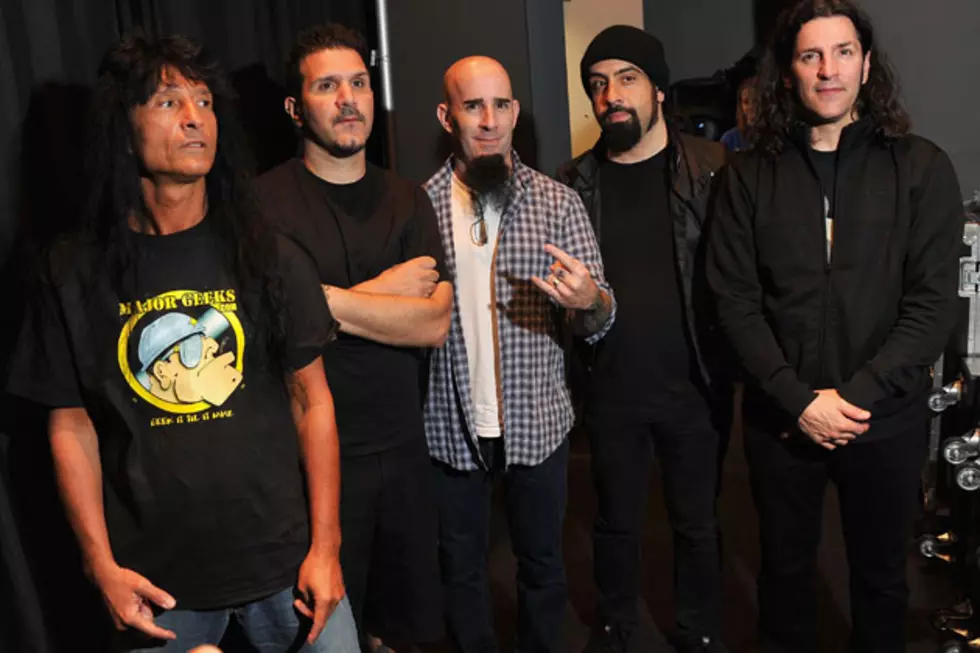 Anthrax Release Partial Track Listing for Classic Rock Covers EP
Theo Wargo, Getty Images
Anthrax have announced the partial track-listing for 'Anthems', a collection of classic rock cover songs that will be released as part of a revamped edition of their acclaimed 2011 album 'Worship Music' this coming March 18. Fans will also reportedly be able to buy the EP separately in digital formats.
With respect to performing the cover songs, Anthrax guitarist Scott Ian tells Billboard Magazine, "It was a lot of fun, especially because a lot of those (songs) aren't, I guess, normal for us or like so much of our repertoire -- although they are because they're songs we all knew. Maybe on paper the idea of us doing something like that seems weird, until you hear them and then it makes sense."
We might be in the early stages of 2013, however Anthrax already have a rather busy schedule: In addition to the band's Grammy Nomination for their song 'I'm Alive', the group is slated to headline this year's Metal Alliance Tour with Exodus starting on March 23.
Hear Cheap Trick perform 'Big Eyes':
Hear AC/DC perform 'TNT':
Hear Rush perform 'Anthem':
Hear Boston perform 'Smokin'':
Hear Thin Lizzy perform 'Jailbreak':
Hear Journey perform 'Keep On Runnin'':