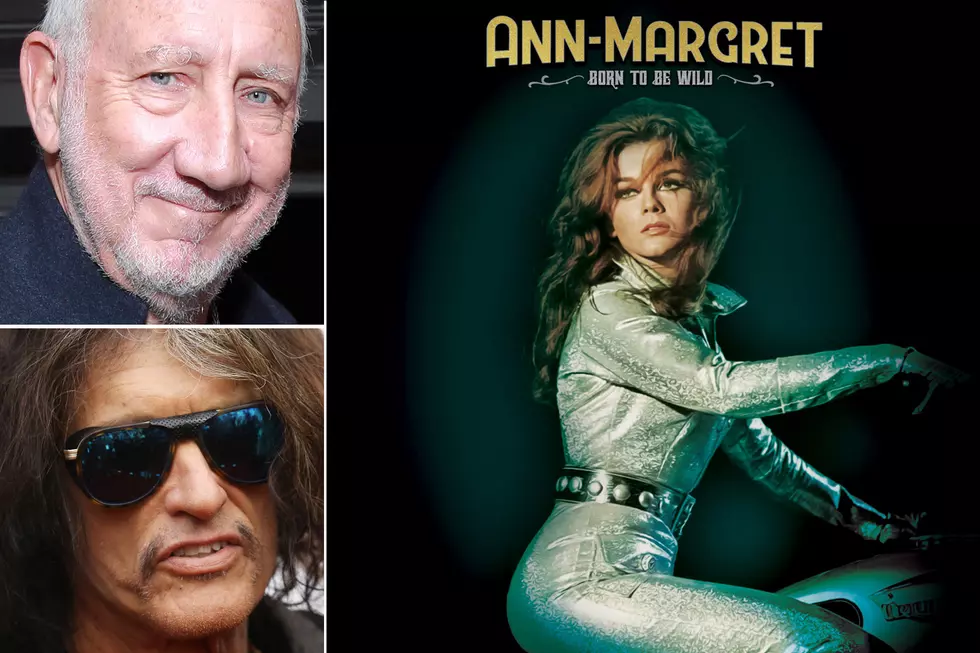 Pete Townshend and Joe Perry Guest on Ann-Margret's New Album
Rich Fury, Getty Images / Michael Tran, Getty Images / Cleopatra
The Who guitarist Pete Townshend can be heard in Ann-Margret's cover of the Everly Brothers' classic "Bye Bye Love," which appears on her first album in more than a decade.
Born to Be Wild features the Swedish actress and singer selecting some of her favorite tracks and recording cover versions with guests including Joe Perry, Steve Cropper, Rick Wakeman, Chip Z'Nuff, Robben Ford and many others.
"Being offered an opportunity to work with Ann-Margret, especially on an Everly Brothers song, was just too romantic to pass," Townshend said in a statement. "Ann-Margret's work on the Tommy movie back in 1974 (when she was most certainly not old enough to pretend to be Roger Daltrey's mother) was a joy from beginning to end. Her sonorous voice, her Scandinavian beauty, her sense of humor, her stamina and her strength all shone through."
The album's track listing and guest list, along with the cover of "Bye Bye Love," are available below.
"I am very honored and proud to have had this opportunity to record Born to Be Wild for Brian Perera's Cleopatra Records," Ann-Margret said. "What fun I had – and then to find all of the great artists that lent their support for this project! ... Reading the quote from my dear friend Pete Townshend brought back such great memories. Thank you all."
The album is available for preorder now, with an expected release date of April 14.
Ann-Margret, 'Born to Be Wild' Track Listing
1. "Rock Around the Clock" (feat. Joe Perry & Jim McCarty)
2. "Bye Bye Love" (feat. Pete Townshend & T.G Sheppard)
3. "Son of a Preacher Man" (feat. Steve Cropper & Brian Auger)
4. "Earth Angel" (feat. The Oak Ridge Boys & Harvey Mandel)
5. "Why Do Fools Fall In Love" (feat. Robben Ford & Chip Z'Nuff)
6. "The Great Pretender" (feat. Paul Shaffer, Danny B. Harvey & Adam Hamilton)
7. "Can't Take My Eyes Off You" (feat. Cliff Richard & Rick Braun)
8. "Born to be Wild" (feat. the Fuzztones)
9. "Splish Splash" (feat. Mickey Gilley, Linda Gail Lewis & The Rockats)
10. "Somebody's In My Orchard" (feat. Don Randi)
11. "Teach Me Tonight" (feat Pat Boone, Rick Wakeman & Damiano Della Torre)
12. "Volare" (feat. Lee Rocker & Slim Jim Phantom)
13. "Rockin' Around the Christmas Tree" (feat. Sonny Landreth)
The Who Albums Ranked
Half of the Who's studio albums are all classics, essential records from rock's golden age. But where should you start?
More From Ultimate Classic Rock