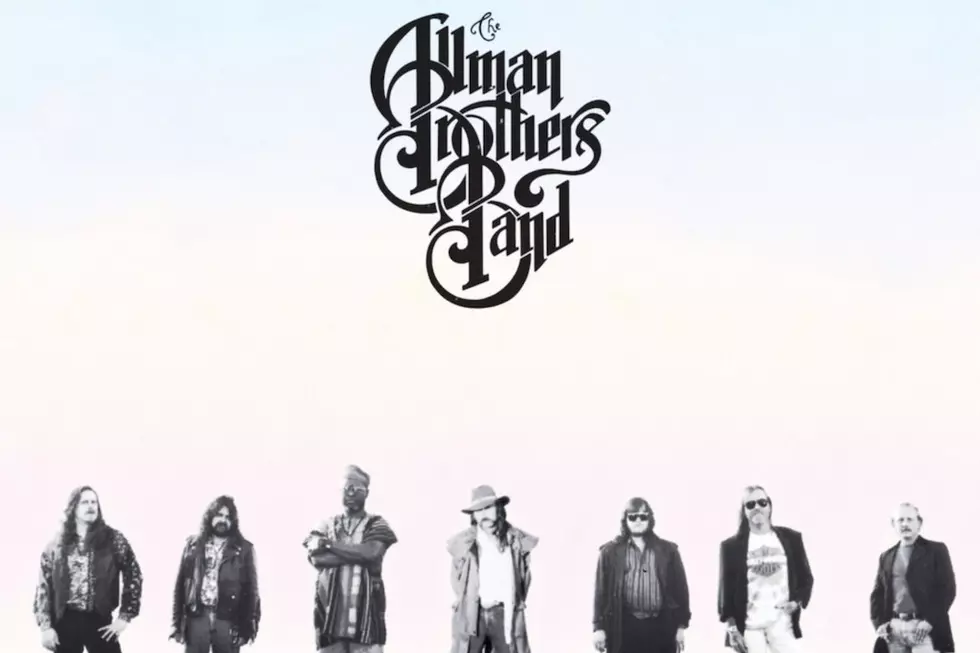 How the Allman Brothers Band Regrouped for a '90s Comeback
Epic
The early '80s breakup of the Allman Brothers Band was disappointing, but not exactly a surprise. Before the limping to a finish with a couple of uninspired records, they'd endured several careers' worth of turmoil, including the deaths of guitarist Duane Allman and bassist Berry Oakley. Feuding, in ill health and creatively adrift, the Allmans seemed to have run their course as a unit.
Their classic records lived on, however, and even as former bandmates Gregg Allman and Dickey Betts pursued individual careers throughout the '80s, affection for those old Allmans sides continued to grow — a resurgence aided by the growing popularity of the classic rock radio format. Somewhat ironically, it was Allman's and Betts' solo record deals that ultimately paved the way for the band's eventual reunion.
"Dickey and I both ended up on Epic Records, and they said, 'Hey, look what we got here,'" Allman recalled in a 1991 interview. Intrigued, Allman and Betts reached out to ex-Allmans drummers Butch Trucks and Jai Johanny "Jaimoe" Johanson, scheduling a summit. "They came to us with the idea and we got together and talked about it, and we all got together in Tallahassee at Butch's studio there. The vibe felt right; everything felt right. So, we gave it a try."
That meeting led to a 20th anniversary Allman Brothers Band tour in 1989, featuring a revamped lineup that included guitarist Warren Haynes and pianist Johnny Neel — both holdovers from Betts' solo band — and new bassist Allen Woody. Those dates, which included the first of many Allmans residencies at New York's Beacon Theatre, coincided with the release of a successful retrospective box, Dreams.
All of it helped set the stage for the band's first collection of new material in nearly a decade. The new album, titled Seven Turns, arrived in stores July 3, 1990. While it clearly presented a recently reunited group whose members were still learning how to play with one another again, it also offered an undeniably reinvigorated Allman Brothers Band. This new music, while not quite on par with their best work, still pulled off the once impossible-seeming feat of adding a compelling new chapter to their history.
To their credit, the Allmans didn't take the responsibility of reuniting lightly. The band's legacy looms large over Seven Turns, from the title track — inspired by a Navajo belief that we all face seven crucial decisions in life — to the way the new additions to the lineup, particularly Haynes, managed to harken back to the classic Allman Brothers Band sound while adding their own fresh elements.
"Seven Turns was a tough album, because we knew that the critics would use it to determine whether or not we should have remained broken up. We were under pressure to show that we belonged back together," Betts noted in Alan Paul's book One Way Out: The Inside History of the Allman Brothers Band. "We never doubted it, but the album simply had to prove that."
Watch the Allman Brothers Band Perform 'Seven Turns'
As Betts took pains to point out, the Allmans' new blood played a big part in their ability to deliver that proof. "We made changes we had to make in earlier versions of the band, but it was a little too much in the end. It wasn't by any means all bad, but the band headed off the path of what the original players had envisioned from the first day," he mused. "With Warren and Woody, we got back on that path."
It would also be impossible to overestimate the importance of the lifestyle changes that the various band members had made since splintering in the early '80s. Although they wouldn't get completely sober for several years — Allman in the mid-'90s, the late Trucks in 2001 — they were back on their feet and functioning again after the hazy years leading up to their breakup.
"About the only thing I do differently is I stay sober," Trucks told the Los Angeles Times in 1991. "I'm enjoying the hell out of playing straight. It seems to be the case with everybody. We're having a lot more fun. The energy is going into the music now, instead of all the side trips we got into in the '70s."
Seven Turns didn't exactly set the charts on fire: It stalled out at No. 53, an even lower placement than 1982's unloved Brothers of the Road. Still, the album was embraced by rock radio, where the leadoff single "Good Clean Fun" went to No. 1 and its follow-ups, "It Ain't Over Yet" and the title track, both reached the Top 30. More than most fanbases, Allmans fans understood there was really no bringing back the past. With this album, however, the band managed to honor its past glories without being beholden to them.
A crossroads effort in several ways, the Seven Turns sessions also pointed toward the Allman Brothers Band's future by marking their first exposure to a musician who'd later become a major component of their latter-day sound. During an off day, Trucks invited his bandmates out to watch nephew Derek Trucks performing at a club near Criteria Studios in Miami, where they were recording. After hearing he was only 10, they took some convincing, but they eventually agreed to go. By the end of the decade, Trucks was a full-fledged member of the band.
"I felt like Seven Turns was timeless," the late Allman reflected in One Way Out, saying "it sounded like it could have come out in '69." He attributing that, in part, to the return of producer Tom Dowd, who'd helmed some of the band's best-loved albums. "He's very much like an eighth member of the band. He's like a father to me: teacher, father, guru — take your pick. He helped me get through some tough times," Allman added. "He came out for most of the whole tour we did before recording Seven Turns and knew where we were, and that made it real easy to get where we needed to be."
Lineup changes would continue to impact the Allman Brothers Band over the years that followed — starting with Neel's departure the following year, and the arrival of percussionist Marc Quiñones. Still, Seven Turns marked the start of a fairly stable new chapter in the band's existence, producing some of their better studio records (including 1991's Shades of Two Worlds and 1994's Where It All Begins) and helping them reassert themselves status as one of rock's most reliably dynamic live acts.
 
 
Ranking Every Allman Brothers Band Album
More From Ultimate Classic Rock