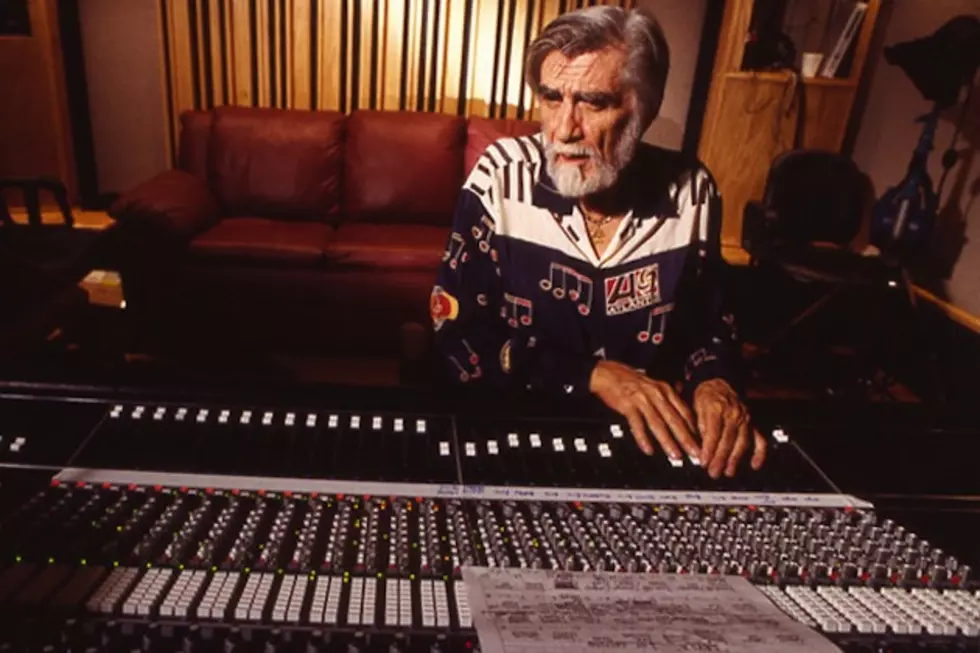 Palm Pictures
Tom Dowd wasn't just any old record producer, but arguably the "oldest" of them all - as in the father of both the art and science of producing musical recordings. A multi-instrumentalist and trained nuclear physicist, Dowd abandoned the Manhattan Project (yes, that Manhattan Project!) in the late-40s to join a brand-new company, Atlantic Records.
There, he spent the ensuing decades applying both his ears and technological acumen to capturing the performances of R&B greats, while simultaneously pioneering major developments such as stereo and multi-track recording. By the time the classic rock era hit its stride in the late-'60s, Dowd was already recognized as a legendary elder statesmen, whose name alone could validate an artist's career. And this is something that our list of Top 10 Tom Dowd Records will clearly show.
10

Before we wade into the universally known million sellers overseen by Tom Dowd, we'd like to shed light on this hidden gem of early-'70s hard rock, featuring former Jimi Hendrix Experience drummer Mitch Mitchell, Iron Butterfly associate Mike Pinera, and a precocious six-string prodigy (and early female guitar hero) by the name of April Lawton. Together, they were briefly known as Ramatam, and their eponymous debut from '72 was blessed by Dowd's mentoring touch, but, alas, little good fortune, besides - which explains why both it and the short-lived "super group" have since sadly faded into history.

9

'To Bonnie from Delaney' (1970)


Delaney & Bonnie


By the time they jumped from Elektra to Atlantic Records and hooked up with Tom Dowd for this fourth album, Delaney & Bonnie had already toured with Eric Clapton and befriended everyone from Duane Allman to Little Richard (both of whom appear on this LP). But you can bet that it was Dowd's lengthy experience recording Ray Charles, Aretha Franklin, and all those classic Atlantic sessions that helped the husband-wife duo achieve a career-defining caliber of rocking blue-eyed soul on 'To Bonnie from Delaney.'

8

Here's the part where Rock and Roll Hall of Famers start packing into our list of Top 10 Tom Dowd Records like sardines ... with Rod Stewart's pivotal sixth studio LP (and first entirely free of Faces connections), 'Atlantic Crossing.' Clearly, such a crucial endeavor to assert Stewart's independence (and signify his literal relocation to America from Old Blighty) required a stabilizing presence in the producer's chair, and that's where Tom Dowd's impeccable reputation and musical resume came in mighty handy, while delivering the goods, as hoped for, by Mr. Stewart.

7

When Lynyrd Skynyrd started experiencing some signs of flagging record sales, they turned from their original mentor and producer, Al Kooper (a legend in his own right), to Dowd, who helped them find their way again, beginning with fourth album, 'Gimme Back My Bullets.' But most would agree that the band only truly recovered their maximum mojo on their next Dowd-produced studio LP, 'Street Survivors,' which impressed consistently from start to finish and promised to usher in a new era for the group's career, until terrible tragedy took it all away.

6

We head due west, from swampy Florida to the Ozark Mountains, but remain in southern rock country with the next selection in our list of Top 10 Tom Dowd Records: Black Oak Arkansas' career-defining fourth album, 'High on the Hog.' While their reputation as a formidable touring band was already well established by 1973, charismatic hillbilly Jim Dandy Mangrum and his boys relied on Dowd's studio expertise to take their recording career to the next level, riding their signature cover of LaVern Baker's 'Jim Dandy' (and, presumably, the aforementioned hog) all the way to No. 25 on the Billboard Charts.

5

'461 Ocean Boulevard' (1974)


Eric Clapton


Eric Clapton's relationship with Tom Dowd dated back to the late-'60s and Cream, so when Clapton finally got his personal life in order and looked to get his oft-derailed solo career on track, he called on Dowd to help pilot the sessions for '461 Ocean Boulevard.' They repaired to Miami's Criteria Studios and assembled an eclectic collection of songs worthy of the guitarist's versatile talents - effortlessly swinging from the blues to soul music and even to reggae via the smash hit cover of Bob Marley's 'I Shot the Sheriff.'

4

It's only fitting that Tom Dowd's long association and interwoven legacy with southern rock should begin with the style's generally acknowledged founders, the Allman Brothers Band, and their landmark sophomore album, 'Idlewild South,' specifically. As the immensely talented group continued to gel around slide guitar genius Duane Allman's vision, baby brother Gregg's soulful vocals and organ playing became increasingly confident. Meanwhile, second guitarist Dickey Betts emerged as a key songwriting contributor ('Revival,' 'In Memory of Elizabeth Reed'), and it was all captured here by Tom Dowd.

3

'Disraeli Gears' (1967)

Cream

In 1967, Cream's immeasurable talents arguably found their purest and most cohesive expression in their second LP, 'Disraeli Gears,' which they knocked into shape in New York City, in only three hectic days. And while, nominally, it was future Mountain bassist Felix Pappalardi who produced the sessions, it is widely agreed that Tom Dowd -- working behind the scenes in his longstanding role as Atlantic Records' pioneering, in-house studio engineer -- deserves much of the credit for the stellar music that ensued.

2

'Live at Fillmore East' (1971)

The Allman Brothers Band

As the next offering in our list of Top 10 Tom Dowd Records shows, difference-making producers are equally capable of corralling stellar performances both in the studio and on stage. And we challenge you to find a concert recording that epitomizes a group's career more conclusively than the Allman Brothers Band's 'Live at Fillmore East' album. Here, again, Tom Dowd produced and engineered the six-piece band's complex improvisations and instrumental interplay, while retaining the energy of their shows at Bill Graham's iconic venue, just months before it was shuttered.

1

'Layla and Other Assorted Love Songs' (1970)

Derek & the Dominos

We now circle back to Eric Clapton, working here under his famous pseudonym of Derek & the Dominoes. It may have been cut during a difficult time in the his personal life and career, but yielded remarkable, timeless music. With a little help from studio aces Jim Gordon, Carl Radle, Bobby Whitlock and even brother Duane himself, Clapton and Dowd spun pure gold across all four of these sides, including a pair of classic rock all-timers in 'Bell Bottom Blues,' and of course 'Layla.' Just watch this snippet of the acclaimed documentary, 'Tom Dowd and the Language of Music,' for a taste of the musical alchemy at work here, as well as to get a measure of Tom Dowd's contribution to rock history.
More From Ultimate Classic Rock