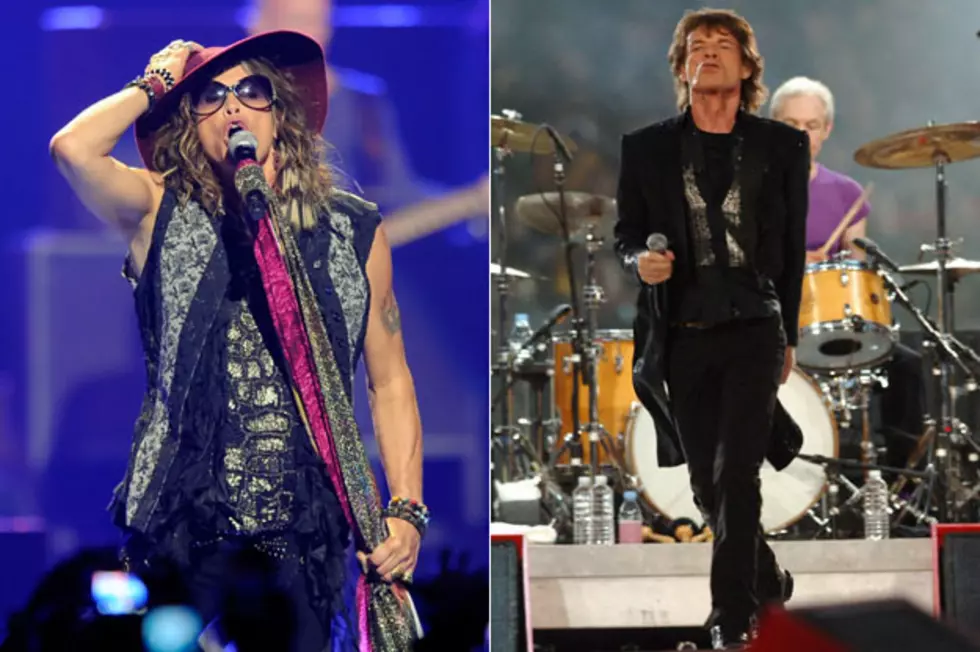 Aerosmith's Steven Tyler Picks His Favorite Rolling Stones Songs
In a recent playlist special conducted by Rolling Stone, the singer admits that he was often labeled a Mick Jagger lookalike and/or wanna-be, and that he "f---ing hated it." Still, Tyler adds "I learned from the Stones and from Janis Joplin that it's not about hitting the notes, it's about having style."
Tyler, though he's reinvented himself as a modern day icon as a judge on 'American Idol,' is still old-school rock 'n' roll by the looks of this pick list. One can't help but notice that his most recent selections are from the USA's bicentennial year, 1976. In fact, look closer and you'll notice that though the Rolling Stones have been recording for 48 years Tyler hand picked his treasured favorites from an 11 year period.
Tyler claims that while in his first rehab (after not being sober once in 12 to 15 years) listening to 'Rip This Joint' from his 'Exile On Main Street' cassette was like a contact high. He admits that anything Keith sang on  "killed" him and that 'Something Happened To Me Yesterday' is "so f---ing cool." While songs like 'The Spider And The Fly' inspired him to start writing his own lyrics it was 'She Said Yeah' that closed out his own early (pre-Aerosmith) performances.
Yet, who picks just nine favorite Stones songs? You would think he would've went for an even 10 like many of his peers did for this poll. Perhaps, Tyler really is all about "having style." Clearly, it's one that's totally his own.
Steven Tyler's Rolling Stones Playlist:
03. 'Rip This Joint' - 1972
04. 'Get Off Of My Cloud' - 1965
05  'Something Happened To Me Yesterday' - 1967
07. 'Memory Motel' - 1976
08. 'The Spider And The Fly' - 1965
09. 'She Said Yeah' - 1965
More From Ultimate Classic Rock