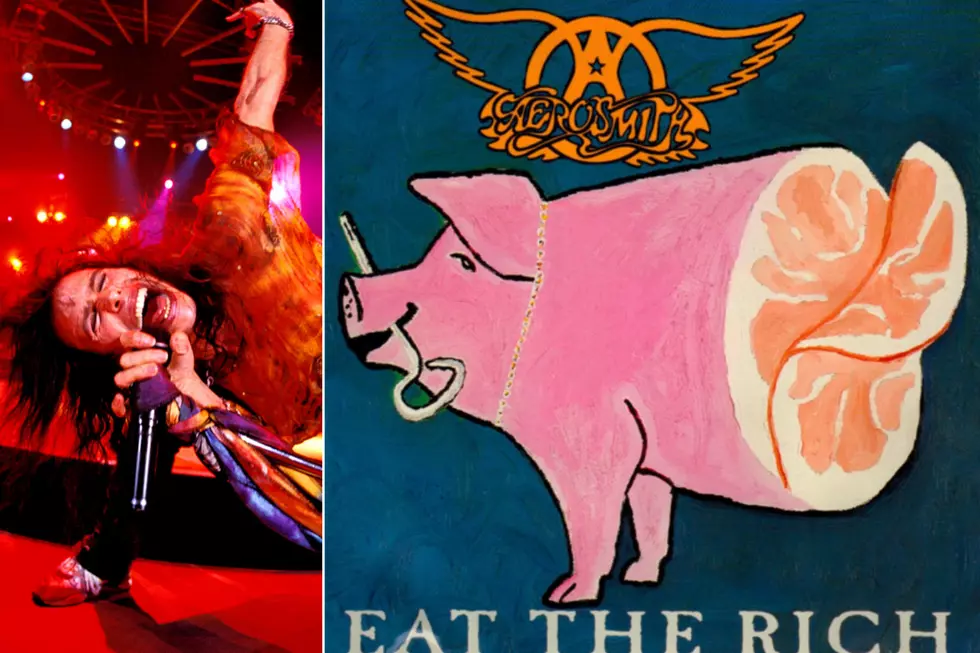 30 Years Ago: Aerosmith Stays Hungry on 'Eat the Rich'
Mick Hutson, Getty Images / Geffen
It was either a masterstroke of irony or an act of obliviousness that Aerosmith previewed their ballad-heavy, biggest-selling worldwide hit Get a Grip with the cannibalistic riff-rocker "Eat the Rich."
To be fair, they were righteously pissed off after being kicked around by the real power brokers of the music industry: the suits at Geffen Records, particularly A&R extraordinaire John Kalodner. When Aerosmith showed Kalodner their progress on the follow-up to 1989's hit Pump in 1992, he rejected the material outright and told them they needed to write some more single-worthy tracks or he would take his name off the record.
"Nobody threatens me like that – nobody," singer Steven Tyler seethed in Aerosmith's 1997 autobiography, Walk This Way. "This was so pivotal when he came in and said, 'These songs suck.' When I saw [manager] Tim Collins sit there and let John say he's taking his name off the record, I realized then that I'd lost an ally as a manager."
Kalodner allowed that "they were furious with me and it was just a terrible fuckin' scene. They just plain resented that I had some say over their music," he recalled in Walk This Way. "They bad-mouthed me to the people I'd sent there, but I didn't care what they thought about me. My job wasn't to be their pal; it was to get the best record I can from them. I'm the listener standing there saying, 'If you don't write this song, I'm not gonna buy it.'"
Watch Aerosmith's 'Eat the Rich' Video
Aerosmith ultimately capitulated and called up the cadre of outside songwriters that had helped jumpstart their miraculous comeback on 1987's multiplatinum Permanent Vacation. The sessions yielded the mega-hit power ballads "Livin' on the Edge," "Cryin'" and "Crazy," the Lenny Kravitz-assisted "Line Up" and the Tommy Shaw and Jack Blades collaboration "Shut Up and Dance." Jim Vallance, who previously co-wrote "Rag Doll" and "The Other Side," also lent his talents to the thundering second single from Get a Grip.
"'Eat The Rich' was written with Steven Tyler and Joe Perry in my basement studio in Vancouver in 1992," Vallance later said on his website. "It started with Steven literally banging like a Banshee on my Korg M1 keyboard. That's where the underlying 'jungle' feel came from.
"Joe contributed the guitar riff under the verse, and I added the two-chord descending guitar phrase over Joe's verse riff," Vallance added. "Once we had a 'bed' track, Steven started singing over Joe's riff — improvised nonsense lyrics at first, but often Steven's babbles end up being the real thing!"
Listen to Aerosmith Perform 'Eat the Rich' in Concert
The band further underscored the "jungle" feel of "Eat the Rich" by enlisting half a dozen log drum players to beef up the song's percussive intro. Tyler's opening rap harks back to the Toys in the Attic classic "Walk This Way," and Perry's guitar solo smolders with sober-minded precision. Far from an anti-capitalist screed, the lyrics tell the story of a character who devours members of society's upper crust. "Their attitudes may taste like shit, but go real good with wine!" Tyler yelps, tongue firmly rooted in his cheek.
Released as a single on April 17, 1993, three days before Get a Grip hit shelves, "Eat the Rich" peaked at No. 5 on Billboard's Mainstream Rock chart but failed to cross over to the Hot 100 like its predecessor, "Livin' on the Edge." It nonetheless became a fan favorite and show opener on the two-year Get a Grip tour, and it appeared semi-regularly in set lists over the next several decades.
Subsequent Get a Grip singles "Cryin'," "Amazing" and "Crazy" all hit the top 40 and pushed the album to 7 million U.S. sales and more than 20 million worldwide – ensuring that Aerosmith could keep eating like kings, rather than become somebody else's dinner.
20 Greatest Comeback Albums
Becoming a successful artist is difficult. Remaining on top forever is downright impossible.
See Aerosmith Among Rock's Most Expensive Out-of-Print LPs
More From Ultimate Classic Rock