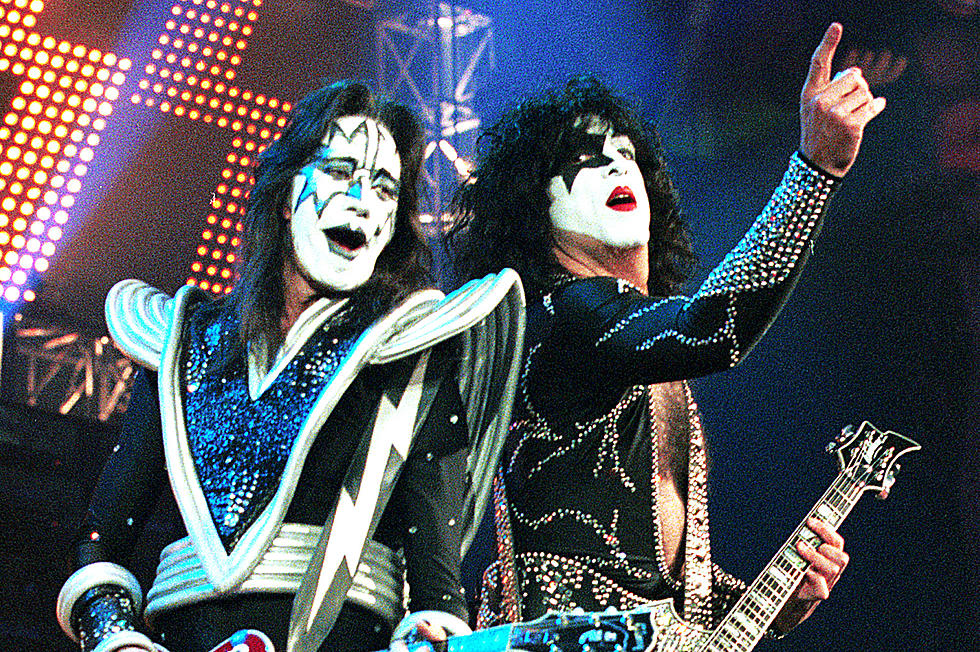 Ace Frehley: My New Album Makes Paul Stanley 'Look Like an Imbecile'
George De Sota, Getty Images
Ace Frehley has asserted that his upcoming solo album will make former bandmate Paul Stanley "look like an imbecile."
The ex-Kiss guitarist reported that his sixth LP since relaunching his career in 2009 was almost ready for release, and stated that the fact that he had stayed on track for 15 years proved Stanley and Gene Simmons were wrong when they described him as a liability.
"I remember the guy that got me signed to the label, he told me that, before Anomaly came out [in 2009]… a lot of people said to him, 'You're not even gonna get the record,'" Frehley told 93.5 FM MAX in a recent interview (audio below). "Because Paul and Gene have pretty much tried to destroy my credibility by calling me a drunk and a drug addict and somebody who's not dependable."
READ MORE: Top 10 Ace Frehley Kiss Songs
He continued: "But if that were the case, how did I make five albums? And I've been touring steadily for the last 10 years plus. It doesn't make any sense. They contradict themselves all the time. Now they're putting me down and saying if I came up and played with them on the farewell tour, it would mar their performance.
"Paul said on The Howard Stern Show [that] you might as well call the band 'Piss' instead of 'Kiss' if I got up on stage with them. Well, when this album comes about, it's gonna make him look like an imbecile."
In March this year, Stanley told Stern why Kiss had refused to play with Frehley and ex drummer Peter Criss during their 2014 Rock Hall induction, saying: "Because if you saw people onstage who looked like Kiss but sounded like that, maybe we should be called Piss." That led to an angry reaction from Frehley, who threatened to reveal "some dirt" if he didn't receive an apology – although he later decided not to do so.
Ace Frehley Says New Album Co-Writer Made It Doubly Good
In the new interview, Frehley reported that the upcoming album was the first time he'd fully collaborated with another songwriter. "I think it may be the best album I've ever done to date," Frehley said. "And it's the first time I co-wrote most of the songs with Steve Brown from Trixter.
"He's a great songwriter, and I'm a great songwriter, and we put our two heads together and songs come out doubly good. He also harmonizes perfectly with me. … And the vocals are strong, the guitar solos are strong; the songs, the lyrics, the melodies, everything's really powerful."
While no further details were revealed, Frehley said the album was set to be delivered to his record label on Oct. 30. Kiss will deliver their final shows on Dec. 1 and 2 in New York City, and it looks unlikely that either Frehley or Criss will take part.
Listen to Ace Frehley's Interview
Kiss Solo Albums Ranked Worst to Best
Counting down solo albums released by various members of Kiss.
Gallery Credit: Matthew Wilkening
Which Rock Star Would Ace Frehley Raise From the Dead?
More From Ultimate Classic Rock