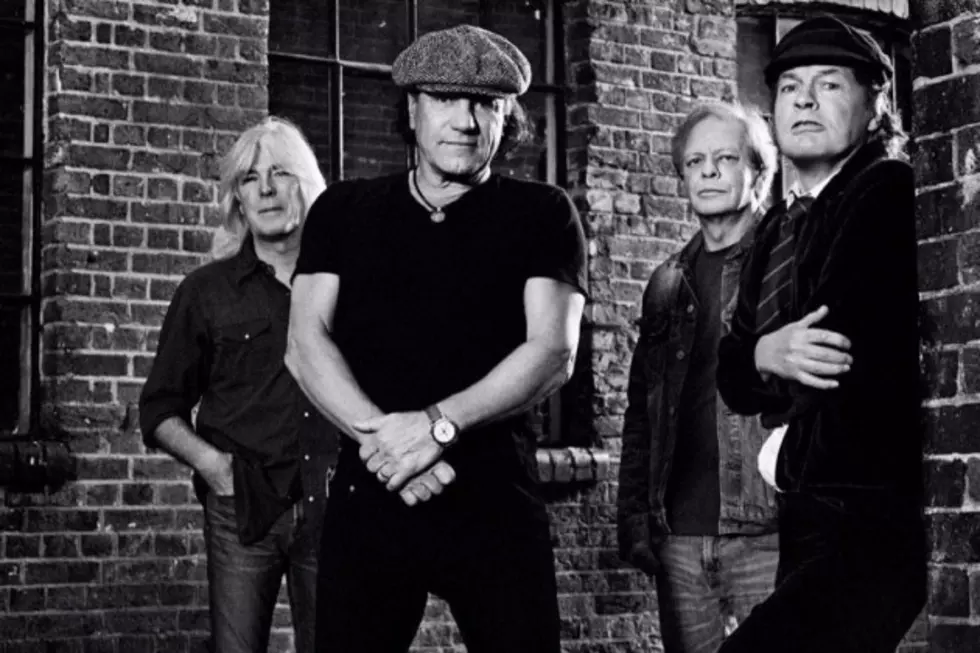 AC/DC Posts New Group Photo – Without Phil Rudd
AC/DC (Cliff Williams, Brian Johnson, Stevie Young, Angus Young)
We've gotten our first official look at AC/DC's new Malcolm Young-less lineup -- but for some reason another key member, drummer Phil Rudd, is also missing in action.
Now, obviously and most likely, this story could be much ado about nothing. Last week it was widely reported that Rudd missed the video filming sessions for two songs from their new album 'Rock or Bust' -- the already released 'Play Ball' and the title track. And it was just this past August when Rudd declared that every member of AC/DC "would have to be dead" before they would stop touring and recording. "There'll be another tour, and I'll be on it," he continued. "And when there's another record, I'll be on that."
During the filming, Rob Richards of Shogun and Adrian Smith of Iron Maiden's solo band filled in for Rudd, who was absent due to what singer Brian Johnson referred to as a "family emergency." So it could just be that this photograph was taken during the same session.
However, it is a bit odd that the group just didn't wait until Rudd -- who recently released his first ever solo album -- was available to post a new photo. Heck, they could have just Photoshopped him in. Radio and 'That Metal Show' host Eddie Trunk called the posting of the new photo "very strange" and "not a good sign" on his Twitter account.
So what do you think -- is this new Phil Rudd-less AC/DC photo a big deal, a little deal, or nothing at all?
You Think You Know AC/DC?
More From Ultimate Classic Rock