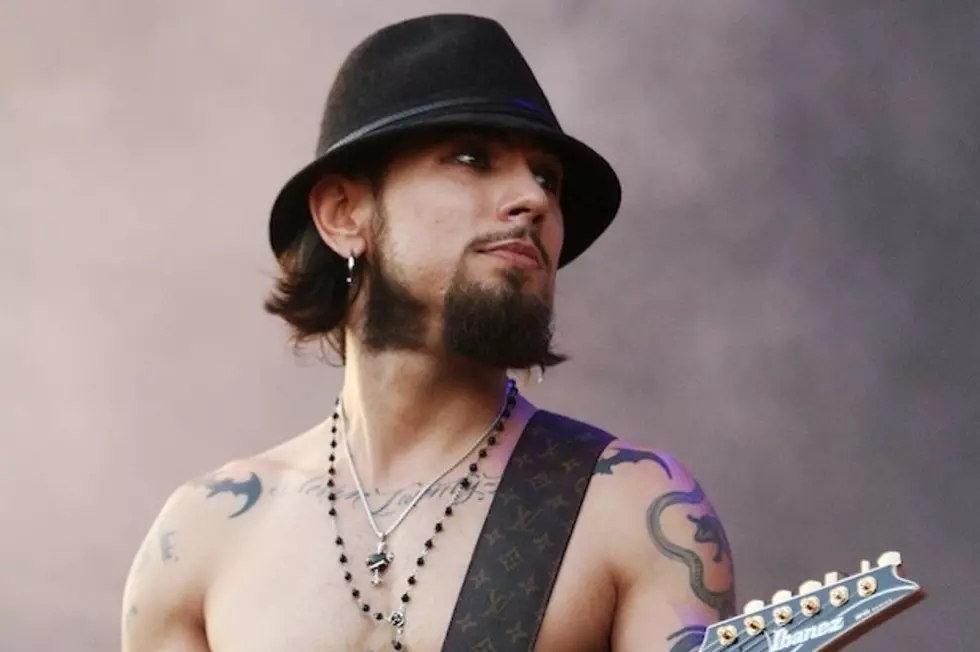 10 Things You Didn't Know About Dave Navarro
Mark Metcalfe, Getty Images
Between his masterful guitar licks and matinee-idol looks, Dave Navarro seems to have it all. But the Jane's Addiction guitarist has certainly had his share of magic highs and tragic lows during his fascinating life. In honor of his 44th birthday today (June 7), we offer up an 'Ocean Size' list of 10 Things You Didn't Know About Dave Navarro:
10

Navarro has been 'marching' to the beat of the same drummer for a long time.

Navarro met Jane's Addiction drummer Stephen Perkins while the two were in their high school marching band. They became friends and formed the speed-metal group Dizastre. It was Perkins who later recruited Navarro for a spot in Jane's Addiction.

9

When he was 15, Navarro's mom and aunt were murdered by his mother's former boyfriend.

In 1982, Navarro suffered the horrible tragedy of his mother and aunt being murdered by his mom's ex-boyfriend. The killer was caught eight years later with the help of 'America's Most Wanted.' Navarro thinks he could have also been a victim had he not been at his father's house that night.

8

He turned down a chance to join Guns N' Roses, largely due to his drug addiction.

After Izzy Stradlin left Guns N' Roses, Axl Rose tried to get Navarro to join GN'R. "There are a number of reasons that it didn't work out," Navarro recently explained in a Talking Metal podcast. "If I could pick one, it would be my own heroin addiction." He did play on the 1999 GN'R track 'Oh My God.'

7

Carmen Electra wasn't the first woman he married and divorced.

Navarro famously married Carmen Electra in a televised spectacle in 2003. The couple divorced less than three years later, and it wasn't the first matrimonial demise for the guitarist. He was previously married to Tania Goddard and Rhian Gittins. He recently told Gibson that he probably won't get married again.

6

Navarro played guitar on Alanis Morissette's mega-hit 'You Oughta Know.'




As legendary as his guitar playing for Jane's Addiction is, the biggest hit Navarro has played on is Alanis Morissette's 'You Oughta Know.' He and his one-time Red Hot Chili Peppers bandmate Flea play guitar and bass, respectively, on the track off Morissette's multiplatinum album 'Jagged Little Pill.'

5

Yeah, that's right -- Navarro directed a porn film called 'Broken.' While he has never won a Grammy, he can take solace in the fact that his adult movie took home the Best High End All-Sex Release trophy at the 2008 AVN Awards. Well done, Dave!

4

His cousin Dan co-wrote Pat Benatar's hit 'We Belong.'

The Jane's Addiction axe-man isn't the only successful musician in his family. His cousin Dan Navarro co-wrote Pat Benatar's hit 'We Belong' with his songwriting partner Eric Lowen. Together, the two musicians have released a number of albums under the name Lowen & Navarro.

3

For a little while, he was the Simon Cowell of rock 'n' roll.

Navarro served as a judge and co-host on the CBS singing-competition shows 'Rock Star: INXS' and 'Rock Star: Supernova.' On the programs, he helped find a replacement singer for INXS and a frontman for a supergroup featuring Tommy Lee, Jason Newsted and Gilby Clarke.

2

Jane's Addiction isn't his only rodeo.

Dave has been in a number of outfits in addition to Jane's Addiction -- some well known, others not as much. Among them are Red Hot Chili Peppers, the Panic Channel, Deconstruction, the live covers band Camp Freddy and Billy Corgan's supergoup Spirits in the Sky. He also released a solo album called 'Trust No One.'

1

Jimi Hendrix, Pink Floyd's David Gilmour and Led Zeppelin's Jimmy Page are his guitar heroes.




As a kid, Navarro decided to play guitar after hearing Jimi Hendrix's music. "I heard Jimi Hendrix through a loudspeaker in a skate park, and I asked somebody who it was, and when he told me, I went out and bought one of Jimi's records," Navarro told musicradar.com. He also cites David Gilmour and Jimmy Page as major influences.
More From Ultimate Classic Rock