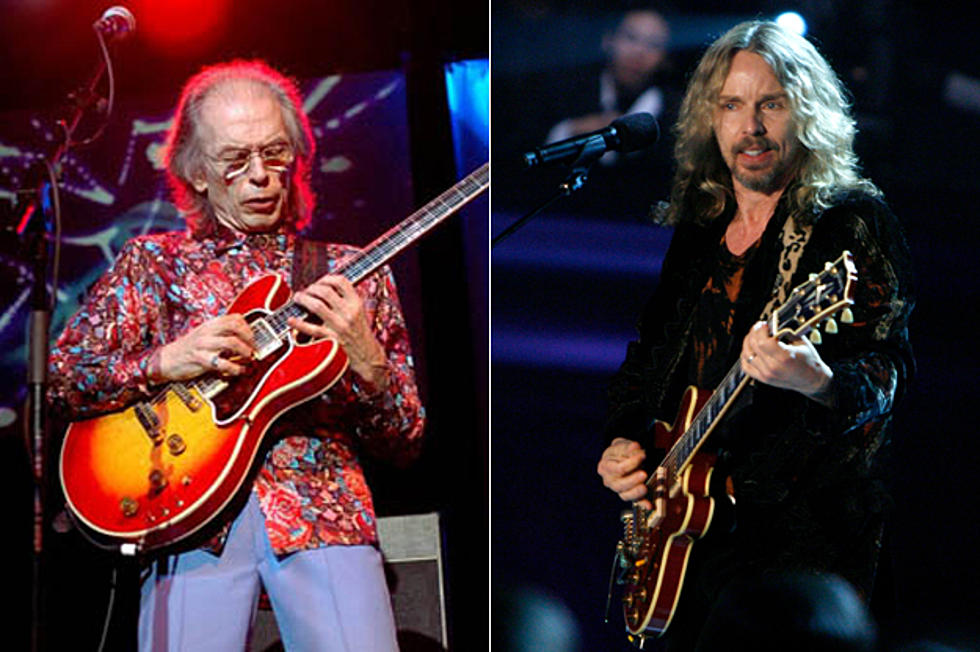 Yes and Styx Combine Forces for U.S. Tour
Progressive rock pioneers Yes will team up with fellow arena rock heroes Styx for a 22-city U.S. tour kicking off on the 4th of July weekend.  Yes will headline a majority of the shows, but we bet both bands will find time to perform a big chunk of their classic hits each night.
Styx guitarist Tommy Shaw is clearly looking forward to touring with what has to be one of the few bands in their peer group they've yet to share the stage with: "When I first heard Yes, I knew that the music world was forever changed," he enthuses. "Who among you didn't make it a point to learn the acoustic guitar intro to 'Roundabout?'"  (You think Yes will let him play that part just once? Maybe if they get a crack at 'Renegade'?)
Yes are currently finishing up their forthcoming album 'Fly From Here,'  which will be their first to feature new lead singer Benoit David and is due out this July 12. Meanwhile, Styx fans will be able to purchase the 'Regeneration: Volume 2' compilation right at the shows. The newly re-recorded album features versions of such classic hits as 'Blue Collar Man' and 'Too Much Time on My Hands.'
The location and details of Yes and Styx's July 4th tour kick-off date have yet to be revealed, and additional cities (hopefully including our HQ, Akron, Ohio -- hint, hint guys!) are expected to be added in the near future.
Yes and Styx 2011 'Progressive U.S.' Tour Dates:
7/5 - Holmdel, N.J.
7/7 - Canandaigua, N.Y.
7/8 - Mashantucket, Conn.
7/9 - Gilford, N.H.
7/11 - Wantagh, N.Y.
7/12 - Bethel, N.Y.
7/14 - Alpharetta, Ga.
7/15 - Orange Beach, Ala.
7/16 - Nashville, Tenn.
7/18 - Kansas City, Mo.
7/19 - Noblesville, Ind.
7/20 - Clarkston, Mich.
7/22 - Thackerville, Okla.
7/23 - Oklahoma City, Okla.
7/24 - Maryland Heights, Mo.
7/26 - Morrison, Colo.
7/28 - Boise, Idaho
7/30 - Goldenvale, Wash.
8/2 - Los Angeles, Calif.
8/3 - Mountain View, Calif.
More From Ultimate Classic Rock