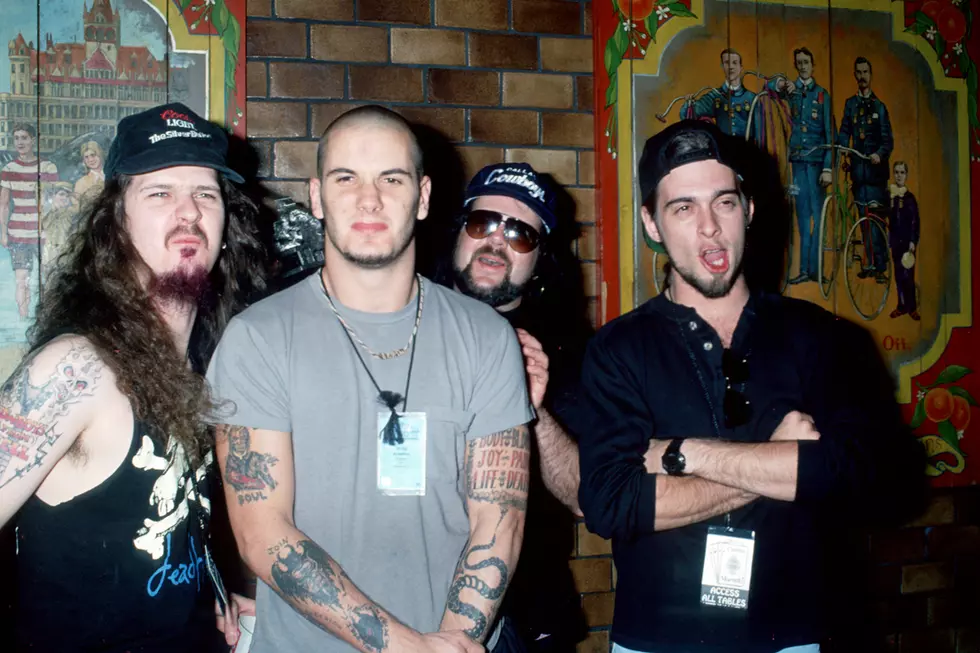 Why Vinnie Paul Refused to Reunite Pantera
Ron Galella, Getty Images
But the comment, and the preceding acrimony that had led Abbott and brother Vinnie Paul to shut Pantera down the previous year, caused years of bad feeling that prevented any kind of reunion. With the death of Paul at 54, the idea is even more unlikely.
Pantera reached their peak in the '90s with an impressive trio of groove metal albums, featuring the definitive lineup of the Abbotts, Anselmo and Rex Brown. Cowboys From Hell, Vulgar Display of Power and No.1 LP Far Beyond Driven exhibited anger and energy that inspired a generation of metal artists. But the band's career was soon in a nosedive, powered by Anselmo's addiction issues, and by the time their underrated final album Reinventing the Steel was out in 2000, the differences between the members appeared insurmountable, and the hiatus led to permanent disbandment.
Despite Dimebag's death, reunions were frequently discussed in the spirit of honoring his memory. Zakk Wylde was sometimes mentioned as the stand-in, and said on several occasions he'd accept such an offer. However, the distance between Anselmo and Paul remained. Paul asked to listen to the 2004 interview recording and satisfied himself that Anselmo hadn't been joking, as he claimed, when he spoke about the "severe beating." He refused to address media questions about whether Anselmo's comments helped motivate the man who killed his brother. But after that episode, it appears he never spoke to Anselmo or Brown again, except to deal with business issues.
Responding to his own regular questioning about getting back together, Anselmo said in 2011, "Sure, there was a fallout. But the way I look at it is, if it really is affecting someone to where they have to come out and say hateful things about me, untrue things about me, paint bullshit mystique about me, then, in their heart of hearts, they do care about me — that's the point. Vinnie Paul's closed-door policy when it comes to me, that's something he's gonna have to ride around on his shoulders the rest of his fucking life. I know this: My door is always open, and always has been open."
The following year, Paul – who'd formed the supergroup Hellyeah in 2006 – argued that he had other reasons for ignoring fans' pleas. "It's easy, man," he said. "I don't live in the past, man. I wanna look forward; I wanna keep moving forward. I understand them wanting to see it, especially people who've never had an opportunity to see Pantera, but without my brother being part of it, it just doesn't make any sense. I'm not gonna trample on his legacy to make some people happy. We had 14 amazing years together and we sold nearly 40 million records around the world. That's some pretty amazing stuff. And the band is, actually, to me, bigger today than it was then."
In 1999, Brown joined Anselmo's New Orleans-based metal supergroup Down, recording two albums with the group before departing in 2011. In 2017, he confirmed he'd never had a beef with Anselmo, noting: "Philip and I have been tight forever. Vinnie – we've reached out a couple of times in e-mails and stuff like that, 'cause we still have business to run. … You never say never. This life that we have is too short, too precious. There's no hard blood between Philip and I. It's just, Vinnie will not speak with either one of us." Down frequently dedicates the song "Lifer" to Dimebag in concert.
Dimebag's longtime girlfriend Rita Haney, speaking last year, said she'd always been certain Pantera would have reunited had he not been murdered, and revealed that he'd been working towards a reconciliation when he died. She added that the anger she and Paul had toward Anselmo at that time "wasn't his burden to carry," adding: "The reason Darrell was hurt so bad was because of how much he loved Philip. You can't feel that kind of pain unless someone really matters to you, and Philip matters."
But by that time, Anselmo had been involved in another public outburst, throwing a Nazi salute and shouting "white power!" at the 2016 Dimebash, a memorial show for the late guitarist. He'd first said it was a misunderstood joke, then apologized for his behavior; but it seemed to shore up Paul's determination to leave Pantera in the past.
"He's done a lot of things that tarnish the image of what Pantera was back then, and what it stood for and what it was all about. And it's sad," Paul said of Anselmo (video below). "But I carry on with what I do, which is Hellyeah – which I'm very, very proud of. And, you know, I can't control anything that goes on with that dude. I mean, honestly, I haven't spoken to him since 2000. We tried to make amends of things when we were doing Damageplan, and he didn't want anything to do with it. And then the horrible thing that happened to my brother happened. And, to me, that was the nail in the coffin. Period."
See Pantera Among the Top 50 Heavy Metal Albums of All Time
More From Ultimate Classic Rock