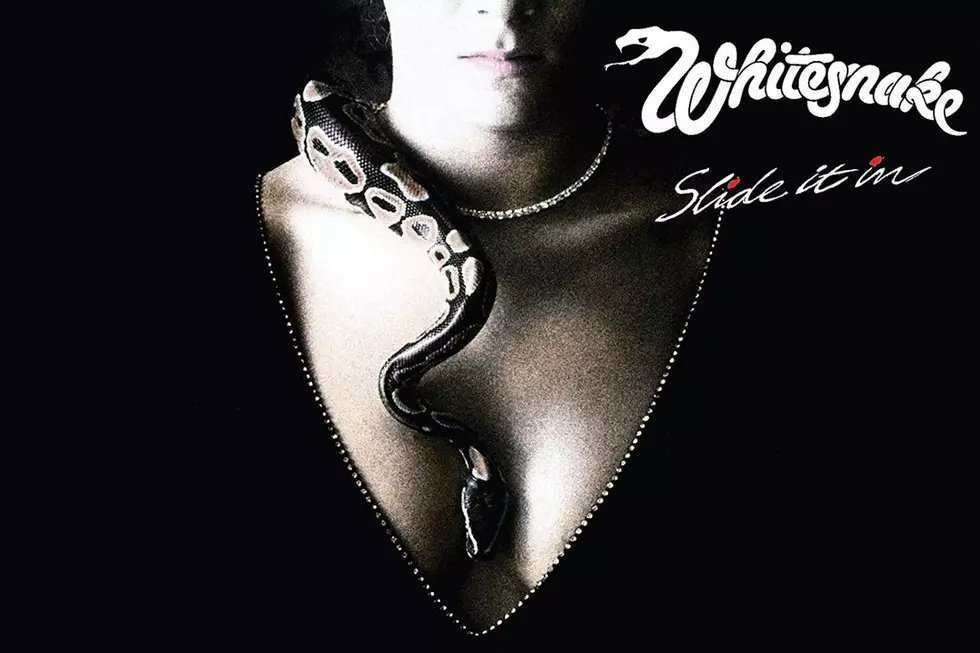 How Whitesnake Transformed With a New Mix of 'Slide It In'
Geffen / Warner Bros.
Despite its far-from-stellar sales, Whitesnake's sixth album is unquestionably the most pivotal of the group's long and storied career. Released in late January 1984, Slide It In exists in two significantly different versions due to a curious sequence of events that wound up drawing a clear line in the sand that segregated the British band's career into two, distinct periods: Before and after its U.S. conquest, bluesy heavy rock instead of hair-metal – and brunette vs. peroxide.
The end result revealed how these phases divided fans into two camps that had almost nothing in common. To wrap your head around all this, we must first go back to Whitesnake's modest beginning in 1978, when singer David Coverdale emerged out of his wilderness years, spent partly in tax exile and partly in emotional recovery from the traumatic collapse of '70s rock legends Deep Purple, whom he fronted for a spell.
With Whitesnake, Coverdale sought to relaunch his ailing career by returning to the earnest blues-rock basics that first inspired him and informed his soulful voice. And he couldn't have chosen better collaborators to aid him in this endeavor than organist and fellow Purple survivor Jon Lord, plus guitarists Bernie Marsden and Micky Moody. Together, and with the help of a rotating rhythm section, the quartet guided Whitesnake's steady rise in popularity across the U.K. and Europe over four solid but hardly blockbuster albums. But for all its hard work, Whitesnake reaped few financial rewards by 1981, virtually falling apart in the process.
Still, Coverdale wasn't quite ready to give up. After recruiting new guitarist Mel Galley and inking a critical new U.S. record deal with rising Geffen Records, he guided Whitesnake to their biggest (and arguably best) album up to that point, 1982's Saints & Sinners. By the following summer, Whitesnake's career was revived and healthier than ever as they headlined the prestigious Castle Donington Monsters of Rock Festival.
Listen to the U.S. Version of Whitesnake's 'Slide It In'
Coverdale had glimpsed new possibilities, however, and wanted more. So even as he marshaled his troops back into the studio in late 1983 and drove them to outdo themselves once again with the superlative songs recorded for Slide It In, Coverdale was already courting former Tygers of Pan Tang and Thin Lizzy guitar phenom John Sykes to replace the exiting Moody.
Slide It In started making itself heard throughout Europe, while simultaneously climbing to unprecedented heights on the U.K. chart – reaching the Top 10. But then Coverdale and Kalodner began remixing the album with hand-picked producer Keith Olsen for its delayed U.S. release.
First, they buried Lord's keyboards deep in the mix. Then they replaced all of departed bassist Colin Hodgkinson's parts with those of the returning Neil Murray, and some of Moody's parts with Sykes'. They also had their new guitar hero inject fresh lead fireworks into songs like "Slow an' Easy," "Spit It Out" and the title track. Finally, they resequenced the tracks for maximum and instant gratification.
And who can argue with the results? From a commercial point of view, Slide It In elevated Whitesnake's profile in the U.S., both at radio and on MTV – especially after they hit the road with the red-hot Quiet Riot and Dio in a streamlined four-piece lineup (minus Lord, who had rejoined Deep Purple; and Galley, who suffered an all-too-convenient "injury").
Three years later, the new lineup of Coverdale, Sykes, Murray and drummer Cozy Powell would make the eponymous 1987 album that would signal Whitesnake's U.S. commercial breakthrough. (They were then replaced by another batch of new musicians selected by Coverdale.) Meanwhile, Slide It In had established its legacy as Whitesnake's most disruptive and divisive release, passionately championed in both configurations by two factions of fans – the purist minority and the pop-metal majority – with hardly anything in common, beyond the wonderful fought-over songs.
Top 30 Glam Metal Albums
There's nothing guilty about these pleasures.
Whitesnake Video Star Tawny Kitaen's Rock 'n' Roll History
More From Ultimate Classic Rock