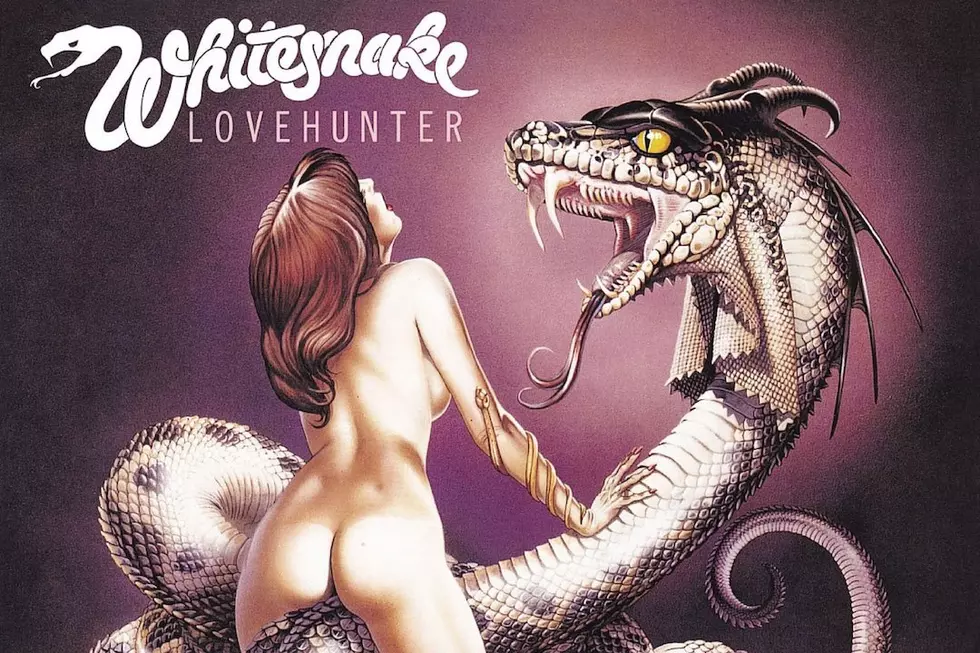 How Whitesnake's 'Lovehunter' Broke Through With a Controversial Cover
United Artists
With the October 1979 release of Whitesnake's second album, Lovehunter, the new band featuring David Coverdale and Jon Lord could no longer be ignored. But this success had hardly seemed preordained, or even likely, at the start.
As if proof were needed that yesteryear star power alone does not make successful new careers, Whitesnake's 1978 debut, Trouble, had merely dented the U.K. chart at No. 50/ An earlier EP, Snakebite, had barely even registered with fans – despite their erstwhile connections to Deep Purple.
So there was clearly still plenty of work to be done when Whitesnake members Coverdale and Lord, guitarists Micky Moody and Bernie Marsden, bassist Neil Murray and drummer Dave Dowle (soon to be replaced by another Purple alum, Ian Paice), got to work on their sophomore LP, with evident designs on upping their game and proving to record buyers they wouldn't go down without a fight.
Calling once again on producer Martin Birch, who had established his credentials on Purple's classic efforts and would later keep up the good work with Black Sabbath's Ronnie James Dio-era albums and Iron Maiden, Coverdale and band knocked out a career-defining signature anthem named "Walking in the Shadow of the Blues." They surrounded it with racy hard rockers like "You 'n' Me," "Mean Business" and "Rock 'n' Roll Women," and finally cracked the U.K. singles chart with "Long Way From Home."
All in all, Whitesnake was pretty much finally and truly gelling as a band, and the proof was there for all to see — particularly in the stunning title track's generous showcase of Moody's slide guitar technique, as well as Coverdale's willingness to share lead vocals with Marsden on "Outlaw." By the time Lovehunter bid adieu to listeners with the placid piano ballad, "We Wish You Well," there was no doubt more and bigger things lay just ahead for the band and their growing legion of fans.
And then there was the unforgettable Lovehunter cover art – which, needless to say, scandalized some delicate sensibilities (especially among women's groups), but also appealed to the band's core, twenty-something male audience. The man responsible for it, Cyprus-born fantasy artist Chris Achilleos, had made his name working for sci-fi magazines like the prestigious Heavy Metal, and years earlier had turned in a similarly themed (though far more restrained) design for Lord's Sarabande solo album.
His striking work on behalf of Whitesnake would become inextricably intertwined with one of the finest heavy blues-rock albums of the late '70s, and another cobblestone path on the band's road to stardom.
Top 50 Classic Heavy Metal Albums
We take a look at some of the heaviest, loudest and most awesome records ever made.
Whitesnake Video Star Tawny Kitaen's Rock 'n' Roll History
More From Ultimate Classic Rock