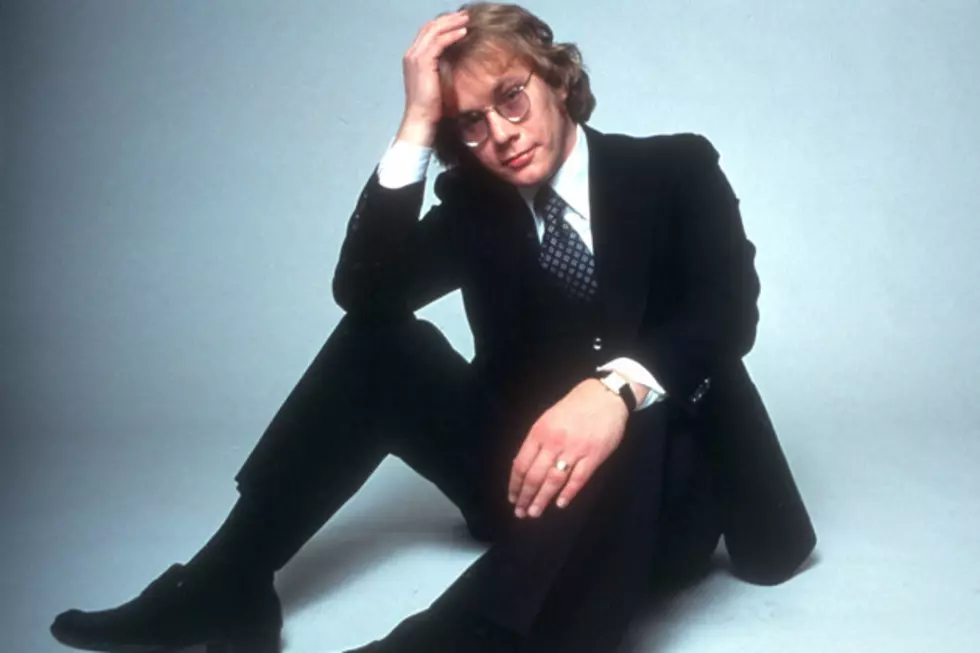 Top 10 Warren Zevon Songs
Michael Ochs Archives, Getty Images
Warren Zevon released Wanted Dead or Alive, his debut album, in 1969. Nobody heard it. And you really wouldn't want to, because none of the singer-songwriter's sharp, scathing wit is displayed.
By the time he returned in 1976 with a self-titled record produced by his pal Jackson Browne, Zevon's identity had been fully shaped. He had some ups and downs over the years, including several well-documented bouts with the bottle that put his career on hold for a while. He staged a comeback near the end of the '80s that kept him busy until his death from cancer in 2003.
Our list of the Top 10 Warren Zevon Songs includes tracks from that 1976 album (which you might as well call his proper debut) to The Wind, a terrific final LP released just weeks before he passed away.
10

"Detox Mansion"

From: 'Sentimental Hygiene' (1987)

After "Excitable Boy" (found elsewhere on our list of the Top 10 Warren Zevon Songs) made Zevon kinda famous, he had a few rough years lost in uninspired albums and hazardous lifestyle choices. This comeback album got him back on path, and this tough rocker – which references his time away – is personal, biting and cathartic.

9

"Carmelita"

From: 'Warren Zevon' (1976)

"Carmelita" had been kicking around for a few years before Zevon included it on his 1976 album. A Canadian singer-songwriter recorded it; so did Linda Ronstadt. But Zevon's plaintive version about a wayward junkie (which includes one of his most memorable lines: "I'm all strung out on heroin on the outskirts of town") is the definitive one.

8

"Frank and Jesse James"

From: 'Warren Zevon' (1976)

The opening song on Zevon's self-titled LP is about the legendary outlaw brothers, but everything Zevon wrote about was tied to his surroundings. So you can also read a story about '70s Los Angeles in the narrative. "Frank and Jesse James," like most of the tracks on our list of the Top 10 Warren Zevon Songs, features first-rate backing from L.A.'s very best session musicians.

7

"Splendid Isolation"

From: 'Transverse City' (1989)

Following 1987's comeback album Sentimental Hygiene, Zevon returned two years later with this synth-heavy, sci-fi concept album. It should come as no surprise that a synth-heavy, sci-fi concept album by Zevon would be spotty at best. But the tuneful "Splendid Isolation" is one of his finest latter-day songs.

6

"Accidentally Like a Martyr"

From: 'Excitable Boy' (1978)

"Accidentally Like a Martyr" is the rare thing in Zevon's catalog: a straightforward love song. He became famous for his caustic songs about troubled, messed-up people making some very bad decisions in their lives. The narrator here is alone, looking back on a painful breakup, but make no mistake: It's a love song – a rather pretty and sad one, too.

5

"Excitable Boy"

From: 'Excitable Boy' (1978)

The title track to Zevon's third album, and his only Top 10 LP, pretty much can be perceived as the story of Zevon's life – except for the raping and necrophilia bits. But the wild, hedonistic actions of the song's protagonist reflected the wild, hedonistic Zevon. "Excitable Boy" bears all of his trademarks: a super-catchy melody, sharp, polarizing lyrics and, most of all, a sense that we may be dead tomorrow, so we might as well live it up today, even if it's with the bones of somebody's corpse.

4

"Keep Me in Your Heart"

From: 'The Wind' (2003)

Zevon knew he was dying of cancer when he started recording his final album, The Wind, during the first part of 2003. It was released two weeks before he died on Sept. 7 that year. This poignant, moving centerpiece plays like a requiem for the singer-songwriter, which is exactly how he intended it. Bet you can't listen to it without tearing up.

3

"Lawyers, Guns and Money"

From: 'Excitable Boy' (1978)

The closing track on Zevon's best and most popular album is a perfect summation of everything that precedes it. Booze, drugs, cheap women and wasted nights collide in this tale of a loser "down on [his] luck." You get the feeling it's a lifelong thing with this guy. Zevon has a fun time with the song, making it an amplified call to arms.

2

"Poor Poor Pitiful Me"

From: 'Warren Zevon' (1976)

At times, Zevon's 1976 album plays like a demo collection intended for more well-known artists to find some great new songs to sing. Linda Ronstadt (no stranger to covering Zevon – see No. 9 on our list of the Top 10 Warren Zevon Songs) had a Top 40 hit with "Poor Poor Pitiful Me" in 1978. But she toned down some of the song's darker shades, like the S&M part.

1

"Werewolves of London"

From: 'Excitable Boy' (1978)

Zevon's only Top 40 hit (it just missed the Top 20) is also his most popular song. A tossed-off goof about L.A.-area haunts featuring Fleetwood Mac's Mick Fleetwood and John McVie, it's mostly an in-joke for Zevon's connected, drugged-up and boozed-out friends. But it's also powered by one of his most memorable hooks.
More From Ultimate Classic Rock