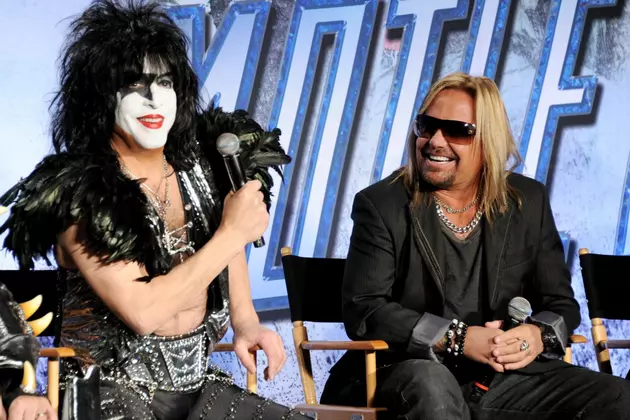 Motley Crue's Vince Neil Blasts Kiss' 'Multiple' Farewell Tours: 'That's Exactly What We Don't Want to Do'
Kevin Winter, Getty Images
The members of Mötley Crüe have been asked countless times if they can envision ever taking the stage together again after their Final Tour concludes Dec. 31. With his latest refusal, singer Vince Neil offered former Crüe tourmates Kiss as an example of what the band is trying to avoid.
"Kiss had five farewell tours and four reunion tours. That's exactly what we don't want to do," Neil told the San Diego Union-Tribune. "That was the whole reason. ... We wanted to go out on top, with people saying, 'Yeah, man, I saw the last concert. It was awesome!' We don't want to be that band, where it's [billed as] Mötley Crüe, and it's maybe one [original member's] brother left in the band, and they're playing clubs. ... If we let that happen, we wouldn't be thought of or remembered like we wanted to be."
To that end, the band members signed their much-touted "cessation of touring" agreement when they announced these final dates, and although Neil admits breaking the contract wouldn't carry a legal penalty, he insists it's there as a reminder that unlike those other acts, the Crüe's retirement will definitely stick.
"Someone might ask, 'Oh, what if a sheik gave you tens of millions to get back together?' No. It's not about that," said Neil. "Other bands don't really give a s---. That's their philosophy: 'This tour will never end' or 'We'll do reunion tour.' That's not what we're about. That's why we're going out on our terms."
It should be noted that Kiss only embarked on one official "Farewell" tour, in 2000. However, Paul Stanley and Gene Simmons soon decided to carry on without founding members Ace Frehley and Peter Criss, with whom they had reunited back in 1996. As Stanley later explained, "The 'farewell' tour was us wanting to put Kiss out of its misery. And for a while, honestly, we lost sight that we didn't have to stop; we had to get rid of them [Ace and Peter]. So the 'farewell' tour was really because it was unbearable to be with those guys — not just on a personal level."
Motley Crue Albums Ranked Worst to Best
See Motley Crue and Other Rockers in the Top 100 Albums of the '80s
More From Ultimate Classic Rock