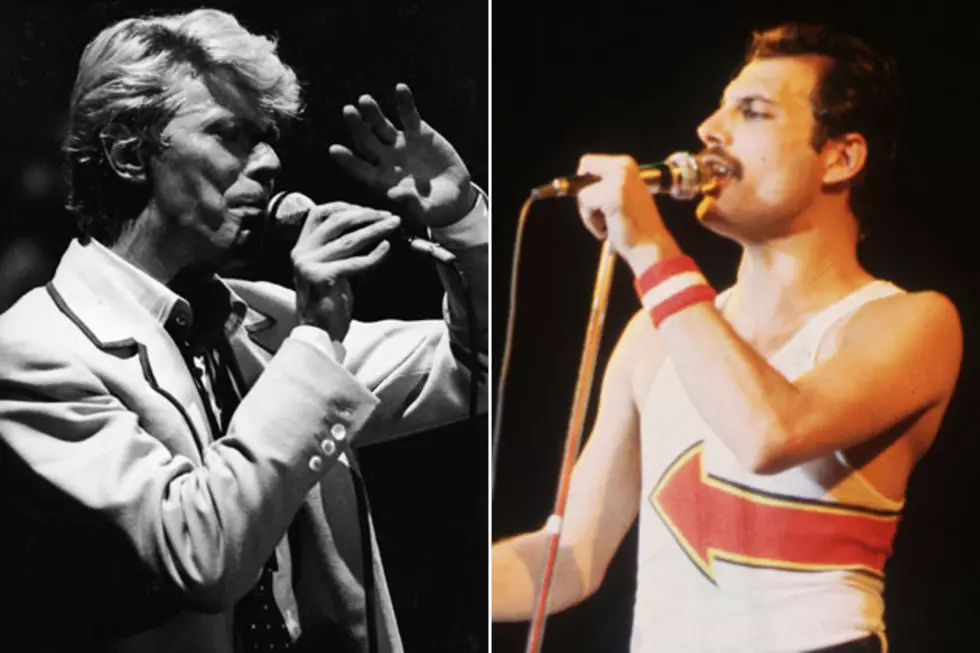 David Bowie and Freddie Mercury's 'Under Pressure' Session Fueled by Wine and Cocaine
Express Newspapers / Hulton Archive, Getty Images
An audio track of David Bowie and Freddie Mercury laying down vocals for the 1981 Queen hit 'Under Pressure' surfaced a while back, bringing with it writer Mark Blake's account of the song's wild, and eventually tumultuous, writing and recording sessions. The two stars trade vocals without any instrumental distraction, but Blake claims that the singers recorded their parts separately and privately.
In his 2011 book 'Is This the Real Life?: The Untold Story of Freddie Mercury and Queen,' Blake writes that Bowie took the creative lead, eventually suggesting that each singer go into the vocal booth to sing how they feel the melody should proceed. "Bowie also insisted that he and Mercury shouldn't hear what the other had sung, swapping verses blind, which helped give the song its cut-and-paste feel," Blake writes.
The track was written a few months earlier, during the summer of 1981 when Bowie and Queen both found themselves in Montreux, Switzerland, recording separate projects. After spending some time jamming, Bowie suggested writing a song together, which they did over a wine and cocaine-fueled 24-hour period.
The tension that followed can't be heard in the audio track. But the members of Queen battled Bowie, who suggested the song's title, over certain elements. Guitarist Brian May now gives Bowie credit for the song's success. 'I would have found that hard to admit in the old days, but I can admit it now," he said. "But one day, I would love to sit down quietly on my own and remix it."
More From Ultimate Classic Rock