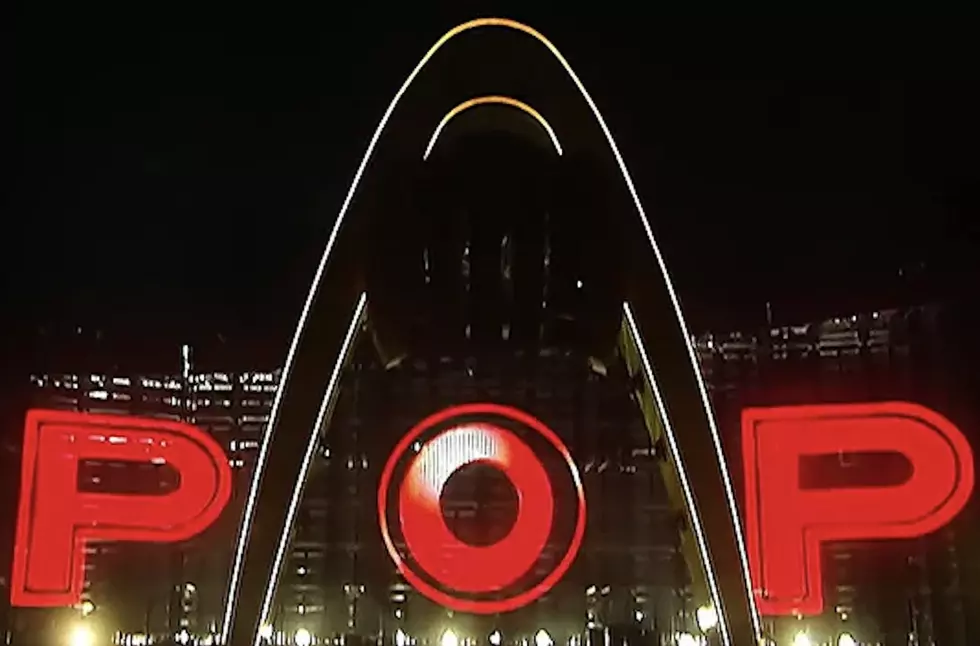 25 Years Ago: U2 Concludes Elaborate 'PopMart' Tour
YouTube
U2 has developed a reputation for risk over the decades. As their stage architect, Mark Fisher, put it in 1999, "U2 is definitely not frightened to try anything."
In 1997, U2 released Pop, whose title, Bono would later write in his memoir, nodded to Andy Warhol: "Acknowledging how consumerism is at play in his art. And now ours. And art in consumerism."
What better way to emphasize this than through an elaborate global tour? PopMart was announced on Feb. 12, 1997, at a press conference held at a Kmart in New York City. The band even performed the B-side to their "Discotheque" single, "Holy Joe," in the store's lingerie department. PopMart launched a little more than two months later on April 25.
Like U2's previous tour, Zoo TV, PopMart leaned heavily on technical grandiosity, with an LED screen, plus props that included a large set of golden arches and a mirror ball lemon from which the band emerged. Stage designer Willie Williams, who had worked with the band since 1982, later said that spectacle was everything. "Even when we were still out with Zoo TV, people were saying, 'Well, how are you going to follow this?'" he told Live Design. "But for me, the only way to go was up."
U2's intention, as the Edge explained at the time, was to poke holes in their status as worldwide stars. "It's trying to be humorous about the position we find ourselves in as a big band playing big stadiums," the guitarist noted. "We take the music seriously, but we're able to laugh at the sheer commercial size of what we're undertaking."
According to Williams, when the band announced the tour, none of the emerging technology was solidified; the LED screen, for one, couldn't be built until it was "too late," and although he was confident in his ideas, there was always room for error. "We'd already told the world what we were doing before we knew if it was possible," he said.
Watch U2 Perform the Opening Night of the PopMart Tour in Las Vegas in 1997
Bono later explained that Las Vegas seemed the natural place to launch a tour of that scale. "The only place in the world where PopMart the show is going to look normal is in the entertainment capital of the world," he said. But as dates were planned, U2 was still in the studio recording Pop, leaving less time for rehearsals. It also didn't help that Bono, allergic to the desert tumbleweed found in Vegas, lost some of his voice on opening night. "It's a kind of humiliation," he said. "And that's just the start of it."
Other difficulties arose, and the lack of rehearsal time showed. The stage was filled with so much dry ice in Las Vegas that the Edge couldn't see his guitar pedals and had to kneel to find them by touch. At their concert in Oslo, the giant lemon malfunctioned, trapping the band inside, Spinal Tap style. And it wasn't cheap to keep the lights on; Bono later described the PopMart tour as one big "expensive party."
There were highlights, too. During the Zoo TV tour, U2 had broadcast satellite linkups to Sarajevo, then embroiled in the Bosnian War. The fighting ended in 1995, and on Sept. 23, 1997, U2 became the first major band to perform in postwar Sarajevo. Roughly 45,000 people attended, from varying ethnic backgrounds, and Brian Eno appeared for the first-ever live performance of "Miss Sarajevo," a song he'd co-written with U2. The show still had some technical difficulties, but the spirit of unity was palpable. Drummer Larry Mullen would later call it his favorite gig: "If I had to spend 20 years in the band just to play that show, and have done that, I think it would have been worthwhile."
Watch U2 on the PopMart Tour in Mexico City in 1997
"We did the show at a time when most of the people who lived in Sarajevo were really trying to persuade themselves that the war was really over," the Edge noted. "So for a long time afterwards we were told in Sarajevo they would refer to before and after the U2 concert."
By the time the PopMart tour ended on March 21, 1998, U2 had played a total of 93 shows to more than 3 million fans. To the band and crew, the technical challenges could be overlooked, because that was the price for their innovation.
"It's a bit like the album - it will take a while for people to see what's going on. What's so fantastic about U2 is that they're willing to take these gambles," PopMart's screen imagery curator, Catherine Owens, said in 1999. "That's the Paddy factor, actually — the Irishness. We all copped an attitude that if it doesn't work out, well, we all can go out and have a pint later."
U2 Albums Ranked
U2 don't inspire weak reactions in people. There are passionate U2 fans, and passionate U2 haters, and very little in between.
More From Ultimate Classic Rock