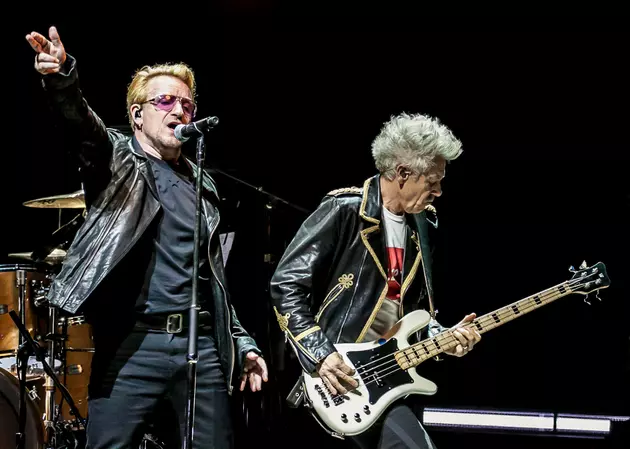 Paris Attacks Force U2 to Cancel Live HBO Broadcast
Persephone Productions
U2 have been forced to cancel their scheduled concert in Paris, France tomorrow night as a result of the terrorist attacks that killed at least 150 people in the city tonight. The show was also scheduled to be broadcast live on HBO.
According to Billboard, the band were in the city's AccorHotels Arena today rehearsing for the show, less than three miles away from the Bataclan concert hall, where over 100 people were murdered during an Eagles of Death Metal concert. The members of U2 were "promptly moved into lockdown," and remain safe at an undisclosed location.
(11/14 update: According to CNN, there are differing reports of the death toll from the venue, with the French interior ministry citing "at least 112" but the Paris prosecutor saying "about 80.")
The band have issued a statement explaining the decision, and expressing their "disbelief and shock" at the night's tragic events:
"As a result of the ongoing state of emergency across France, the U2 Paris concert scheduled for 14th November will not be going ahead as planned. U2 and Live Nation, along with HBO who were due to live broadcast the Saturday concert, are fully resolved to go ahead with this show at an appropriate time.
Speaking from Paris the band said:
"We watched in disbelief and shock at the unfolding events in Paris and our hearts go out to all the victims and their families across the city tonight.
We are devastated at the loss of life at the Eagles of Death Metal concert and our thoughts and prayers are with the band and their fans.
And we hope and pray that all of our fans in Paris are safe."
U2 Albums Ranked Worst to Best
More From Ultimate Classic Rock