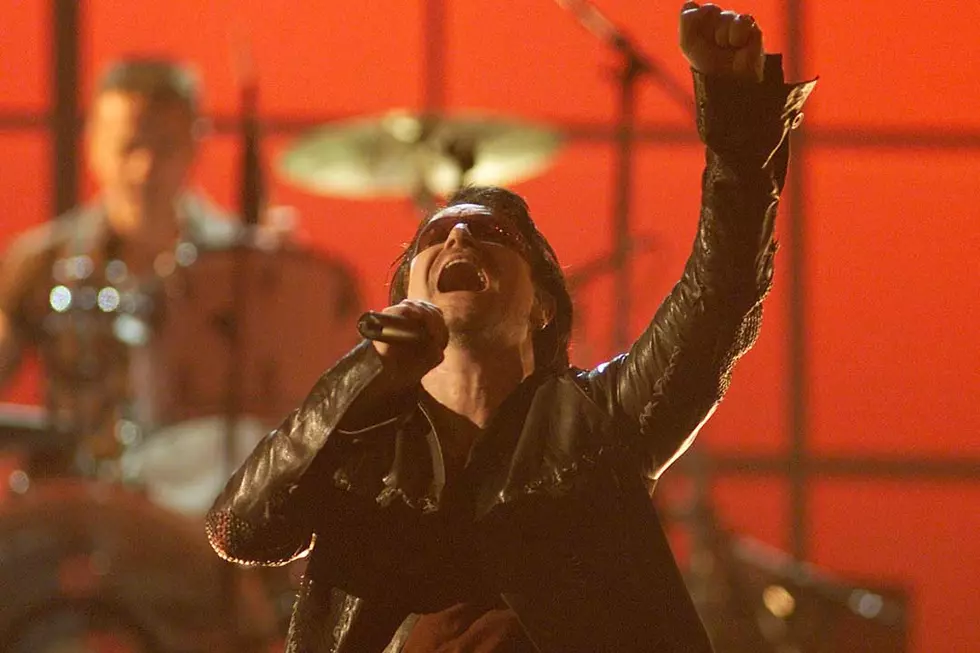 How U2 Got Back on Track With 'All That You Can't Leave Behind'
Kevin Winter, Getty Images
Like another great album from its era, Wilco's Yankee Hotel Foxtrot, U2's All That You Can't Leave Behind gained more resonance after 9/11. Released on Oct. 30, 2000, the band's 10th LP marked a return to more familiar territory after almost a decade of musical experiments. More importantly, it served as spiritual and emotional inspiration nearly a year later following the tragic events of Sept. 11, 2001.
All That You Can't Leave Behind was enough of a hit upon its release (though it's the only U2 album released between 1987 and 2009 to not reach No. 1, settling instead for a No. 2 debut). But the world-shifting atmosphere of September 2001 made more than one of its songs sound like a message for post-9/11 recovery. (Likewise, the Wilco record was scheduled to come out before 9/11 but was shelved after a record-company executive thought it wasn't commercial enough; it was eventually released, just as it was originally intended, in April 2002, when it sounded like a mournful rumination on Sept. 11.)
The years leading up to All That You Can't Leave Behind were filled with risk-taking moves by U2. Following their massive breakthrough, The Joshua Tree, in 1987, the band made a part-live, part-studio album that picked up where 1984's roots-digging Unforgettable Fire left off (but without the artsy ambient production); a dark electronic album; a slightly brighter electronic album made up of leftovers from the darker LP; and a club-focused album they called Pop.
All of the albums went multi-platinum worldwide, but none approached The Joshua Tree's 25 million tally. So by the time the quartet settled into various studios (mostly in their hometown of Dublin) throughout 1998 and 1999 (and a little into 2000), it was ready to get back to basics with a core guitar-bass-drums setup. Their breaking down of rock's traditional elements in the '90s was a satisfying excursion, but they – along with producers Daniel Lanois and Brian Eno – made a decision to return to what they did best.
On the album's best songs – "Beautiful Day," "Stuck in a Moment You Can't Get Out Of," "Elevation" and "Walk On," which, coincidentally or not, are the LP's first four tracks – U2 sound like a band with something to prove again. The muscular tension that fuels the opening "Beautiful Day," particularly, stands out as a highlight of the group's long career.
Watch U2's "Beautiful Day' Video
It hit the Top 25, and "Walk On" scored tons of airplay in the early part of 2001. Then 9/11 happened, and suddenly All That You Can't Leave Behind sounded like a directive for the times. Its concluding songs – "Peace on Earth," "New York" and "Grace," among them – seem to channel all the hurt, pain and confusion into a suite that offers hope in the darkness. "Beautiful Day," "Stuck in a Moment You Can't Get Out Of" and "Walk On," too, took on new meaning.
The songs gave the album – and in a way, U2 – a second life. It became the band's bestselling record since 1991's Achtung Baby, and "Walk On" won a Grammy for Record of the Year in early 2002. ("Beautiful Day" snagged the previous year's honor, marking the only time in the award's history that one album spawned two consecutive Record of the Year honors.)
But more than that, All That You Can't Leave Behind stands as one of U2's best albums and one of the greatest records of the 21st century, even without the accidental context applied to it. As with Achtung Baby, U2 sounded like a serious rock 'n' roll band again, but this time they were playing on familiar ground, and it was a welcome return to the anthemic stadium-sized music they were playing long before they got to the stadiums. That it became an even more significant work in the aftershock of tragedy is both testament and tribute to its timelessness.
The Most Shocking Rock Star Fashion Reinventions
From David Bowie to Metallica, these are the most shocking rock star fashion reinventions.
More From Ultimate Classic Rock