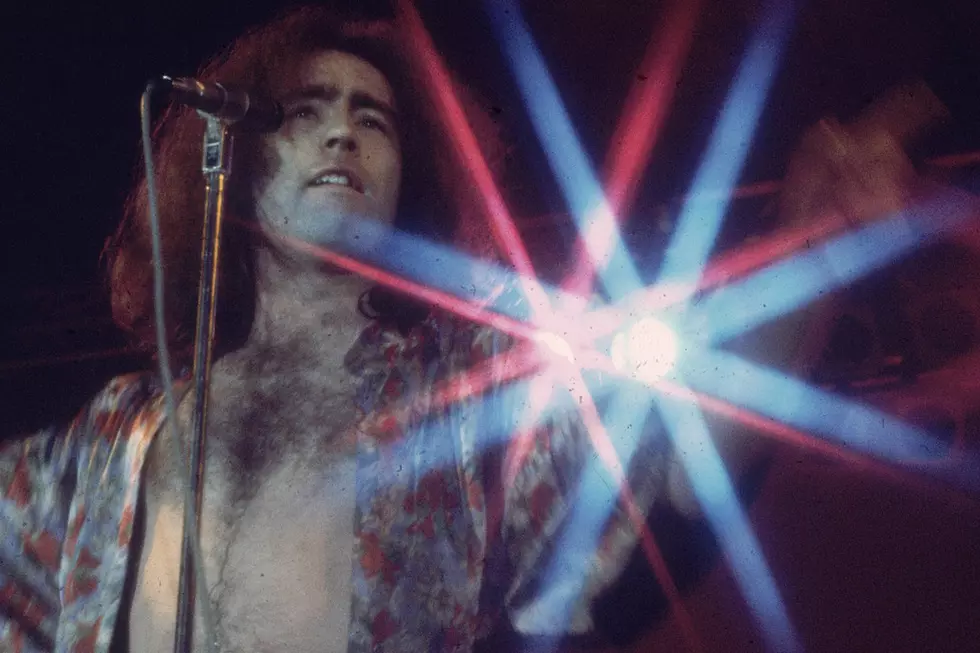 Hulton Archive, Getty Images
A fixture on rock radio for decades, Paul Rodgers has been the driving force behind countless rock 'n' roll classics. The bulk of his legacy, however, remains with Bad Company.
Co-founded in 1973 by Simon Kirke, Mick Ralphs, Rodgers and the late Boz Burrell, Bad Company grew out of Free, which also featured Rodgers and Kirke. Over the next nine years, they released four platinum or multi-platinum albums together before Rodgers departed for a lengthy hiatus. During that period, he could be found bending the ears of music fans worldwide with the Firm (with Jimmy Page), the Law (with Who drummer Kenney Jones) and later even toured with members of Queen.
But Bad Company eventually drew him back in, as the group mounted a series of reunion tours beginning in 1998. Here's a look back at the best songs they ever did together.
10

'Electricland'

From: 'Rough Diamonds' (1982)

Rodgers spins a tale of troublesome times in an unfamiliar place and as a visitor, he finds it to be a strange zip code of events. Looking deep into the mystical vibe that is projected in Rodgers' lyrics, it's quite easy to identify Las Vegas as the subject of his tale, a place where "the neon lights go flashing by" and if you&'re "willing to have a good time / you live for the moment / the moment is fine." What happens in Vegas ...

9

'Silver, Blue and Gold'

From: 'Run With the Pack' (1976)

Although it was never a single, "Silver, Blue and Gold" is a fan favorite and it's one of Bad Company's very best songs, artfully charting the oft-experienced tale of a love gone wrong and the aftermath as the spurned party seeks solace in silver, blue and gold–and the rainbow that's long overdue.

8

'Seagull'

From: 'Bad Company' (1974)

The gentle acoustic feel of "Seagull" pulls a visual to mind that actually came together in a very natural setting. Paul Rodgers told Classic Rock Revisited that he wrote the song while sitting on the beach and, as he said, "the best way to create the atmosphere is to actually be there," because "you don't have to imagine it."

7

'Burnin' Sky'

From: 'Burnin' Sky' (1977)

The atmospheric "Burnin' Sky," which would eventually become the title track for Bad Company's 1977 album, came late in the process as the band was recording. Burned out from frequent touring, Rodgers went into the studio with chords and the basic song idea, but he still needed lyrics. That actually ended up being no problem at all. They recorded the song in one take with Rodgers making up the lyrics as he went along, working off only a chorus idea that he had in his head.

6

'Ready For Love'

From: 'Bad Company' (1974)

This version is so familiar that you might be surprised to learn that the song originated during Bad Company guitarist Mick Ralphs' time with Mott the Hoople. The update is a touch more moody than the original, which has an extra bit of swagger. Rodgers' vocals walk with the shackles of a man who has been denied what he wants for way too long.

5

'Can't Get Enough'

From: 'Bad Company' (1974)

Written by Ralphs, drummer Simon Kirke provided the thunder-crack opening that launched the first side of Bad Company's self-titled debut album. "Can't Get Enough" finds Paul Rodgers exuding complete confidence in his ability to land the girl that he wants, saying "well, I take whatever I want / and baby, I want you." That doesn't leave a lot of doubts as far as what his intentions are, does it?

4

'Rock 'N' Roll Fantasy'

From: 'Desolation Angels' (1979)

Coming off the band's fifth album, "Rock 'N' Roll Fantasy" is probably one of the best songs ever written about what it's like living life as a star in the music business. From the first time you hear it, you'll be wishing for a similar career upon the lighted stage. Keep reaching for that sky!

3

'Shooting Star'

From: 'Straight Shooter' (1975)

"Shooting Star" came about at a time when addiction was claiming its share of victims in the music business, often at a tragically young age. "Shooting Star" tracks the moment when the song's protagonist Johnny discovers his musical mistress and acts as a cautionary tale about what can happen when a big dreamer gets more success than he can handle. The bottle of whiskey and sleeping pills ultimately snuff this "Shooting Star" long before his time.

2

'Feel Like Makin' Love'

From: 'Straight Shooter' (1975)

Despite being English in descent, songs like "Feel Like Makin' Love" have a distinctly American feel and Rodgers has said that he learned the "language of rock 'n' roll listening to lots of blues and soul guys," whom he then he imitated with his vocals. A muscular guitar riff from Mick Ralphs then adds extra emphasis to the bluesy passion of Rodgers' vocals on "Feel Like Makin' Love."

1

'Bad Company'

From: 'Bad Company' (1974)

Bad Company's signature song also happens to be the name of the group and it's something that Paul Rodgers fought hard for, because management and the record label thought it was a "terrible name." Rodgers has described the song as one that has a Western vibe, "with an almost biblical, promise-land kind of lawless feel to it." He says the song name (and we'd argue the same for the legendary piano opening) helped to back up the theme of "Bad Company."
More From Ultimate Classic Rock