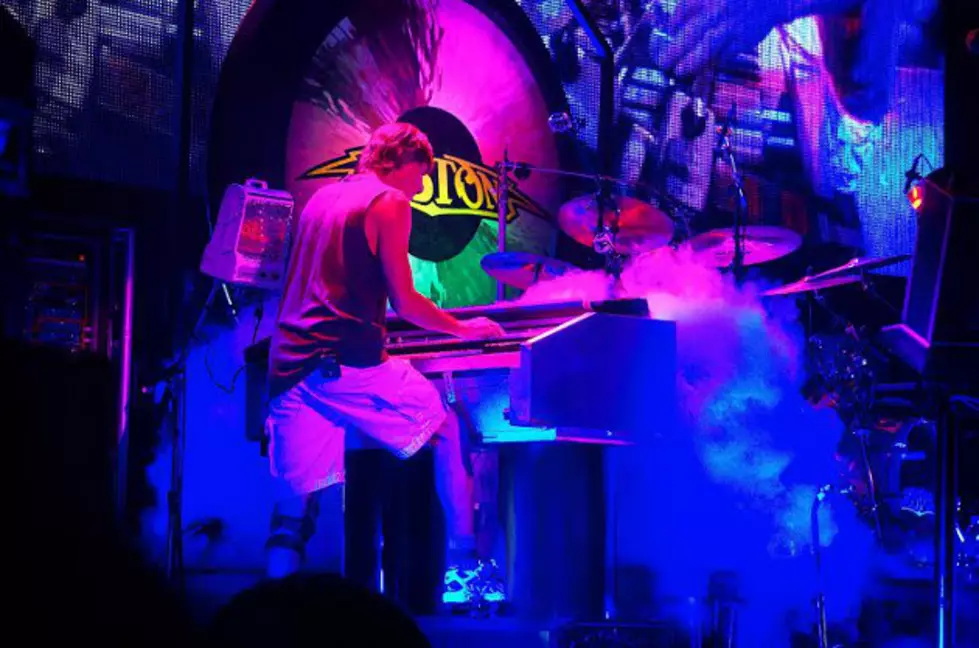 Exclusive: Tom Scholz Promises 'Heaven On Earth' For The Next Boston Tour
Photo Credit: Bob Summers Photography
After an 11-year wait, Tom Scholz emerged from the recording studio last year with a new Boston album, 'Life, Love & Hope.' If you've been hoping that this summer might bring a Boston tour as a follow-up, you're in luck. Scholz and Boston will indeed be on the road for tour dates that begin on June 5 in Hollywood, Fla. The current confirmed touring lineup for the group includes Scholz, joined by longtime Boston members Gary Pihl and Curly Smith, as well as Tommy DeCarlo and David Victor and Tracy Ferrie.
There are 61 dates booked so far and Boston will share the stage along the way with fellow classic rock favorites Cheap Trick, the Doobie Brothers, Blue Oyster Cult and Night Ranger. When the U.S. shows wrap up in September, they'll head overseas for a batch of Japanese dates. So it's safe to say that 2014 will be quite busy for Scholz.
Scholz spoke with Ultimate Classic Rock last year regarding the new album and we caught up with him again recently as he was in the midst of rehearsals for the upcoming trek to get an update and find out what's on tap for the shows this summer.
It's exciting news that you're heading back out on tour. What can fans expect from Boston on tour this summer?
Nothing but the best. [Laughs] I guess actually I'm kind of serious, because we work very hard at it. We'll be bringing essentially the same lineup that we had in 2012. We're adding some of the new songs, [but] of course the set will be weighted very heavily with the older hits because everybody has to hear those.
But we're playing some of the new songs and we're also changing up a few of the songs in the set with ones that have been requested over the years. So we're very excited about it. We've already had our first rehearsals and they went super-well. You know, we don't get out much, so when we get the chance, this is a big deal to us.
Does a tour like this ever give you the opportunity to pull out a song that you want to play live that you haven't played live from the back catalog?
Yes. There was a lot of back and forth. Everybody's got their favorite tunes or the ones that they'd like to do. Of course, we've only got so many minutes on the stage. So we chose a few of them. At a lot of the shows, we'll be doing 'Can'tcha Say (You Believe In Me)' from the 'Third Stage' album and 'I Think I Like It.'
We will be doing 'Heaven On Earth' and a couple of tunes from our new 'Life, Love & Hope' album. But we'll also be doing the ones everybody expects -- the obvious Boston hits starting with 'More Than A Feeling' and going from there. I'm not one of those artists who doesn't want to play their most popular songs. I'm really excited about playing 'More Than A Feeling' again.
You've said that "playing live was the reason for starting all of this." Is that still the driving force for you, in regards to everything that you're doing in the studio?
You know, it was the reason that I started trying to write and record in the first place. Somewhere along the line, recording became so important that it eclipsed the live effort and I ended up spending far more time working in the studio than I actually spent traveling and playing the music, now that I finally had the opportunity to do that. So you know, I'm trying to bend that back the other way.
Playing live was always definitely a lot more fun. You picture it: working alone in the studio eight or 10 hours a day with nobody else there being frustrated and driven crazy by all of the things that you have to deal with vs. thousands of people screaming and singing along with you playing. It's kind of a no-brainer -- playing live is definitely the good part of it.
This is probably an interesting time for you, when you have songs like the songs from this new album where you've been living with them for a long time. Now you get to start figuring out how to make it all translate to the stage. How much of a process is it to do that with the new songs?
Well, all Boston songs are fairly difficult to translate to the stage. None of them are especially easy to play or sing. A lot of them, of course, have very involved arrangements with lots of different sounds and sections that are difficult to play and sing. The prospect of doing any Boston song live is always an endeavor in itself. The new songs I would say were about as challenging as the ones that we're used to doing. Some are easier than others, but none of them are easy. [Laughs]
There aren't a lot of cover bands that do Boston material or do it well and the reason for that is that they are hard to play. So we put a lot of work into it. The musicians that I've managed to surround myself with after all of these years are individuals who really excel at what they do. Combine that with the kind of personalities that are able to fit into what is really a team effort and it's exciting to see it all go together. We enjoy our time together and working together.
You know, all of those things are really critical to having a show that people will enjoy because the band is enjoying it, if you get what I'm saying. In this case, the band really is enjoying it. We have a blast actually getting onstage and we work very hard for months out in front to get everything together so that it works. The actual playing onstage is the fun part, being let out of school. By the way, we are going to play 'Last Day Of School.' [Laughs]
Now that 'Life, Love & Hope' has been out for a few months, do you feel good with the way that it's been received? This is your first album in quite a while and obviously the business has changed quite a bit since the last one was released...and already, things weren't in a great place at that point.
[Laughs] No, they weren't and they got a lot worse. But you know, I was really excited to see 'Heaven On Earth' go to the No. 1 spot and stay there for a while on classic rock [radio]. That was awesome. It was great to see it in the Top Ten on regular rock stations. The response was actually more than I could have hoped for.
Like all of the records I've made, you know, I'm working alone and I don't get a lot of feedback about anything that I'm doing. I usually have no idea how it's going to be received. I'm writing, arranging and playing music the way that I want to hear it. I never know whether or not that's going to resonate with anyone else. So to see it get a good reception was very rewarding and it makes it possible for us to play it live, because if it didn't do well and nobody liked it, well then we probably wouldn't do it.
Is there an update on the live DVD that you've been working on?
It's still in the back of my mind. I still have countless recordings of Boston playing every possible song with numerous different arrangements live. It's a very tantalizing thing to do, so it's still something that I'm considering putting together. At the moment, just having come off finishing the CD after a very long time in the studio and getting ready to go on the road, right now all I'm thinking about is playing my songs on a real stage.
More From Ultimate Classic Rock