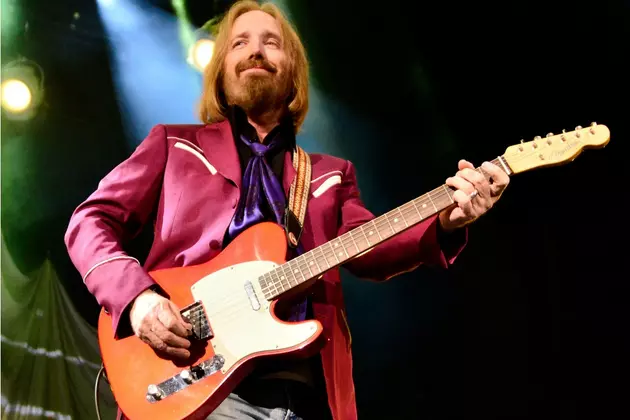 Tom Petty Is Getting His Own SiriusXM Channel
Jerod Harris, Getty Images
Tom Petty fans have one more reason to pony up for a SiriusXM subscription.
The company has announced that Petty will take the creative reins with his own station on the satellite radio network, which is set to debut Nov. 20. He'll also serve as the first DJ on the station, which will be titled Tom Petty Radio and broadcast from SiriusXM's Channel 31.
While this isn't Petty's first SiriusXM venture — he's also hosted Tom Petty's Buried Treasure for nine seasons and running — Tom Petty Radio promises to include a bevy of exclusive content curated by the artist, including unreleased material. "We are so honored and grateful to SiriusXM for giving our fans access to all of our music, from our biggest hits to very obscure tracks only available through this channel," he said in a statement. "I intend to be very hands on and supply brand new exclusive tracks as well as rarities from our vaults. Our biggest hope is for a channel that is always entertaining in the way only radio can be."
Among the earliest exclusive content will be a broadcast of Petty's Aug. 30, 2014, show with the Heartbreakers at Boston's Fenway Park, as well as a new interview with rock critic David Fricke. Listeners can also expect guest DJ spots from members of the Heartbreakers and a number of Petty's famous friends, along with new and repeat episodes of Buried Treasure.
Going forward, Tom Petty Radio offers Petty a more tightly controlled forum for debuting tracks from his upcoming projects, which include a disc of unreleased tracks from the Wildflowers sessions and a new album with Mudcrutch, along with hits and deep cuts from records released throughout his career.
"We are truly thrilled to be creating a new music channel with one of the biggest names in the history of rock 'n' roll," enthused SiriusXM president and chief content officer Scott Greenstein. "Now with his own channel, Tom can spread his wings playing his incredible music from multiple decades, the familiar and the rare, as well as a broad range of other artists in rock and R&B."
See Tom Petty and the Heartbreakers in the Top 100 Rock Albums of the '70s
Rock's Most Criminally Underrated Albums
More From Ultimate Classic Rock