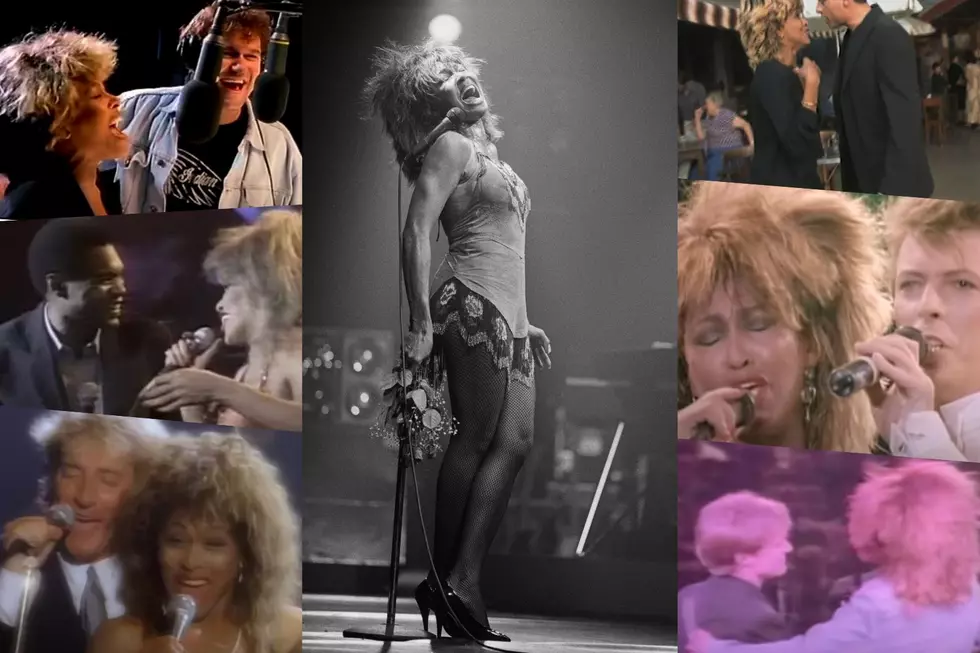 Top 10 Tina Turner Collaborations
UCR
Throughout a career that spanned more than 65 years, Tina Turner played nice with others. She even made great music with the guy who was abusing her for sport.
But during her solo career, Turner logged a long list of collaborations with other artists, up to and including Norwegian EDM star Kygo on a 2020 remix of "What's Love Got to Do With It." Others along the way included David Bowie, Bryan Adams, Eric Clapton, Rod Stewart and Robert Cray.
"It's one of the highlights of my life, not just my career," Adams told this writer about "It's Only Love," his 1985 hit duet with Turner. "I was only 24 at the time. [Reckless] was only my fourth album, and here I am singing with someone who was already a legend. I felt like if it ended right there. I'd won."
The collaborations are outstanding moments dotted throughout Turner's hits, adding to her legacy and keeping her in a position where broader audiences could appreciate her artistry. We run down the Top 10 Tina Turner Collaborations below.
10. "(Simply) The Best" With Jimmy Barnes (1992)
Tina Turner ... and rugby? That's what brought this remake of "The Best" to life, recorded with Australian singer Jimmy Barnes for the 1992 New South Wales Rugby League season. It's a faithful rendition and sounds just fine with two voices rather than one. Largely unnoticed in most of the world, the track was included on a bonus disc for the Australian version of her 1991 Simply the Best compilation.
9. "Cose della vita (Can't Stop Thinking of You)" With Eros Ramazzotti (1997)
Italian rocker Ramazzotti had a hit with this guitar-driven song four years earlier but reached out to Turner for a bilingual version as part of his greatest hits album as well as an attempt to reach some English-language fans. It's more restrained than her duets with Bryan Adams and Eric Clapton, but Turner still provides plenty of fire, propelling the song into the Top 5 around Europe and the Top 20 on Billboard's Hot Latin Songs chart.
8. "Teach Me Again" With Elisa (2006)
Turner joined Italian singer-songwriter and label mate Elisa (nee Toffoli) on this song for the soundtrack to All the Invisible Children. The ebb and flow of their duet was seamless and their voices complementary. It hit No. 1 in Elisa's homeland and is a great under-the-radar discovery.
7. "634-5789" With Robert Cray (1989)
Turner was joined onstage by Cray for an exuberant rendition of a Wilson Pickett classic. What's not to like here? It was part of a four-song covers set the two worked up for Turner's 1986 TV special Break Every Rule and wound up a part of her Tina Live in Europe album two years later.
6. "What's Love Got to Do With It" With Kygo (2020)
Turner's final recording was short and sweet, and decidedly unexpected. The Norwegian DJ Kygo called "What's Love Got to Do With It" one of his all-time favorite songs and wrapped Turner's faster-paced vocals into his synthesizers and 4x4 beat for a Top 10 hit on Billboard's Hot Dance/Electronic Songs. It's not an out-and-out banger, but it's far from the sultry comeback hit that it was in 1984. Not all of Turner's fans will get it, but if there's a club kid who goes back to Private Dancer and then follows the story from there, its done is job.
5. "It Takes Two" With Rod Stewart (1990)
Marvin and Kim, Rod and Tina ... . Tina Turner teamed up with Rod Stewart to remake the 1966 Gaye-Weston hit for Stewart's Vagabond Heart album. It also wound up in an ad for Pepsi. The pairing was fairly bulletproof and thoroughly enjoyable for all parties ... and it was a Top 5 hit in several European countries.
4. "Tonight" With David Bowie (1984)
Turner's passion and Bowie's soulful cool were well-matched on this track, co-written by Bowie and Iggy Pop for the latter's Lust for Life album seven years earlier and revisited on Bowie's Tonight. Bowie excised Pop's spoken-word elegy to a lover dying from heroin addiction and added a sample from Aretha Franklin's "Spanish Harlem," which made for an interesting virtual "collaboration" between a pair of still-vital divas.
3. "Ball of Confusion (That's What the World Is Today)" With British Electric Foundation (1982)
Pre-comeback Turner was throwing a lot of things against the wall, and this one stuck: a remake of the Temptations' socially conscious 1970 hit recorded with the British production team for its album Music of Quality and Distinction Volume One. The synths were a new step for Turner, but it worked, and the recording provided a calling card that led to a new record deal with Capitol Records and started the road toward Private Dancer.
2. "Tearing Us Apart" With Eric Clapton (1987)
Clapton reputedly penned "Tearing Us Apart" about his wife Pattie Boyd's "committee" of friends that he felt were, well, the title says it. But he tried to balance the argument a bit, and Turner represented Boyd's side with her chin out and voice blazing. With Phil Collins producing, Clapton stepped up as well, both vocally and on guitar.
1. "It's Only Love" With Bryan Adams (1984)
The Canadian rocker got Turner hot off her Private Dancer comeback success; she was huge, but this gave her a further inroad with rock audiences. "It's Only Love" went to No. 15 on the Billboard Hot 100 and No. 7 on the Mainstream Rock chart. It was nominated for a Grammy Award and won the MTV Video Music Award for Best Stage Performance.
Top 25 Soul Albums of the '70s
There's more to the decade than Marvin Gaye and Stevie Wonder, but those legends are well represented.
More From Ultimate Classic Rock