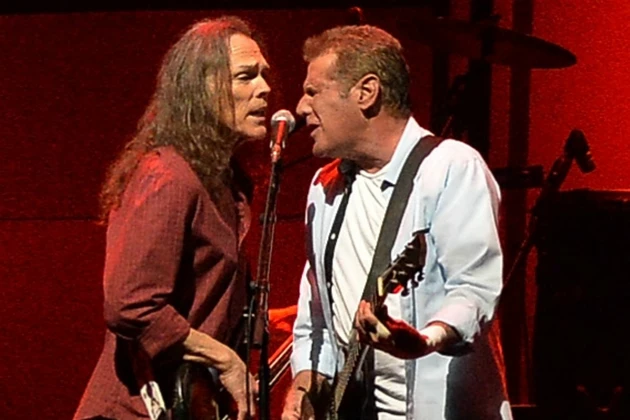 Timothy B. Schmit Opens Up About Glenn Frey's Sudden Death: 'Everybody's Still Processing It'
Rick Diamond, Getty Images
Like the rest of his former Eagles bandmates, bassist Timothy B. Schmit is slowly getting used to life without Glenn Frey — but as with any significant loss, the adjustment isn't easy.
"Everybody is still processing it. But part of processing it is carrying on," he mused. "[The Eagles] haven't done anything since he passed. Nobody's really doing his songs, unless there's a tribute show once in awhile. But I do hear it on the radio. Just now, I stopped thinking about it every day, but I think about this whole thing often. When you started talking about it, I was startled to the fact that he's really gone."
On the subject of tribute shows, Schmit said the surviving Eagles would be on hand to perform at the Kennedy Center on Dec. 3 — a makeup date for honors they were originally scheduled to receive last year, but had to postpone due to Frey's health issues.
"We had no idea that his illness would get to a dire state, but it did. [The Kennedy Center] kept their promise and postponed until this year. We're going to do it without him," said Schmit. "If you're honored, you sit up pretty close to the President, and watch the show, and watch other people do their take on your work. It's unbelievable. Who would've thought?"
Eagles Albums Ranked Worst to Best
More From Ultimate Classic Rock