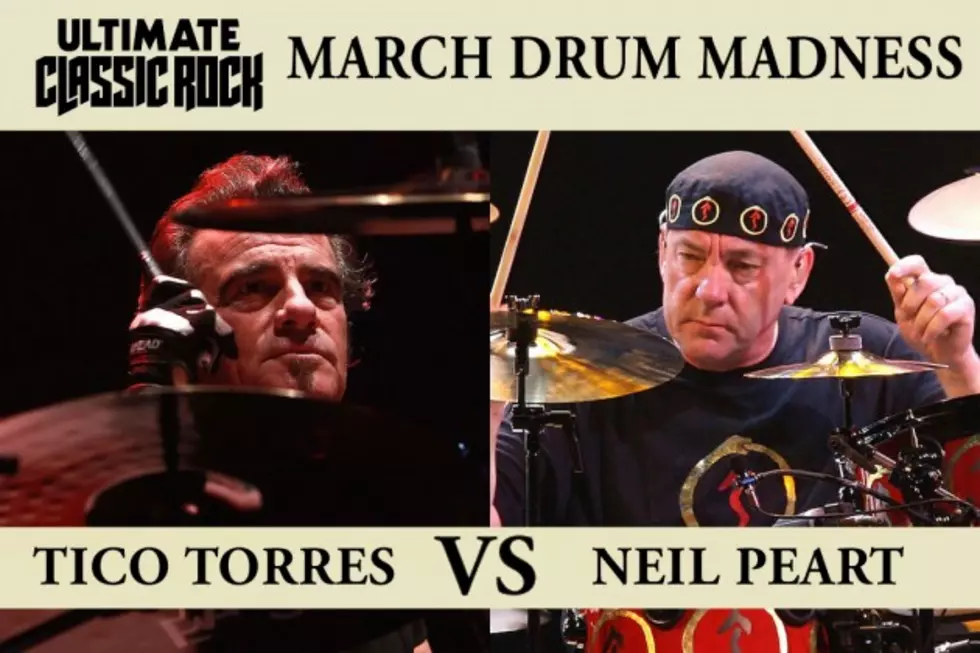 Tico Torres Vs. Neil Peart: March Drum Madness
Robert Cianflone / Jesse Grant, Getty Images
The opening round of our new March Drum Madness competition matches two musicians with decades of success behind them, Bon Jovi's Tico Torres and Neil Peart of Rush.
We've placed 32 of the most famous drummers in classic rock history into our March Drum Madness bracket. Over the coming weeks, their ranks will be cut in half in each of five rounds until we arrive at your choice for the greatest rock drummer of all time.
Torres has been in Bon Jovi since the band was formed in 1983. His rock-solid drums have provided the musical backbone on classic anthems like "Livin' on a Prayer," "You Give Love a Bad Name" and "It's My Life." But for all his accomplishments, Torres is going to have his hands full with Peart, who is widely considered to be among the greatest rock drummers of all-time. He has earned his reputation thanks to his inventive fills and navigation of Rush's tricky time signatures on "YYZ," "Tom Sawyer," "Xanadu" and countless others.
So who's going to make it to the round of 16? That's your call. You can vote once per hour in each of our opening March Drum Madness battles until the first round closes on March 23 at 11:59PM ET. The ultimate winner will be revealed on April 7.
See Bon Jovi and Other Rockers in the Top 100 Albums of the '80s