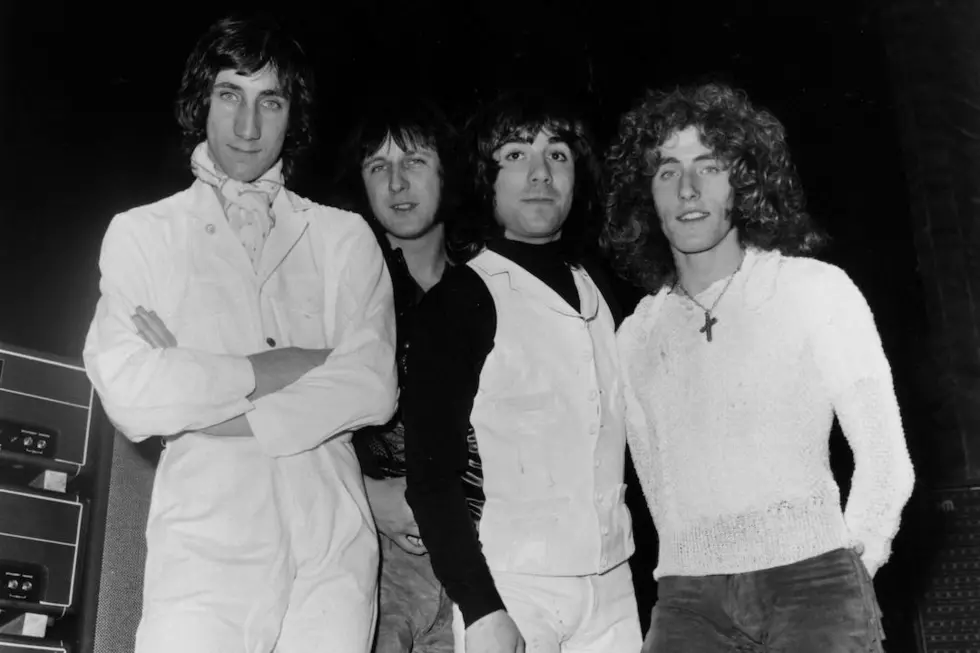 Why the Who Reluctantly Recorded 'Pinball Wizard'
Steve Wood, Getty Images
It's common to craft a song to be a hit, but it's rare that one is written specifically to get good reviews from a single critic. Still, that's exactly what Pete Townshend did with "Pinball Wizard," which was recorded on Feb. 7, 1969.
The Who were deep into their sessions for Tommy when Townshend played a rough mix of the concept album for Nik Cohn, a rock writer with whom he often played pinball in Soho. Cohn expressed his dissatisfaction, particularly with the heaviness and the spiritual aspects of the story and felt that it could use something upbeat.
"I just remember saying to him, with maybe an element of sarcasm, 'So, if it had pinball in it, would you give it a decent review?'" Townshend told Uncut in 2004. "He went, 'Of course I would. Anything with pinball in it's fantastic.' And so I wrote 'Pinball Wizard,' purely as a scam."
But Townshend wasn't too thrilled with the result. "This is awful, the most clumsy piece of writing I've ever done," he said in 1996. "This sounds like a music hall song. … It was going to be a complete dud, but I carried on. I attempted the same mock baroque guitar beginning that's on 'I'm a Boy' and then a bit of vigorous kind of flamenco guitar. I was just grabbing at ideas. I knocked a demo together and took it to the studio and everyone loved it."
As a side note, "Pinball Wizard" wasn't Nik Cohn's sole contribution to music history. His 1976 essay for New York magazine about the disco scene in Brooklyn called "Tribal Rights of the New Saturday Night" was used as the basis for Saturday Night Fever. He would later admit to making up the story, basing it on a Shepherd's Bush mod — the group that were the Who's original fan base — that he knew in the '60s.
Cohn proved to be an effective sounding board. Even though "Pinball Wizard" was tacked on, the song turned out to be important to the story. Tommy's skill at pinball, despite being a "deaf, dumb and blind boy," provided a way for him to become famous.
Listen to the Who's 'Pinball Wizard'
Perhaps more importantly for a band whose penchant for smashing instruments and flashy clothes had put them in considerable debt by 1969, "Pinball Wizard" gave them a song that could stand outside of the story for radio airplay. Released a month later, it reached No. 19 on the Billboard Hot 100, the Who's second-highest charting single in the U.S. to date, paving the way for the runaway success of Tommy.
Later, "Pinball Wizard" gained infamy at Woodstock when, after the performance of the song, famed radical Abbie Hoffman, ran onstage and shouted: "I think this is a pile of shit while John Sinclair rots in prison!" He was referencing to the 10-year sentence given to his friend for possession of two joints. Townshend yelled back, 'Fuck off my fucking stage'" and whacked him with his guitar. Sinclair was released in 1971.
In 1994, Data East created a pinball machine inspired by the Broadway adaptation of the Who's rock opera. And if you're able to find one these days, we don't recommend trying to play "by sense of smell."
Top 10 Reunion Tours
There are three certainties in the world of rock: Death, taxes and reunion tours.
Why the Who's Drummer Invited Fans to Moon Him
More From Ultimate Classic Rock