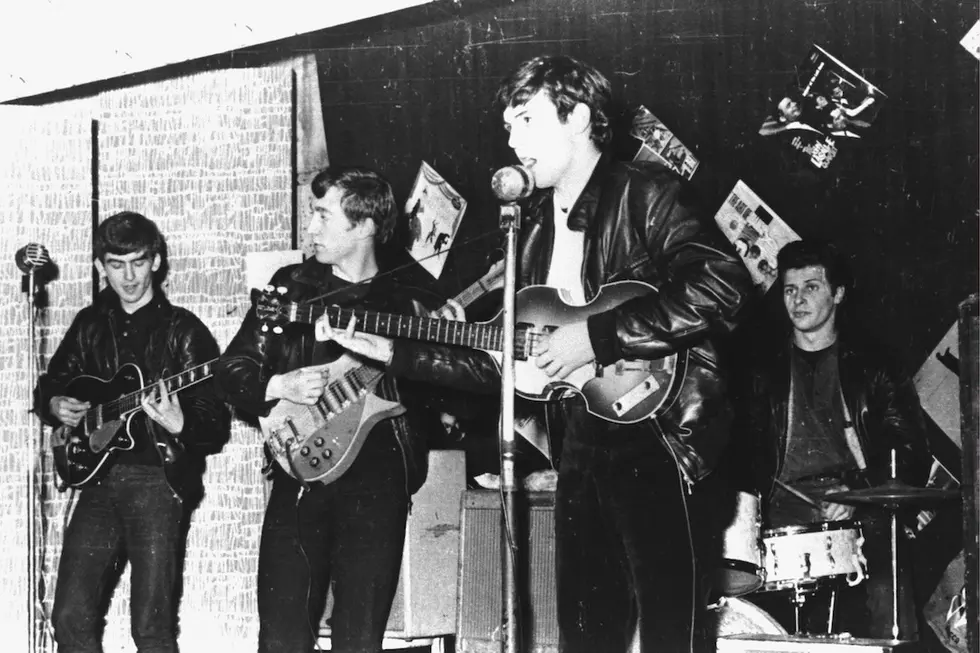 Why the Beatles Failed an Audition for Decca Records
Hulton Archive, Getty Images
In 1962, the Beatles would go from a band with a strong local following to the biggest rock group in all of England. But it started off in an undistinguished fashion, with the not-yet Fab Four failing an audition for Decca Records on Jan. 1, 1962.
On New Year's Eve 1961, the Beatles drove in a snowstorm from Liverpool to London. The next day, they set up shop in Decca Studios and cranked out 15 tracks in a few hours. The songs reflected what they were regularly performing at the time, a mixture of rock, R&B, rocked-up standards and originals.
Dick Rowe, the A&R man who agreed to try out the group, was unimpressed, however, famously telling manager Brian Epstein that "guitar groups are on their way out." Five months later, the Beatles signed with George Martin at Parlophone, an imprint of EMI, leading to arguably the most successful artist-producer collaboration in history.
Five of the songs – "Searchin,'" "Three Cool Cats," "The Sheik of Araby," "Like Dreamers Do" and "Hello Little Girl," the last two of which were written by John Lennon and Paul McCartney – appeared on the Beatles' Anthology 1 in 1995. Two others, "Money (That's What I Want)" and the showtune "'Till There Was You," were rerecorded for their second album, With the Beatles.
The remaining eight songs included Chuck Berry's "Memphis," Buddy Holly's "Crying, Waiting, Hoping," Bobby Vee's "Take Good Care of My Baby," Phil Spector's "To Know Her Is to Love Her" and another original, "Love of the Loved."
Listen to the Beatles Perform 'Like Dreamers Do'
The tapes prove George Martin's assertion that Pete Best was the wrong drummer for the group. For years, Best had said he was fired in favor of Ringo Starr because the band were jealous of his success with their female fans. But after one listen, it's obvious that Best was a limited drummer with a poor sense of timekeeping.
The Beatles' oral history Anthology finds McCartney and Lennon reflecting upon the Decca audition in hindsight: "Listening to the tapes I can understand why we failed the Decca audition," McCartney said. "We weren't that good, though there were some quite interesting and original things."
Ever contrary to his partner, Lennon disagreed. "I wouldn't have turned us down on that," he said. "I think it sounded OK. [...] I think Decca expected us to be all polished; we were just doing a demo. They should have seen our potential."
Indeed, while the bootlegs show that certain elements of their success – namely, the harmonies, sense of humor (particularly on the Coasters covers) and McCartney's bass playing – were there at this still-early stage, the Beatles seem to be somewhat timid on this session. Whether it was nerves or Best's lack of power, the audition does not properly capture the raucous energy the way Martin would later that year.
Listen to the Beatles Perform 'Three Cool Cats'
The Best Song on Every Beatles Album
See the Beatles in Rock's Craziest Conspiracy Theories
More From Ultimate Classic Rock