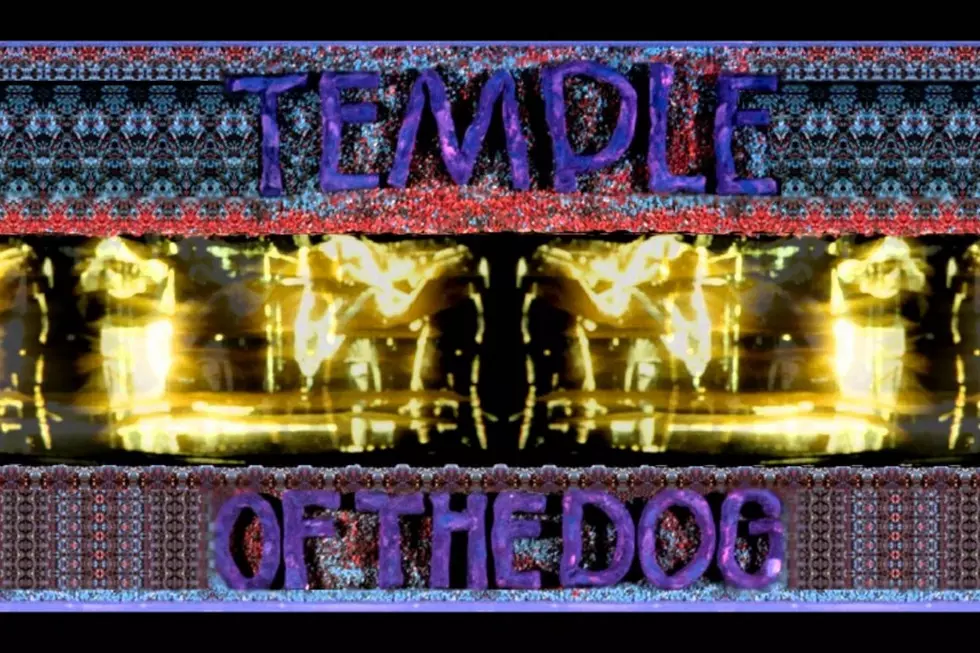 How Temple of the Dog Helped Soundgarden and Pearl Jam Mourn
A&M
The world would soon know them as members of Soundgarden and Pearl Jam. In the fall of 1990, however, the Seattle musicians making up Temple of the Dog were bound together by grief instead of stardom — and leaning on one another to pay tribute to a fallen friend the best way they knew.
The project came together in the weeks following the 1990 death of Mother Love Bone frontman Andrew Wood, whose heroin overdose reverberated throughout the Seattle music community. Among those who felt Wood's loss most keenly was Soundgarden singer Chris Cornell, who'd been a roommate of Wood's and had just come home from a tour the day of Wood's passing.
"About five days later, I went to Europe for another tour and I figured it would be this great thing, because I would be away from home and I wouldn't have to look at places where I saw him or see things that would remind me of him," Cornell told KISW in 1991. "I thought it would be really great, but it was awful because I couldn't talk to anybody. So I started writing songs — that was the only thing I could really think of to do."
Realizing that the new material wasn't in line with Soundgarden's approach, Cornell decided to reach out to Wood's former bandmates in Mother Love Bone, guitarist Stone Gossard and bassist Jeff Ament, about potentially getting together to record a tribute single.
"The idea was mainly to do a single as opposed to a whole record," he told Reflex in 1991. "And the thing was, the rest of the guys in Temple, they sort of thought maybe we should make it a little bit longer project, like an EP or something. The more we talked about it, the more songs kept flying out, and it ended up being an album. It didn't feel like a morose project. It felt sort of celebratory."
After approaching Gossard and Ament, Cornell enlisted Soundgarden drummer Matt Cameron to join the budding project; meanwhile, Gossard and Ament were making plans of their own for life after Mother Love Bone, putting together a band that called itself Mookie Blaylock and included guitarist Mike McCready and singer Eddie Vedder. The Temple of the Dog project, named for a line in the Mother Love Bone song "Man of Golden Words," quickly drew both of the new additions into its orbit.
Watch Temple of the Dog's 'Hunger Strike' Video
For McCready, who'd been delivering pizza not long before getting the invitation from Gossard, Temple of the Dog offered a low-pressure way to enter a professional recording environment. Although his four-minute solo on "Reach Down" is one of the record's musical high points, he downplayed his contributions in an interview with Guitar Player, explaining he was set up to succeed because "There was a certain structure laid down for each song, but at the same time there was freedom to just go."
"I think Temple was the first full-length album that McCready ever recorded," Cornell later told Spin. "You almost kind of had to yell at him to get him to realize that in the ... solo of 'Reach Down,' that was his time and that he wasn't going to be stepping on anybody else. He started recording what was eventually the solo, halfway through it he got so into it that his headphones flew off, and he played half that solo without even hearing the song."
It also proved a welcoming testing ground for Vedder, who'd been flying in from San Diego during breaks from his day job and didn't have the history with Wood or the other members that everyone else enjoyed. "He was very quiet and very shy and didn't have a lot to say," recalled Cornell.
"He was under a lot of pressure, a lonely guy away from home in a room full of people who had a lot of experience in bands. He was by himself, just singing his words and doing his thing."
A turning point emerged in the song "Hunger Strike," which Cornell had written to demand a wide vocal range he was having a hard time pulling off in rehearsals — unwittingly giving Vedder a chance to make his biggest mark on the project. "I had this feeling it was just kind of gonna be filler, it didn't feel like a real song," said Cornell.
"Eddie was sitting there kind of waiting for a Mookie Blaylock rehearsal and I was singing parts, and he kind of humbly — but with some balls — walked up to the mic and started singing the low parts for me because he saw it was kind of hard. We got through a couple choruses of him doing that and suddenly the light bulb came on in my head: 'This guy's voice is amazing for these low parts.'"
"That was the first time I heard myself on a real record," said Vedder in the Pearl Jam Twenty documentary. "It could be one of my favorite songs that I've ever been on — or the most meaningful."
Listen to Temple of the Dog Perform 'Reach Down'
Recorded in a scant 15 days on the band members' dimes, the Temple of the Dog album was ultimately bought by Soundgarden's label A&M, and released to little fanfare on April 16, 1991. Although the record earned mostly positive reviews, there wasn't much of a market for it — yet. That all started to change later in the year.
The members of Mookie Blaylock, who had by then rechristened themselves Pearl Jam, released their multiplatinum debut Ten in the fall, alongside Soundgarden's future Top 40 hit Superunknown and a No. 1 Seattle hit in waiting, Nirvana's Nevermind.
By the summer of 1992, the major labels wanted everything they could get out of the Pacific Northwest, and A&M took full advantage, throwing a promotional push behind Temple of the Dog that came complete with a video for "Hunger Strike," which was re-released to radio and turned into a Top Five rock hit on the strength of the vocal interplay between its two now-famous singers. The band members had all returned their focus to their main bands, and to their credit, no one seemed to give much serious thought to a follow-up even after Temple went platinum. But affection for their time together remained.
"I still listen to it and think that it's the best thing I've ever been involved with," Gossard told Spin in 2001. "Whatever that combination of people was, I'd never been in a situation where it was that easy. I've almost been looking for that ever since. The very first thing we did was a very high water mark, the way that our two bands complemented each other. And it was a bunch of songs that Chris wrote totally from the heart. He wrote these songs without any preconceived notions of where they might end up or what they were going to be. That's where the real gold is. In terms of writing music, being self-conscious is the worst place to be."
For Cornell, the effects were equally long-lasting. "To me, in a sense, it was like another Temple of the Dog," he said in 2011 when asked about his stint in the supergroup Audioslave. "That's why I even entertained the idea of getting into a room with them. Temple of the Dog was the first time I did something like that outside of Soundgarden and I didn't even know I could have a relationship like that with some other guys, and it made me realize that later on in any point of my career I shouldn't just immediately say no to any opportunities like that."
As fans are aware, that brief window around the recording of Temple of the Dog wasn't completely the end for the band, as they've reunited for various one-off gigs over the years.
Still, the group represents a painful yet pivotal moment in time, framed by music created with a purity of intent that has characterized many of its members' later works.
Top 30 Grunge Albums
From Nirvana and Neil Young to Melvins and Mudhoney — the best works to come from the '90s movement.
Heart's Ann Wilson Discusses the Rise of the Seattle Scene
More From Ultimate Classic Rock