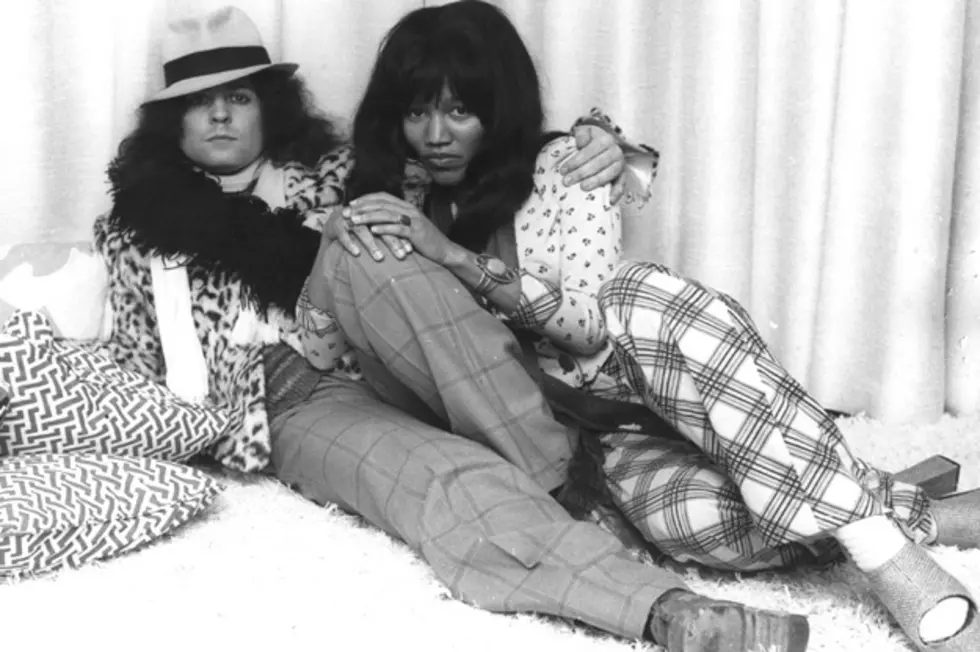 Late T. Rex Singer Marc Bolan's Girlfriend Gloria Jones Keeps His Memory Alive
Keystone, Getty Images
We talked to Jones after her special guest appearance at the Rock and Roll Hall of Fame during its month-long tribute to 'African American Women Who Rock.' She revealed that it was Rolan who suggested they start a school in honor of his dad. Jones emphasized that these kids need to know that they have options. "Marc was a person about choices," she explained, and the aim of the school baring his name is to provide tools that will enable young people to excel in music and film.
Jones joined T.Rex in 1974 and her fierce, funk-rock vocals backed Bolan until his untimely death in 1977. The glam couple were partners musically and romantically so we asked Jones to share a few stories regarding the musician and the guy that she refers to as her "best friend - my man, my everything."
"He had achieved and knew everything that he was going to accomplish in life but he was so happy to have the child," explained Jones. "He was very happy to have a son, he was crazy about that boy. Rolan used to dance real fast. He'd say 'Gloria, his feet are faster than James Brown!' Marc was a person of love. I miss him a lot."
Rolan, now an adult with his own music career, hears a lot about his dad while playing the live circuit. Jones relays that when he was in Manchester some fans told him that when they were young kids on the motorway, they had a flat tire and all of a sudden they look up and there was Marc Bolan. The fans explained that Bolan offered his help, took them over to the cafe and got them coffee while the tire was being fixed and got them going again. "He was just that type of person," the fans told Rolan of his father.
Bolan had many well-known friends including his on-and-off rival, David Bowie. Jones shares this story about the 1976 film 'The Man Who Fell to Earth' and it's clear that Bowie really valued Bolan's opinion. She recalls, "David had been calling Marc telling him that he'd been doing the film and it's going to be released. Marc said to me, 'We're going to Stockholm,' because at that time David wasn't really doing a lot of flying. So we flew to Stockholm and then we got on the boat to go to Helsinki, Finland with David. He was doing a concert there, so when we arrived David rented the cinema so there it was just the three of us."
"So, I gave them their privacy acting more like their bodyguard," says Jones. "Marc and David, they were sitting there and in my mind, I was like, 'Oh boy, how is this going to go?' See, Marc had already told me (sassy voice), 'I'm going to make sure that David understands my comments about this film!' and I was like, 'Uhhhh I don't know.'"
She adds, "David was very humble because it was the first time seeing the actual film and Marc was, 'Yeah well, that scene's OK there but I would've shot it like this and I would've had you coming in here and …,' so it was slowly building up. Suddenly, I see Marc's arms flying and you could tell David was just like, 'Man, just let me look at the film!'" Jones tells this story laughing, stressing, "They were such good friends and when we left the cinema Marc told me that he was really proud of him."
While still on the topic of films, 'Born to Boogie' came up and Jones had this to say: "He and Ringo Starr were doing the film and Ringo really helped Marc. A few years ago, Ringo gave his blessing to the DVD release and they did a super job on that. He loved Ringo so much. When Rolan was born, Ringo gave him a silver cup and spoon and Paul and Linda McCartney sent Rolan a teddy bear made in daisies. They really supported Marc – he had good friends."
Bolan was at a good place in his life in 1977 and had really made a comeback of sorts. Jones explains, "People have to know, he was very, very happy. He had happiness, he had the success of the television show and that was a whole other generation, during the time of punk rock. So, that was why they called him the Godfather. Marc was a wonderful man; honorable, a giver, very kind, gracious and he was blessed to have known at the end, that it was more important for him to create and not to hold on."
She also recalls, "We went to see the Ramones at the Roundhouse and we were standing in the back and I could tell Marc wanted to get up there. They were doing that pogo (jumping) and all of a sudden, Marc was gone, next thing I knew he was up front. The pogo had taken him all the way up. The guys called him up on stage and they said, 'This is our Godfather of punk!'"
Bolan's songs are timeless and it's Jones' wish that the music continue to inspire and bring people joy, especially those in Sierra Leone where the school has been erected in the singer's name. She explains, "The children are so grateful. A lot of people think that Africa is in the dark which it is but they're very sophisticated when it comes to music. To hear those kids walking through the village saying, 'Marc Bolan – Marc Bolan' your heart just bursts. They just love him."
More From Ultimate Classic Rock