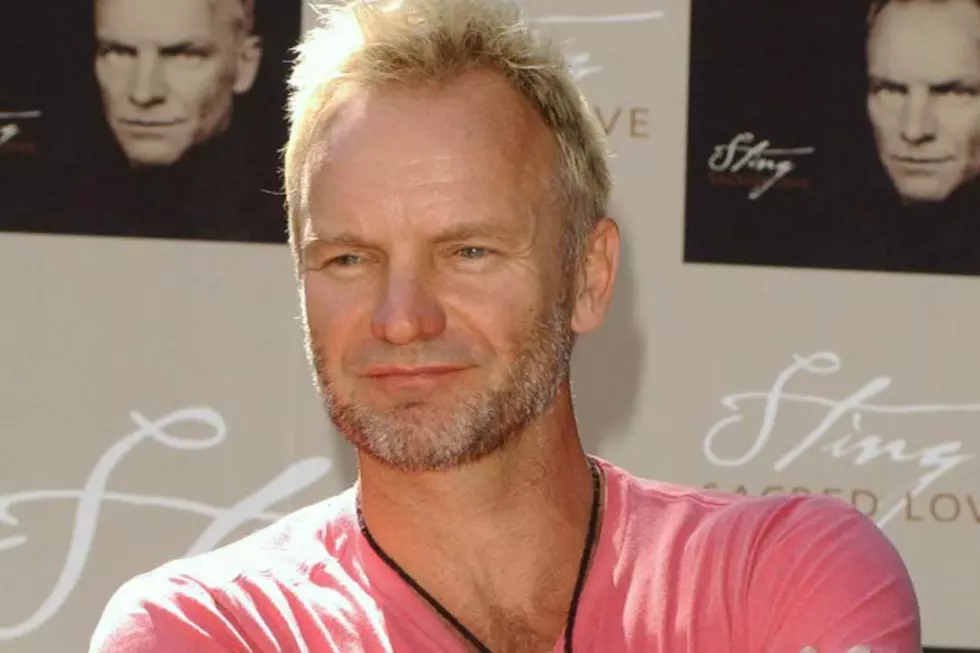 Why Sting Swerved Into the Genre-Blending 'Sacred Love'
Carlos Alvarez, Getty Images
Sting watched in horror as a series of terrorist attacks unfolded on Sept. 11, 2001 in the U.S. And then, at the urging of his bandmates, he spent the night fulfilling his previously scheduled concert obligations. On Sept. 12, Sting started work on what would become his seventh studio solo LP, Sacred Love.
"I was left on my own to meditate, really, and question my being, question what it was to be a singer in such a world, a songwriter," he told the UPI in 2003. "Did I have any purpose to fulfill? Was it any good what I did? I didn't get any immediate answers, to be honest with you. But that feeling of emptiness and of doubt was the beginning of this project."
The resulting set of songs, released Sept. 29, 2003, found Sting – then coming off 1999's wildly successful Brand New Day album – working in a more R&B-influenced vein, blending his by-then expected world music excursions (including collaborations with flamenco guitarist Vicente Amigo and sitar player Anoushka Shankar) with trendier-sounding songs like "Whenever I Say Your Name," a duet with Mary J. Blige.
"I wanted to try to redefine the word love," Sting explained in the UPI interview. "I think the word has been abused and misused; in pop music, love tends to be a little sentimental and violins playing and birds tweeting. But love can be a very aggressive and violent emotion too. It needed to grow in my head into something bigger, something scarier, something more all encompassing. The whole thing about love is if you ever want to be loved again you have to take the risk that you can be destroyed by love – and be willing to because the reward is worth the risk."
Sting's reward with Sacred Love amounted to the usual string of platinum certifications (including in the U.S., where the album peaked at No. 3 on the Billboard chart) and another Grammy award (for "Whenever I Say Your Name"), but it also signaled a shift in his approach to making music. After more than 25 years (on his own and with the Police) releasing eminently radio-friendly albums at regular intervals, Sting seemed to lose interest in pop or rock after Sacred Love, shifting his focus to records that didn't have much of anything to do with current sounds – or even the 20th century.
Watch to Sting Perform 'Whenever I Say Your Name' With Mary J. Blige
In fact, his first post-Sacred Love release, Songs From the Labyrinth, found him reworking the music of Renaissance composer John Dowland alongside Bosnian lutenist Edin Karamazov; he followed it three years later with If on a Winter's Night ... , a classically inspired collection of Christmas music.
At the time, no one could have guessed it would take Sting a decade to return with another album of new original material, but that's exactly what happened, almost to the day. The Last Ship, his 11th studio LP, didn't arrive in stores until Sept. 24, 2013.
"I lost my huge, burning desire to just put things on the page," he told the New York Times in 2013. It wasn't until the release of Winter's Night that he admitted worrying about his songwriting drought. "I began to get a little concerned at that point," Sting told the Times. "I said, 'What are people going to say now? You're washed up.'"
Explaining that using the stage musical structure of The Last Ship put him in a new artistic place where he was "writing songs for other characters than me, other sensibilities than mine, a different viewpoint" – and that it "gave me back my reason to write music" – Sting sounded invigorated after completing the album, but he cautioned fans not to expect a return to Sacred Love or anything that came before it.
"I don't think I need to go down there again," Sting cautioned. "I don't want to. I'd rather write about other people. I've mined myself."
 
 
Police Albums Ranked
More From Ultimate Classic Rock