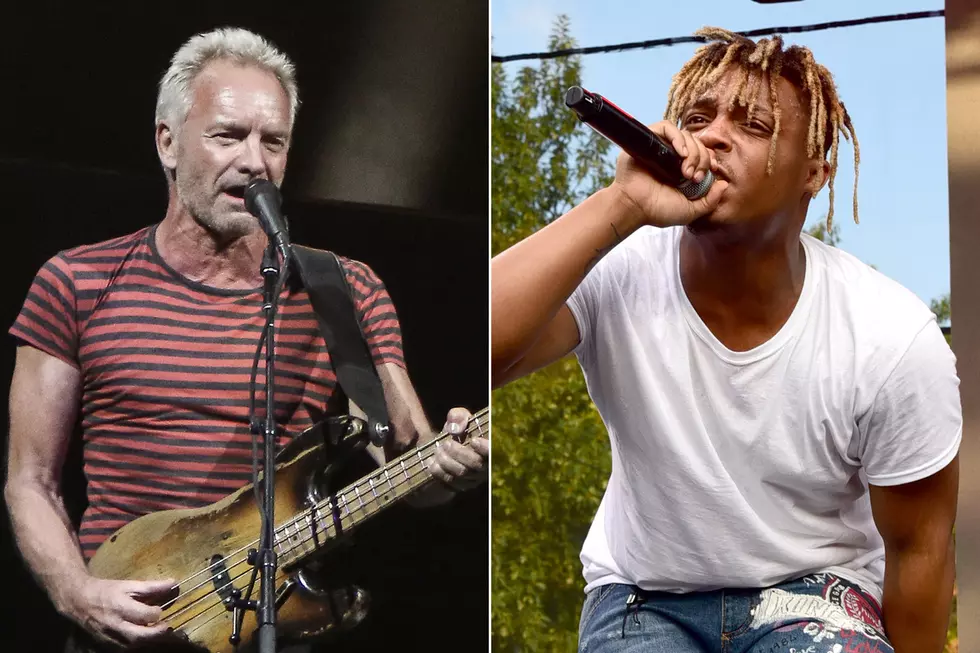 Sting Thrilled With Juice WRLD's 'Shape of My Heart' Sample
John Parra / Lisa Lake, Getty Images
Twenty-one years after Puff Daddy's "I'll Be Missing You" sampled his biggest ever hit, "Every Breath You Take," Sting is thrilled to be in the upper reaches of the Billboard charts once more in rapper Juice WRLD's smash "Lucid Dreams." The song, which prominently samples Sting's "Shape of My Heart," peaked at No. 2 on the Billboard Hot 100 and has topped the Billboard R&B/Hip-Hop chart.
He's a big fan of the track, too. At the Los Angeles Grammy Museum recently, Sting told Billboard that the new song is a "beautiful interpretation that is faithful to the original song's form."
While "Shape of My Heart," from his 1993 album Ten Summoner's Tales, did not chart in the U.S., Nas and Carl Thomas have sampled the song, with Thomas' "Emotional" climbing to No. 8 on the Hot R&B/Hip-Hop Songs chart in 2001.
Watch Juice WRLD's "Lucid Dreams" Video
"It's interesting to me that the descending minor scale of 'Shape' has inspired so many hip-hop artists," Sting added. "As if it provides a ready-made template for the expression of emotions that are reflective, tender and vulnerable."
Dominic Miller, the song's co-writer and Sting's longtime guitarist, is also a fan of Juice WRLD's interpretation. "I thought it was the most intelligent version of that riff that I've ever heard," he said. "I was really happy with it. I love what he's saying. He talking about something everyone can relate to, which is a breakup. It's done in a very beautiful way. We're really happy for his success and, of course, for us too."
Currently on tour with Shaggy supporting their 44/876 album, Sting incorporated a mash-up of "Shape of My Heart" and "Lucid Dreams" into each concert with backup vocalist Gene Noble keenly singing the vivid "Lucid Dreams" chorus. "It always gets a great response," Sting said.
He spoke fondly of Juice WRLD -- "We wish him well. I'm sure we'll meet up down the road." -- and wryly observed the royalties from "Lucid Dreams" will "put my grandkids through college."
Watch Sting's Mash-Up of "Shape of My Heart" and "Lucid Dreams"
More From Ultimate Classic Rock