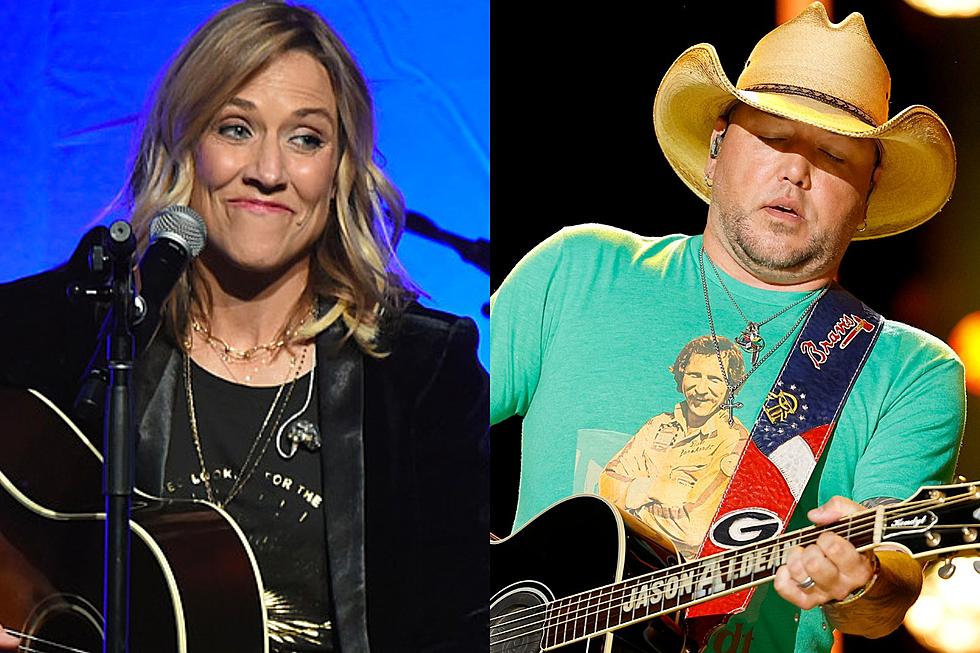 Sheryl Crow Slams Jason Aldean's 'Small Town': 'It's Just Lame'
Rick Diamond / Jason Kempin, Getty Images
Sheryl Crow has criticized country singer Jason Aldean for his controversial song "Try That in a Small Town."
Aldean's single, which has been out since May, includes lyrics like, "Got a gun that my granddad gave me / They say one day they're gonna round up / Well, that shit might fly in the city, good luck / Try that in a small town." Aldean recently released a video for the song that was filmed in front of the Maury County Courthouse in Columbia, Tennessee, the site of a 1927 mob lynching. The video has since been pulled by CMT.
Crow took to Twitter to denounce Aldean's song, pointing out that Aldean was present at the deadliest shooting in American history at the 2017 Route 91 Harvest music festival in Las Vegas.
"I'm from a small town," she wrote. "Even people in small towns are sick of violence. There's nothing small-town or American about promoting violence. You should know that better than anyone having survived a mass shooting. This is not American or small-town-like. It's just lame."
Aldean, who's been at the center of controversy over the song for the past few days, posted a statement on Twitter a few hours before Crow's tweet, noting that "my political views have never been something I've hidden from, and I know that a lot of us in this country don't agree on how we get back to a sense of normalcy where we go at least a day without a headline that keeps us up at night. But the desire for it to - that's what this song is about."
This isn't the first time Crow has taken a stand against violence. On "Love Is a Good Thing," from her 1996 self-titled album, she wrote specifically about the seemingly constant presence of guns in American culture, including its effect on children.
"Watch out sister, watch out brother; watch our children while they kill each other with a gun they bought at Walmart discount stores," she sang. "Welcome to the hallway metal detector, just been installed / Hey, isn't cops and robbers gettin' to be a big bore?"
Walmart then refused to sell her album in its stores. "It was sad because, for someone like me who's from a small town, Walmart was the only place you could buy records at that time," Crow told NME in 2021. "They gave me the option of changing it to Kmart – another discount center – but to me that seemed even more unscrupulous. In the end, we lost a lot of record sales but we also gained press: It created a story and made people curious."
Top 100 '90s Rock Albums
Any discussion of the Top 100 '90s Rock Albums will have to include some grunge, and this one is no different.
More From Ultimate Classic Rock