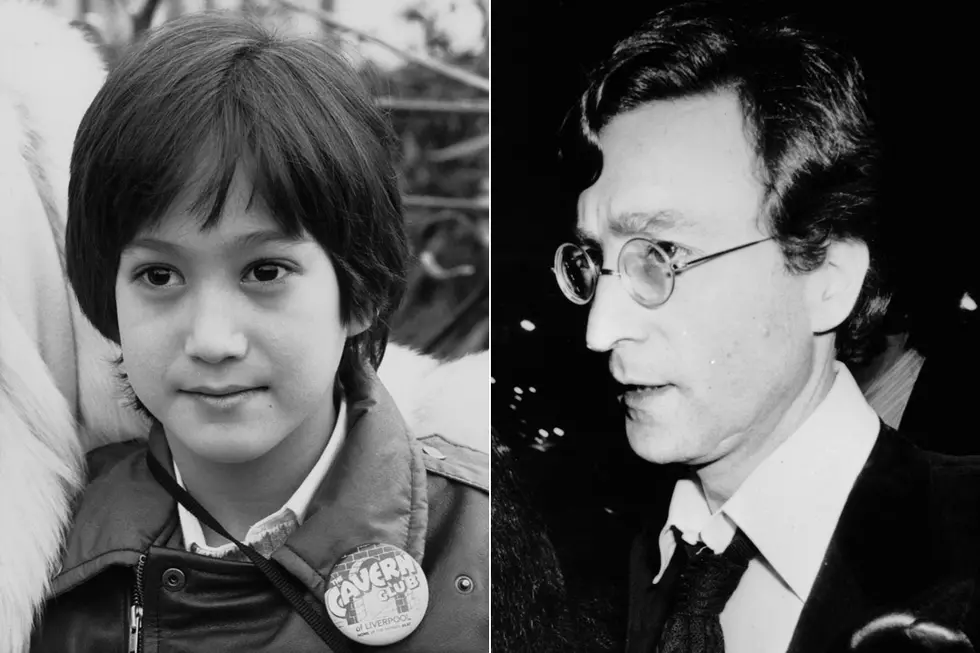 The Day John Lennon and Yoko Ono's Son Sean Was Born
Hulton Archive, Getty Images
John Lennon received quite a present for his 35th birthday on Oct. 9, 1975: His wife, Yoko Ono, gave birth to a son, whom they named Sean Taro Ono Lennon.
It was a good week for the Lennons. A few days before Sean's birth, Lennon had finally won the right to stay in the U.S when a New York judge overturned his deportation order. In 1972, the government had terminated his visa because they felt his political activism would be harmful to President Richard Nixon's reelection campaign. The Lennons had been fighting the decision in the courts for three years.
Though Sean was their first, and only, child together, he was the second for both of them. Lennon had a son, Julian, from his marriage to his first wife, Cynthia; Ono had given birth in 1963 to a daughter, Kyoko Cox, from her second marriage, to Tony Cox. In 1971, Cox disappeared with their daughter while they were going through a custody battle. It wasn't until the late '90s that they re-established contact.
Lennon and Ono were expecting before, but both pregnancies resulted in miscarriages. The first, in November 1968, was largely blamed on the stress suffered by Ono after the couple's arrest for drug possession a month earlier. The second one took place almost a year later.
Ono's 1975 pregnancy happened almost immediately after Lennon's Lost Weekend, his 18-month period of separation from Ono, had ended. As Lennon told Playboy in 1980, having a child together was an important part of their reconciliation. "We got back together, decided this was our life, that having a baby was important to us and that anything else was subsidiary to that. We worked hard for that child. We went through all hell trying to have a baby, through many miscarriages and other problems. He is what they call a love child in truth. Doctors told us we could never have a child. We almost gave up. 'Well, that's it, then, we can't have one.' We were told something was wrong with my sperm, that I abused myself so much in my youth that there was no chance."
Following Sean's birth, Lennon removed himself from the public eye, saying that he spent his time "baking bread and looking after the baby" rather than recording, while Ono ran the business. Sean didn't even know about his father's past. "Beatles were never mentioned to him," he continued. "There was no reason to mention it; we never played Beatle records around the house. … He did see Yellow Submarine at a friend's, so I had to explain what a cartoon of me was doing in a movie."
Even though his records weren't played in the house, Lennon did keep up with current trends, saying, "I love all this punky stuff. It's pure." But when the radio was on, he mostly listened to "Muzak or classical. … I do enjoy listening to things like Japanese folk music or Indian music. My tastes are very broad. When I was a housewife, I just had Muzak on, background music, 'cuz it relaxes you."
Lennon wasn't entirely unproductive musically during this time. He continued to write songs and record them at home when the mood struck. Two of them, "Free as a Bird" and "Real Love," were used by the three surviving Beatles for the new tracks released as part of their mid-'90s Anthology reunion, and many more surfaced on 1998's John Lennon Anthology collection of previously unreleased recordings.
Another one, "Beautiful Boy (Darling Boy)," was about Sean. Its Caribbean feel can likely be attributed to the fact that it, like most of his songs on Double Fantasy, were written during a two-month stay in Bermuda, where Lennon arrived by chartering a yacht from Newport, R.I. The trip down there was hit by a strong storm that caused most of the crew to get seasick, leaving Lennon, who had only recently taken up sailing, to be in charge of the boat for six hours. The adventure inspired him.
"I was so centered after the experience at sea that I was tuned in, or whatever, to the cosmos," he later said. "And all these songs came! The time there was amazing. Fred [Seaman, his assistant] and Sean and I were there on the beach taping songs with this big machine and me just playing guitar and singing. We were just in the sun, and these songs were coming out."
After returning to New York, Lennon booked time at the Hit Factory recording studio with producer Jack Douglas and made Double Fantasy. It was released on Nov. 17, only three weeks before Lenn was killed on Dec. 8, 1980.
 
 
Beatles Solo Albums Ranked
More From Ultimate Classic Rock