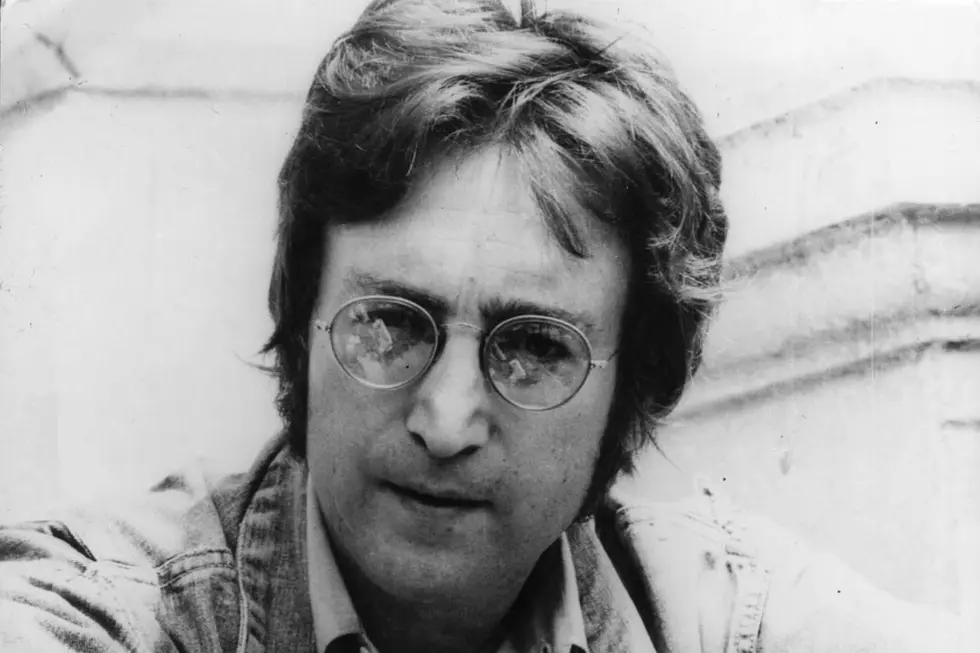 Central Press / Hulton Archive, Getty Images
It came as little surprise that John Lennon released the most adventurous, and occasionally confusing, solo records after the Beatles broke up. After all, "Revolution 9" was his idea.
Where Paul McCartney used the occasion to indulge his studio fantasies on his debut solo LP, Lennon used his first post-Beatles album as a therapy session, penning confessions about his childhood, mother and neuroses. And when he took a five-year break in the mid '70s, his comeback album was all about his vacation and his new roles as father and faithful husband.
Of course, there were also barely listenable excursions into noise- and art-rock. Had the Beatles continued to make music in the '70s, the tracks on our list of the Top 10 John Lennon Songs would undoubtedly be among the highlights.
10

"(Just Like) Starting Over"

From: 'Double Fantasy' (1980)

After releasing Rock 'n' Roll, an album of early rock and R&B covers, in 1975, Lennon took a break to raise his son Sean and play househusband to Yoko Ono. Two weeks after his 40th birthday in October 1980, he broke his silence with this comeback single from his first album in five years. From its winking title to the throwback '50s-style beat that drives it, "(Just Like) Starting Over" signaled a creative rebirth for Lennon, earning it a spot in the Top 10 John Lennon Songs. A little more than a month after the single's release, he was killed.

9

"Whatever Gets You Thru the Night"

From: 'Walls and Bridges' (1974)

Shockingly, this was Lennon's first No. 1 single ("Starting Over" also hit that spot after he died). He was the last Beatle to hit the top position as a solo artist (yes, even Ringo had a No. 1 single before Lennon). Fueled by Elton John's piano, "Whatever Gets You Thru the Night" is one of Lennon's breeziest solo cuts. But he has a blast cutting loose with his pal Elton, who also provides backing vocals.

8

"Watching the Wheels"

From: 'Double Fantasy'

If you wanted to know what Lennon was up to during his five-year break (see No. 10 on our list of the Top 10 John Lennon Songs), just listen to this song. He addresses critics who wondered how he could give up his fame for such a mundane lifestyle, shoving aside the music "game" in favor of domestic bliss. "No longer riding on the merry-go-round,I just had to let it go," he sings. You can almost see him smile.

7

"Jealous Guy"

From: 'Imagine' (1971)

One of Lennon's most popular songs wasn't released as a single in the U.S. until 1988, and then it stalled at No. 80. But it's a key track on Imagine, his first solo album to hit No. 1 and the first that sounded a little like a Beatles album (it was preceded by three experimental LPs, a live record and his proper solo debut 'John Lennon/Plastic Ono Band,' a musical therapy session). Written as "Child of Nature" during the Beatles' 1968 trip to India, Lennon re-wrote the lyrics as a combination of apology and hippie spiritualism. Musically, it's one of Lennon's prettiest moments.

6

"Happy Xmas (War Is Over)"

Single (1971)

Lennon's holiday perennial started life as an anti-war song, but over the years it's become a Christmas classic. The message of peace and love works either way. Recorded over a couple of days with session musicians and the Harlem Community Choir, "Happy Xmas (War Is Over)" was an extension of Lennon and Ono's peace campaign. The hopeful "war is over" refrain may seem a bit premature, but it's a lovely sentiment nonetheless.

5

"Mind Games"

From: 'Mind Games' (1973)

Lennon originally wrote "Mind Games" -- at least the skeletal frame for it -- during the Beatles' Let It Be sessions. In 1973 it became the opening track, title tune and only single from his fourth solo album. The rest of the album is mostly an unfocused mess, but the gorgeous, dreamlike "Mind Games" features one of the most refined melodies found on our list of the Top 10 John Lennon Songs.

4

"Give Peace a Chance"

Single (1969)

Lennon was still a Beatle when he released his debut solo single, which was originally credited as a Lennon-McCartney co-write. Despite the ragtag fidelity (it was recorded in a hotel room in one take during one of Lennon and Ono's bed-ins) and anti-war perspective, "Give Peace a Chance" managed to make it to No. 14 and go on to become a rallying cry for peace-loving folks for generations to come.

3

"Mother"

From: 'John Lennon/Plastic Ono Band' (1970)

Lennon steered his first solo album (we don't count the three experimental LPs he made with Ono) as a reflection on his troubled childhood, particularly his relationship with his parents. He barely knew his father, who left the family when John was still young, and he rarely lived with his mother. But he was close to his mom, and this tribute to her (she died when Lennon was in his teens) is a pivotal track on one of the most heart-baring albums ever made. It's not easy to listen to -- Lennon's cathartic screams come from a very real place -- which probably explains why the song never reached the Top 40.

2

"Instant Karma! (We All Shine On)"

Single (1970)

Like in his Beatles days, Lennon released a bunch of singles that never appeared on an album (see Nos. 4 and 6 on our list of the Top 10 John Lennon Songs). 'Instant Karma!' is the best of them. It was his first solo Top 10 hit, reaching No. 3. And it was written, recorded and released within 10 days. Beatles sideman Billy Preston plays organ, George Harrison plays guitar and Ono joins everyone for the singalong chorus. It's one of Lennon's most popular solo songs, a catchy slice of stomping, fuzzy post-Woodstock religion.

1

"Imagine"

From: 'Imagine' (1971)

Lennon acknowledges upfront that 'Imagine,' his bestselling and most popular solo song, is a bit naive: "You may say I'm a dreamer," he sings. But that doesn't take away any of the power it's packed over the past 40 years. As long as the planet continues to destroy itself, and as long as there are wars, the song's message will never go out of style. 'Imagine' has been covered by tons of artists over the years, but no version comes close to Lennon's stripped-down musings over graceful piano and strings, which earn it the top spot in our list of the Top 10 John Lennon Songs. It's a great song, as majestic as it is timeless.
More From Ultimate Classic Rock