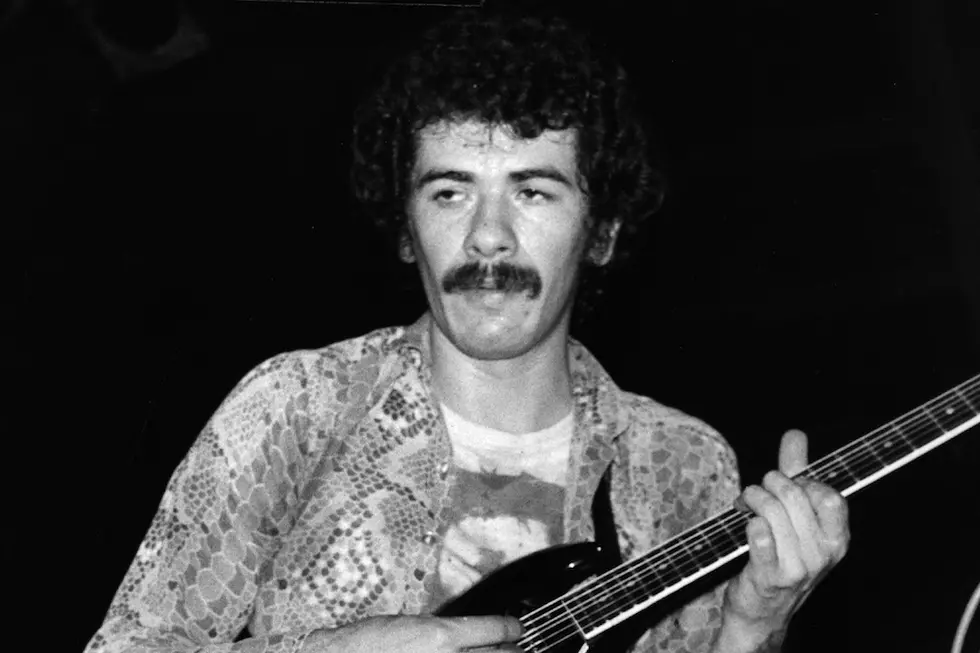 45 Years Ago: Santana Deliver a Latin Rock Masterpiece, 'Abraxas'
Photo by Keystone / Getty
By 1970, Santana had everything going for it. They'd made one of the grandest debuts in the history of rock music at Woodstock the year before and followed that up with a critically adored and commercially successful self-titled debut record. With seemingly nowhere else to go but down, In September 1970, Santana shattered expectations and delivered what might its greatest record, Abraxas.
Santana first entered the studio to being working on their sophomore release on April 17, 1970 and had the whole thing finished roughly two weeks later on May 2. The band remained complete intact from the one that worked on Santana just months before with the group's leader and namesake Carlos Santana joined by Gregg Rollie on keyboards and lead vocals, David Brown on bass, Michael Shrieve on drums and with Jose Areas and Mike Carabello on percussion.
Most people aren't aware, but the two biggest standouts on the record, "Black Magic Woman" and "Oye Como Va" are actually covers of other artist's songs. "Black Magic Woman" which reached No. 4 on the Billboard Hot 100, was originally a Fleetwood Mac composition written by Peter Green. In fact, in the years after he quit Fleetwood Mac and had given most of his money away, the royalties from Santana's version of his song was one of Green's biggest sources of continued income.
"Oye Como Va" was originally arranged and recorded by the venerated Latin jazz composer Tito Puente. "I forgot who brought that one in; it was either Carlos or Carabello," Rollie later said. "I remember thinking to myself, 'What am I going to do on this?' You know really I was like, 'Holy cow, I've got an organ and an electric piano. What do I do?' I simulated the instrumentation basically and played it on the organ."
In addition to those standout, there are a number of incredible original compositions on Abraxas as well, including the instrumental number "Samba Pa Ti." Carlos Santana actually got the inspiration for the song while dealing with jet lag from an overseas tour of Europe. ""Samba Pa Ti" was conceived in New York City on a Sunday afternoon," he recalled. "I opened the window I saw this man in the street, he was drunk and he had a saxophone and a bottle of booze in his back pocket. And I kept looking at him because he kept struggling with himself. He couldn't make up his mind which one to put in his mouth first, the saxophone or the bottle and I immediately heard a song […] I wrote the whole thing right there."
Being the spiritual figure that he is, Santana sought to inject a greater depth of meaning into the aesthetics of this release than he did with his debut. The title of the record is derived from a quote from the Herman Hesse novel Demian, which says, "We stood before it and began to freeze inside from the exertion. We questioned the painting, berated it, made love to it, prayed to it: We called it mother, called it whore and slut, called it our beloved, called it Abraxas ...." The album cover, meanwhile, according to Carlos, "signifies the annunciation of this angel Gabriel to Mary. Mary is the black lady at the center of the cover and Gabriel is the angel with the congas between his legs."
When it finally debuted, Abraxas was a monster success, hitting No. 1 on the Billboard 200 in the U.S. and beyond on its way to an eventual five-times platinum certification. It was yet another high water mark for Santana both the band and the guitarist and brought a truly unique Latin, blues and rock fusion to the market the likes of which hasn't been seen either before or since.
See Santana and Other Rockers in the Top 100 Albums of the '70s
This Day in Rock History: September 23
More From Ultimate Classic Rock