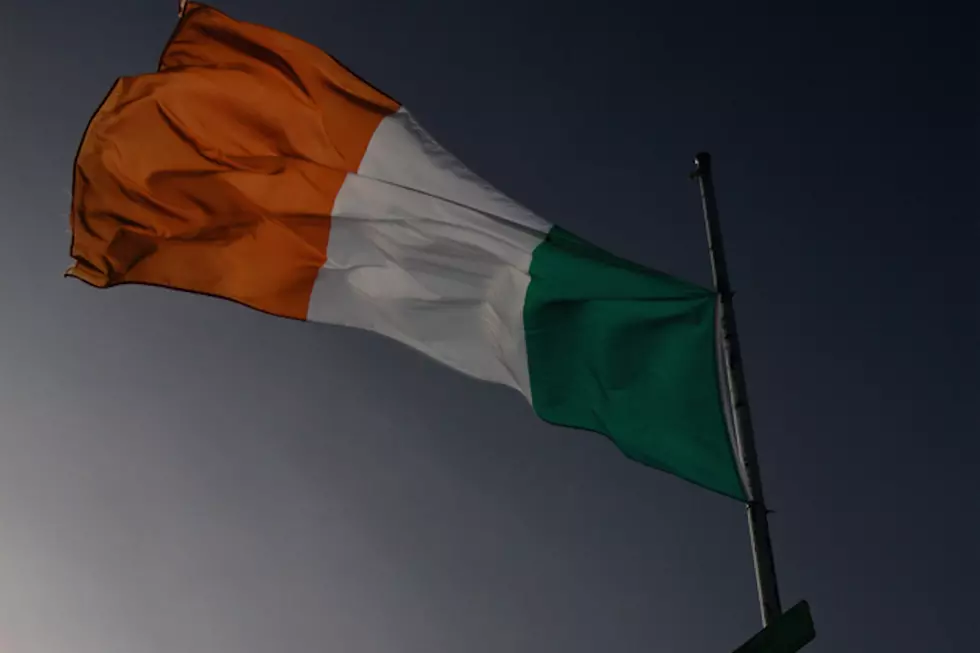 Top 10 Rock Songs About Ireland
Jeff J. Mitchell, Getty Images
Celtic folk singers have been chronicling the Emerald Isle's history and traditions for centuries, so the Top 10 Rock Songs about Ireland can only cover so much ground. Still, classic rockers have sung about everything from the land's natural beauty and wonderful cities to Irish folk heroes and the struggles for a united Ireland. The songs below were created by artists from Northern Ireland, the Republic of Ireland and even a few well-known English rockers with affection for their neighbors to the north.
10

From: 'New Day' EP (1971)

Thin Lizzy frontman and Dublin native Phil Lynott paid tribute to his hometown in this austere ballad, found on the band's only EP. In the song, Dublin and the lover who broke Phil's heart become almost synonymous – part of him wants to break out, but he just can't. "How can I leave the town that brings me down? / That has no jobs / Is blessed by God / And makes me cry," Phil sings in the bridge. Given the song's mood, you can imagine him singing his troubles to the bartender over a pint.

9

"Banana Republic"

The Boomtown Rats

From: 'Mondo Bongo' (1981)

The Boomtown Rats' final commercial success was a nasty attack on their home country, the Republic of Ireland. A few years before, the band had been banned from performing at home after frontman Bob Geldof ranted about corrupt politicians and priests on Irish TV. He certainly doesn't hold back on this reggae-inspired single, calling Ireland a "septic isle." This probably won't be part of any upcoming Irish tourism campaigns.

8

"The Luck of the Irish"

John Lennon

From: 'Some Time in New York City' (1972)

Never one to shy away from controversy, John Lennon expressed his despair over British rule in Northern Ireland and "the troubles" that erupted in the late '60s. Lennon goes full-on folk singer on this tune, playing Woody Guthrie as he describes genocide and how "a land of beauty and wonder was raped by British brigands." He and Yoko Ono leave no blarney stone unturned, including every Irish cliche (shamrocks, leprechauns and a tootling flute on the backing track) in their heartfelt protest song. Lennon wouldn't be the only former Beatle to sing out about this in '72: See No. 4 on our list of the Top 10 Rock Songs about Ireland.

7

"Blood of Emeralds"

Gary Moore

From: 'After the War' (1989)

The guitar hero recounts his unique musical history in an electrifying epic. Gary Moore sings about being born in Northern Ireland, but crossing the border to play music in Dublin. He sings of standing side by side with "the darkest son of Ireland": Moore's former Thin Lizzy bandmate and friend Phil Lynott. In a way, the song is a testament for Irish unity, with the "blood of emeralds" flowing through the veins of both the Dublin native Lynott and the Belfast-born Moore. And it features some typically brilliant guitar work from Moore.

6

From: 'Made in England' (1995)

Elton John and lifelong collaborator Bernie Taupin crafted this paean to Belfast and the fortitude of its inhabitants who work for peace. In the sweeping ballad, John sings of "common sense in pieces" but attempts for both sides to recognize their points of view. He sings of war and terror over pipes and fiddles that lend hope (and Irish flair) to the song. In the end, John concludes, "every foot of this world needs an inch of Belfast."

5

From: 'The Tain' (1973)

The second half of our list of the Top 10 Rock Songs about Ireland begins with one of the biggest Irish rock hits of all time. "Dearg Doom" is a perfect example of Horslips' melding of traditional Celtic music and progressive rock. It was the standout track from 'The Tain,' the band's concept album about the Cattle Raid of Cooley, an old Irish legend. The single speaks to the mettle of the mythical hero Cu Chulainn, who is said to have defended Ulster from an enormous army at the age of 17. The song's needle-nosed riff also was repurposed for "Put 'Em Under Pressure," Ireland's 1990 World Cup anthem.

4

"Give Ireland Back to the Irish"

Wings

From: Single (1972)

Lennon might have been the "political" Beatle, but it was Paul McCartney who chose to release this tune as the first single by his then-new band, Wings. Arriving less than a month later, the hard-boogieing song was an almost instant reaction to the Bloody Sunday massacre in Northern Ireland on Jan. 30, 1972. Not only was McCartney passionate about Irish unity, his band had a stake in the matter; guitarist Henry McCullough was from Northern Ireland. The controversial song was banned in the U.K., where it still hit No. 16 on the charts. "Give Ireland Back to the Irish" went to No. 1 in the Emerald Isle, of course.

3

From: 'War' (1983)

Bono used to introduce live performances of "Sunday Bloody Sunday," with the proclamation, "This is not a rebel song." Indeed, Larry Mullen Jr.'s militaristic drumbeat runs counter to the lyrics, which depict the Bloody Sunday events in 1920 and 1972. As such, the song is about the purposeless cycle of violence and is a call for unity between Irish Catholics and Protestants as Christians. "Sunday Bloody Sunday" endures as one of U2's best-known anthems; the band has since rededicated this song to violent tragedies worldwide.

2

"Cyprus Avenue"

Van Morrison

From: 'Astral Weeks' (1968)

The centerpiece of Van Morrison's masterpiece (or one of them, anyway), "Cyprus Avenue" wafts in like a dream as the singer wanders down the streets of his adolescence. Van gets "conquered in a car seat" by a vision of this beautiful girl from his past. Cyprus Avenue is an actual street in Morrison's hometown of Belfast; it's on the other side of the tracks from the poor places where he grew up. The seven-minute song is an intoxicating mix of blues, jazz and folk, and of memories, daydreams and nightmares. It's the kind of music that would inspire other songwriters – from Elvis Costello to Bruce Springsteen, both of whom have Irish roots – to look just as deeply at their worlds.

1

"Whiskey in the Jar"

Thin Lizzy

From: Single (1972)

Phil Lynott and pals topped the Irish charts for 17 weeks (and our list of the Top 10 Rock Songs about Ireland) with their first hit, a version of the centuries-old "Whiskey in the Jar." The old folk ditty, which namechecks the Cork and Kerry mountains, tells of a highwayman who robs an English landlord, only to be betrayed by his girl Molly. As an Irish folk song, it checks all of the boxes – alcohol, violence, sex, tragedy. No wonder it's been played by virtually every Irish musician in history. But the Thin Lizzy version, with Eric Bell's stinging guitar and Lynott's soulful delivery, has to be the definitive rendition.
More From Ultimate Classic Rock