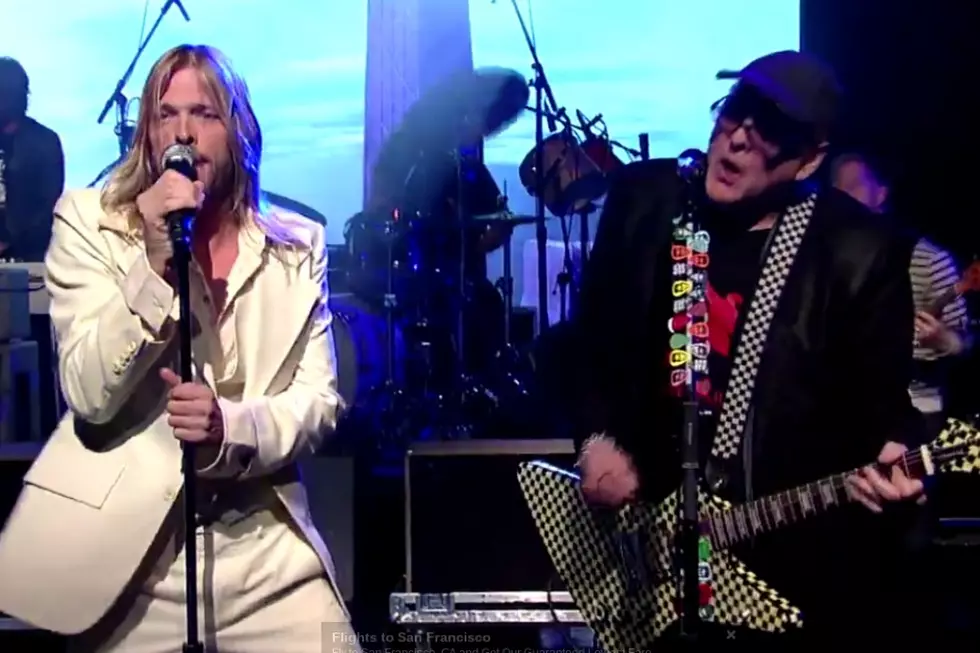 Rick Nielsen Joins Foo Fighters for Cover of Cheap Trick's 'Stiff Competition'
YouTube
After bringing out Zac Brown, Heart, and Tony Joe White to join them for the first three nights of their week-long 'Late Show with David Letterman' residency, the Foo Fighters gave themselves a tough act to follow on Thursday (Oct. 16). Fortunately, they had Cheap Trick guitarist Rick Nielsen waiting in the wings.
Nielsen took the 'Late Show' stage to join the Foo Fighters for a rendition of 'Stiff Competition,' a track Rockford's finest originally recorded for their 1978 album 'Heaven Tonight.' For the performance, Foos frontman Dave Grohl got back behind the drums, relying on drummer Taylor Hawkins (bedecked in a white suit that might have been pinched from CT singer Robin Zander's closet) to take over lead vocal duties -- and if you missed it when it originally aired, you can check out the results via the video embedded above.
The performance capped off a big day for the Foo Fighters, who debuted their new single 'Something from Nothing' as they entered the home stretch for the Nov. 10 premiere of the eight-part HBO series they filmed while recording their new 'Sonic Highways' LP, due in stores Nov. 17.
The band finishes its five-night 'Letterman' stand on tonight (Oct. 17), the same evening the 'Sonic Highways' series airs its first episode -- after which they'll deliver a special set at Chicago's Cubby Bear club, which will be livestreamed for free on HBO's Facebook page.
More From Ultimate Classic Rock