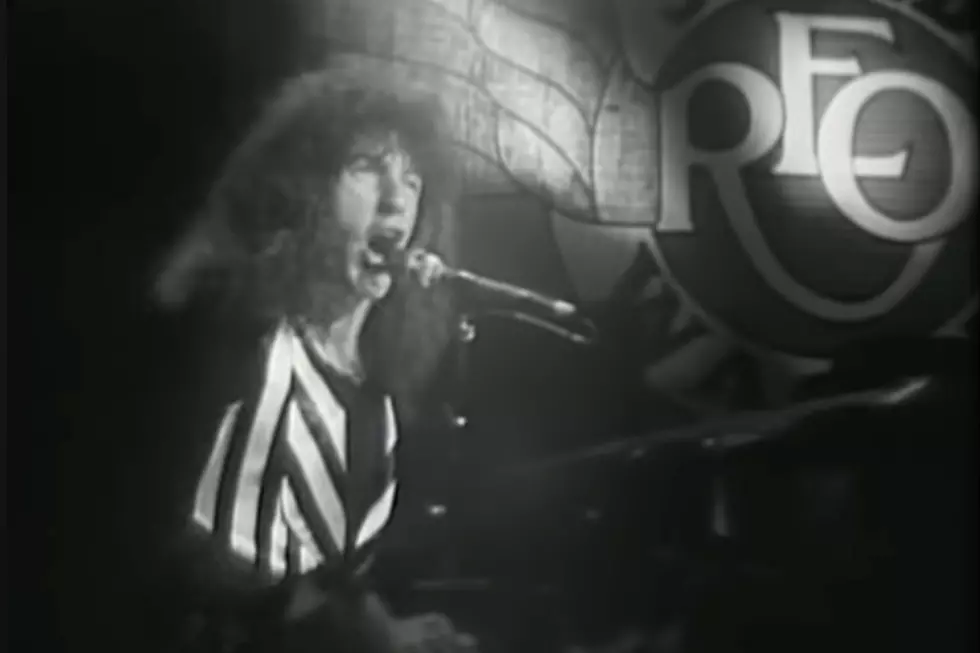 How a Road Trip Inspired REO Speedwagon's 'Roll With the Changes'
YouTube
Kevin Cronin still remembers creating "Roll With the Changes" "like it was yesterday," calling it "a pivotal song in the career of REO Speedwagon."
Released just a few weeks after their You Can Tune a Piano But You Can't Tuna Fish album in April 1978, the single rolled to a No. 48 peak on the Cash Box chart and No. 58 on the Billboard Hot 100. The group's previous chart high had been with "Ridin' the Storm Out" from the live You Get What You Play For, and it had barely cracked the Hot 100 a year before.
In the end, "Roll With the Changes" opened the door for No. 1 songs like "Keep On Loving You" in 1981 and "Can't Fight This Feeling" in 1984. Cronin joined us to discuss the song's creation and its legacy:
He really was rolling with the changes
Cronin had joined REO as its second frontman in 1972 but left the following year, after just one album, due to creative differences. The band brought him back in 1976, and Cronin tells UCR his journey inspired the song.
"REO Speedwagon had moved from Illinois to California. I moved reluctantly. I was born and raised in the Midwest and love it there, and that's where I feel most comfortable. But the band moved so I was gonna go too, but I wanted to really feel the move. So rather than get on a plane, I filled up a U-Haul trailer, hooked it on the back of my Ford Pinto hatchback and I was gonna make the drive and really experience the distance.
"So I got to Denver and I decided to take a little detour and go through Tucson; there was a woman involved, of course. And I'm just driving along and started singing to myself, 'keep on rollin', keep on rollin', roll with the changes...' I didn't realize I was doing it, and I was like, 'Oh, wow, this is cool,' and some lyrics started coming to me and the next thing I know I'm steering with my knees.
"Keep in mind I'm pulling a U-Haul trailer, and I've got a Sharpie and a paper bag I picked up at a truck stop, and I'm writing the lyrics down on the paper bag, trying to keep the car on the road," Cronin remembered. "Finally, for the sake of highway safety and more legible penmanship, I decided to pull off the side of the road and I finished the lyric right there in New Mexico."
So, in its way, the song was deeply autobiographical: "I was rollin' with the changes, baby. That's the way the songs come. You write songs about what's happening, and that's what I was going through at the time – not only geographically but personally, emotionally I was rolling with the changes right about then."
Watch REO Speedwagon's 'Roll With the Changes' Video
A key partnership was solidified
"Roll With the Changes" came about after 1976's R.E.O. album was recorded, so it ended up on the follow-up, 1978's You Can Tune a Piano. The group continued tinkering with the song at Sound City Studios.
"When I got to L.A. I didn't feel like it was finished. I'll never forget that [guitarist] Gary Richrath, my partner in crime for many, many years there during the heyday of our band, I played the song for Gary and I'm like, 'Man, I just haven't written the chorus yet.' And he looks at me and goes, 'What are you talking about? You already have a chorus,' and I'm like, 'What?!'" Cronin rememebered.
"That's how Richrath and I worked together. We didn't co-write very many songs together, but the influence that we had on one another's songs was the way we collaborated. Normally my songs needed a little bit of Gary's rock 'n' roll energy, and his song needed a little bit of my singer-songwriter lyrist melody kind of vibe. And 'Roll With the Changes' was kind of a pivotal song where we finally got that vibe right. Both of us were really represented on that song. That was the song that set the stage for the way we would work together moving into the future."
Gifts of the season
"All those wonderful guitar parts in the intro, in between the verses and in that outro, those kind of layered guitar parts, Gary went into the studio on Christmas Day, 1977. Normally I'm there in the studio and I'm a part of every part on every song, but the rest of us decided, 'We gotta take a day off, and if we're ever gonna take a day off, let's do it on Christmas.' And Gary went in with our engineer Paul Grupp and recorded all those amazing guitar parts over a two-day period, Christmas Eve and Christmas Day. And when I came into the studio the next time they played it for me and I was blown away."
Yes, they had to tune the piano
Not many songs were dominated by piano to that point of REO Speedwagon's career, but Cronin found himself at the keys as he was putting "Roll With the Changes" in shape for recording.
"We were in Studio B at the old Record Plant, and there was a grand piano in the studio. I always like to just tinker on something, whether it's acoustic guitar or piano. I never took a piano lesson so I don't really know how to play the piano; I just know how to play the song that I can make out," Cronin said.
"So I just sat down at the piano and started playing the intro that's on the record, that little kind of arpeggiated chord thing. That really set the music of the song in motion," Cronin added. "I wasn't planning to write a song at that moment – but when I came up with that little riff I just kinda went, 'Whoa, this could be something.' Everything you play isn't gonna be a gem, but every once in awhile you go, 'This is something.' So that really was the musical foundation of the song."
Watch REO Speedwagon Play 'Roll With the Changes' at Live Aid
Stills the same?
"Roll With the Changes" is also marked by a Hammond organ solo by REO co-founder Neal Doughty, which Stephen Stills took note of some years later.
"My musical heroes after the Beatles – 'cause there's no better band than the Beatles in my mind – is Crosby, Stills and Nash," Cronin said. "Their music really spoke to me, and specifically Stephen Stills' music. Stephen and I have collaborated over the years. I was with him one day and we were working on a song we wrote together, and I don't know how it came up but Stephen just mentioned – he didn't rub my nose in it but he said something about how 'Roll With the Changes' had a little kinda 'Love the One You're With' vibe to it. That never, ever occurred to me in my wildest dreams. He said that kind of in passing, and when I thought about it: Yeah, I guess so. There are some similarities; that organ solo that Neal and I worked out together, there's definitely some Stephen-style playing in that solo.
"It's funny because I would never consciously do something like that," Cronin added, "but Stephen's music has been just so important to me. I love the way he sings. I love the way he plays guitar. I love the way he writes and his lyrics are so amazing. So his influence is in there, I can't deny it. I don't think most people would notice the similarity, myself included, but Stephen did. He's a pretty smart guy."
Time for them to chart
Cronin says the single's chart ascent went unnoticed at the time. "I don't remember being aware of it," he notes. "At the time, we were excited about releasing 'Time For Me to Fly' as the second single from that album, 'cause we really thought it had a lot of potential – because it was a slower tempo and all that. Sadly our record label kind of fell apart right as that song was released, so it never really got a shot, even though it was still popular." "Time For Me to Fly" did notch slightly higher on the Billboard Hot 100, at No. 56, but only reached 97 on Cash Box.
Both songs helped propel You Can Tune a Piano But You Can't Tuna Fish to a then-best 29the finish on the Billboard 200, along with double-platinum sales. The follow-up Nine Lives would go gold before REO Speedwagon issued the juggernaut Hi Infidelity in 1980.
How 100 of Rock's Biggest Acts Got Their Names
From AC/DC to ZZ Top, we give you all the ammo you need to be the biggest know-it-all in town.
More From Ultimate Classic Rock