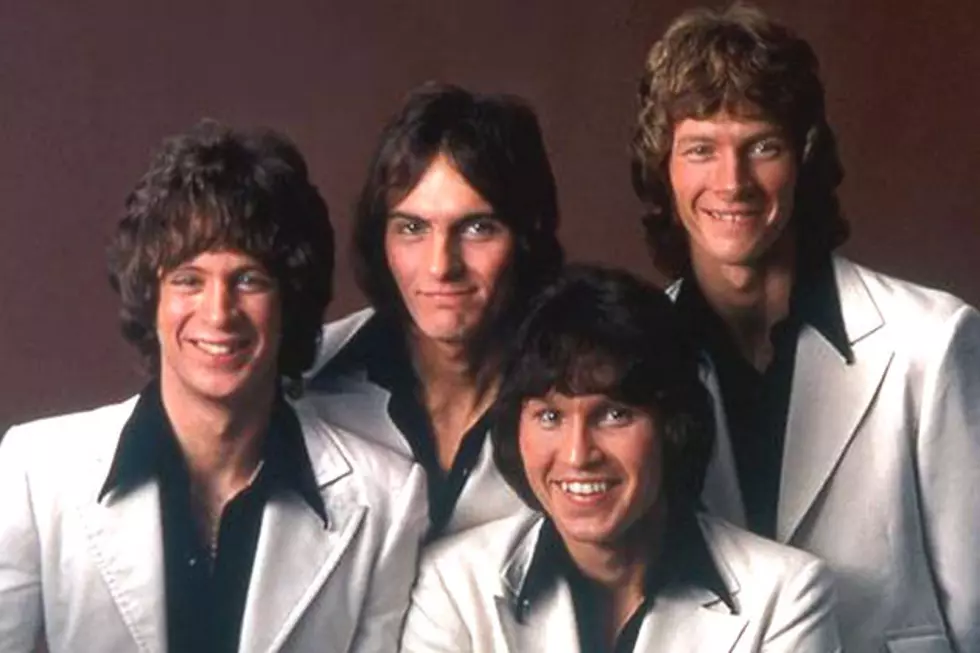 Capitol Records
The Top 10 Raspberries Songs demonstrate why they remain the definitive power pop band. Early examples of this equally loved and misunderstood sub-genre can be found on records by the Who, Hollies and others, but from the moment the Raspberrries burst out of radios in 1972, it was clear they had perfected the art of wedding power chords to pure pop melodies. Though dismissed by the rock elite at the time as being unhip, pre-teen fodder, songs like 'Go All The Way' and 'Ecstasy' have stood the test of time some 40 years on. If we go a bit overboard in our enthusiasm, too bad. It is with great pride that we salute the Raspberries!
10

'Last Dance'

From: 'Side 3' (1973)

Lead singer Eric Carmen was not the only force to be reckoned with in the Raspberries. Written and sung by lead guitarist Wally Bryson, 'Last Dance' is a fine slab of Byrds meets Searchers pop. It's stocked full of jangling guitars and sweet as pie harmonies. Heck, the guys even manage to fit in a little country fueled romp mid song that really works!

9

'Don't Want to Say Goodbye'

From: 'Raspberries' (1972)

If you want to talk about great McCartney-esque ballads, look no further. Released as the band's debut single in early 1972, 'Don't Want To Say Goodbye' is a lush, beautiful and still rocking song. Lead vocals are shared by Eric Carmen and Bryson. Though a hit in their native Cleveland, the song stalled out nationally at No. 86.

8

'Overnight Sensation (Hit Record)'

From: 'Starting Over' (1974)

In a word... epic! 'Overnight Sensation' is probably the Raspberries' most adventurous record. Taking a somewhat Phil Spector, kitchen sink approach, it's a mini-symphony packed into a five minute song. Overflowing with vocals, percussion, guitars, drums, saxophones, pianos, you name it, the song is an majestic slice of pop music. Somewhat living up to its sub title, the record made the US Top 20 in the fall of 1974. Sadly, it would be among the band's last statements, as they disbanded shortly thereafter.

7

'On The Beach'

From: 'Side 3' (1973)

The 'Side 3' album ranks as possibly the best all-around Raspberries LP, and 'On The Beach' is a somewhat of a lost classic. It has elements of teen drama ala the Shanrgi-Las 'Remember (Walkin' In The Sand),' but set against the context of thundering drums and jangling guitars. It's yet another showcase for the incredible vocal talents of Eric Carmen. We should also note the priceless contribution of producer Jimmy Ienner to all of the band's records. He truly helped shape the vision of the band into a sonic force of nature.

6

'I Don't Know What I Want'

From 'Starting Over' (1974)

With the band's fourth, and final LP, 'Starting Over,' their lineup had changed with the departure of founding members Jim Bonfanti and Dave Smalley, leaving Carmen and Bryson to lead the charge with new members Scott McCarl and Michael McBride. While the members changed, their modus operandi was still intact: delivering loud, yet melodic rock and roll. This somewhat forgotten gem is probably the band's heaviest moment. The teen angst lyrics -- which perfectly capture youthful frustration -- are belted out atop slash and burn power chords (on loan from Pete Townshend), and thunderous drums, to make this a first class slice of total rock action!

5

'Let's Pretend'

From: 'Fresh' (1972)

Showcasing the Raspberries in one of their most Beach Boys-inspired moments, 'Let's Pretend' is about as perfect a pop song as you will likely ever stumble upon. Somehow, the track failed to make it as a genuine hit single, only reaching No. 35 in the spring of 1973. Carmen's yearning and plaintive vocal here has few equals. He is able to summon up the depth and warmth of teenage drama and deliver like no one since Brian, and or Carl Wilson in their heyday. As if that weren't enough, he is also able to belt out Daltrey style where needed. 'Let's Pretend' remains one of the band's shining moments.

4

'Tonight'

From: 'Side 3' (1973)

Pop perfection in three and a half minutes of glory. Take one part Small Faces, one part Who, one part Beatles, mix, cook to a boil and let rock! The very concept of soulful, loud melodic rock and roll could easily be defined by the lead off track to the Raspberries 1973 'Side 3' LP, 'Tonight.' It also features one of the best drum exclamation point endings ever. Despite the incredible writing the band were doing, and the continuously great output of material, their fortunes were waning on the charts, as the song only made it to No. 69.

3

'Ecstasy'

From: 'Side 3' (1973)

Get in between two Raspberries diehards, and the debate will rage over the band's best song as being either 'Tonight' or 'Ecstasy.' Both songs are undeniable in their power and their pop, but we're giving the slight edge to 'Ecstasy.' It has the heavier riff and the reckless abandon bridge that gives the Who a run for their money. No one could do the Keith Moon drum thing like the underrated Jim Bonfanti, who is in full glory here. Just when you think all their tricks have been dished out, they throw in a good old hand clappin'-n-foot stompin' coda before the blistering Bryson solo to end the song. Yeah, it doesn't get much better than this. One of several life affirming moments in the Raspberries catalog.

2

'I Wanna Be With You'

From: 'Fresh' (1972)

That urgent machine gun like snare drum opening grabs the listener's ears as the jangling guitars chime in to let us know the Raspberries are at it again. The band's third single, and first taste of their second album, 'Fresh,' is a powerhouse rock and roller that uncorks like a mound of caffeine. Hitting No. 16 on the charts, it is as urgent a slice of pop music as you are likely to ever find. It blasts out of the speakers like prime Dave Clark Five, and never lets go for all of its three minute ride. Without question, one of their best!

1

'Go All The Way'

From: 'Raspberries' (1972)

No surprise at the top of our Raspberries list! From the opening Bryson power chord riff, 'Go All The Way' is one of the most vibrant and triumphant records ever! The opening Who-llke blast leads into a very Beatles-esque verse, before landing in some forgotten Beach Boys chorus. Thus was the magic of the Raspberries song craft. They were able to take the best parts and ideas from the previous decade, and morph them into something new, yet familiar. No one was ever able to combine the rasp of Steve Marriott with the sweetness of Brian Wilson like Eric Carmen. In many ways, this is the definitive power pop song of all time.
More From Ultimate Classic Rock