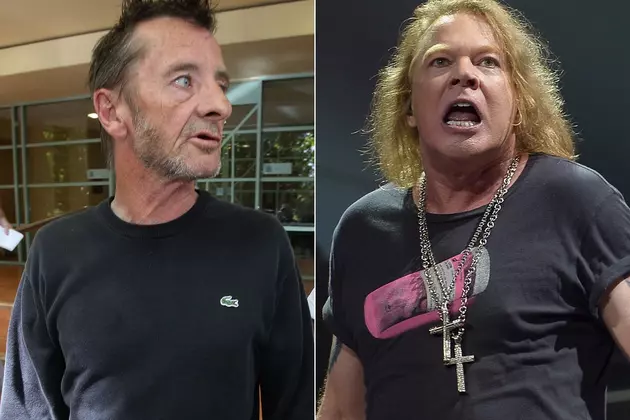 Phil Rudd Is Open to an AC/DC Return but Doesn't Want to 'Play With Axl'
Joel Ford / Gustavo Caballero, Getty Images
Exiled AC/DC drummer Phil Rudd might be willing to play with the band again — but they'd have to do something about that new singer of theirs first.
Rudd weighed in on the subject during a recent interview with the Bay of Plenty Times, making it clear that even though he's currently 100 percent focused on his solo career — and very happy with his current bandmates — he'd definitely take the call if AC/DC guitarist Angus Young wanted him back. Performing with current AC/DC singer Axl Rose, on the other hand? Not such an appealing prospect.
"If Angus wanted me to play then that is up to him," said Rudd. "But I don't really want to play with Axl Rose ... I don't really rate him."
The question is largely moot since Young hasn't given any indication that he'd be interested in getting Rudd back in the lineup after the litany of legal troubles that led to the drummer's ouster — not to mention his recent heart attack. But Rudd insists he's perfectly happy to carry on as a solo artist, with plans to reissue his Head Job solo LP and embark on a series of tour dates with a group he says is just as good as AC/DC — if not better.
"Geoffrey [Spencer] is a great guitarist," Rudd added, comparing him favorably to AC/DC co-founder Malcolm Young. "[He's] just as good as Malcolm — better than, if you ask me."
And as for that heart attack? Rudd says he's "all good," ready to put the past behind him, and eager to get back onstage.
"I made mistakes, but I am really good now. Life is good. I'm positive and healthy," he told the paper. "I really appreciate the support of the fans around the world, which kept me going through, you know, some of the dark times, and I cannot wait to play the music for them. It is going to rock."
AC/DC Albums Ranked Worst to Best
More From Ultimate Classic Rock