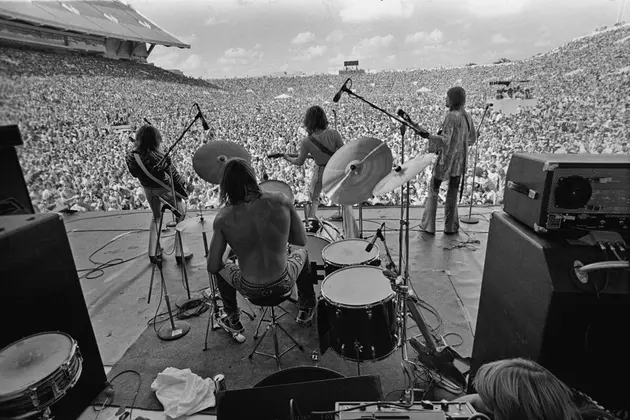 Bad Company's Paul Rodgers Talks About the Band's Journey, New Music and More: Exclusive Interview
Rhino Records
Bad Company just released Live in Concert 1977 & 1979, their first-ever official live album featuring the original lineup. Ultimate Classic Rock presents an exclusive listen to "Burnin' Sky" from the album, which you can hear below.
During a recent interview with Ultimate Classic Rock, Bad Company singer Paul Rodgers recalled that at the time that they went into the studio to record the Burnin' Sky album, the band was exhausted. They had been touring heavily, and when it was time to work on their fourth album, they had to dig deep in the moment to come up with material for the record.
"I was making up songs on the spot, particularly, I remember with "Burnin' Sky" being in the hotel the night before, because I would go into Paris for the weekend," he recalls. "I had the chorus and I thought, "Wow, do some rhythm chords, like some verse chords. I took that into the studio and I had no verses for it. I didn't know what the song was about, and I played the guys the song and  they picked up on it, like, "Great, I love the chorus!" I'm going, "Yeah, you might like the chorus, but I haven't got any verses yet." But I didn't say that, and they pushed the red button and I just went, "Waiting for the van to arrive." I just made this whole story up on the spot and we recorded it."
Live In Concert 1977 & 1979 includes two previously unreleased concerts, one recorded at the Summit in Houston in 1977 and a second show recorded at the Empire Pool in Wembley from 1979. For Rodgers, each night presents a snapshot of the group onstage that's interesting for him to hear 40 years later.
"I listened to it and I thought, 'Wow, we did 'Leaving You' and we did 'Man Needs A Woman' and we did all of these things and 'Hey Joe' -- that's me indulging my [Jimi] Hendrix fantasy there," he notes. "It was quite interesting to get a reference of where we were at in those days. Each night shows the difference between one set in the U.K. and another set in Texas on different years. There are vast differences in the actual music, but it's still the same band."
Listening to the live tracks, fans hear classics like "Bad Company" in a state where they were evolving from what had been recorded in the studio as the group experimented with the arrangements, and, in some cases, they incorporated the audience into the experience.
"'Shooting Star' started out as the arrangement on the record and it's developed into a real audience-participation song, just from playing it," Rodgers says. "I picked up on the fact that they love to sing it, so we delve into that and we explore it and we see where it will take us. We come from a generation where the music was very innovative, a lot of it coming out of blues and influenced by blues, the idea was that you would jam on things and you'd try things out. You took a journey and you took a left turn and you experimented live right there in the moment. You know, you're walking a tightrope and it makes it very challenging and interesting."
Bad Company will be back out on the road this summer, touring with old friend Joe Walsh, and as Rodgers notes, it's a relationship that goes back quite a long way. "We played with him when he had his solo band years ago," he says. "He's so funny. I met him when Bad Company were hugely successful. We were at a party in Malibu. They had all of these houses on the beach. I sat with Joe and he said to me, 'I'm thinking of retiring, man. I'm gonna go to the countryside and just get away from the music business.' And I said, 'Yeah, I understand that.' You know, sometimes, it gets a bit much. He goes, 'But there's this band called the Eagles, and they've asked me to jam with them and stuff.' He said, 'What do you think?' And I said, 'Yeah, I've heard of them, yeah -- you know, if I were you, I'd go and jam with them and then go out in the country and take a break.' The next thing I know, he'd joined the band. So we go back a ways and it's going to be great to be out there together with him."
The upcoming tour will feature Black Crowes guitarist Rich Robinson standing in for founding guitarist Mick Ralphs. Rodgers and Robinson met relatively recently when both were in Seattle for a tribute to Jimmy Page. Robinson played in Rodgers' band, and the veteran vocalist enjoyed the collaboration and expressed that they should look at doing something together at some point, not knowing that the moment of opportunity would expose itself sooner rather than later.
"Mick decided that he just couldn't make the tour," Rodgers explains. "He took one look at the schedule and said, 'Oh man, I can't do it.' It is very grueling being on the road. You love the stage part of it, that's why you do, but the rest of it can be a bit grueling sometimes. So he wasn't coming and I thought of Rich and gave him a call. It will be a shot in the arm."
When we spoke with Rodgers last year about the possibility of new music from the band, he indicated that it would be a complicated proposition. Rodgers said that "the immediate problem with that is that we don't have [bassist] Boz [Burrell]," who died in 2006. "Boz was a good part of what we did. It's hard to realize it, [but] you take one member out and, yeah, you can limp along and you can do something similar, but I don't know. That would be one aspect, [we would need] the right bass player. And the right material, and the will to do it. We'd have to see if that was there. I'm not sure. But I keep an open mind.
During our latest conversation, he seemed to now be a bit more open to the prospects of working on new music, even if he still is hesitant to fully commit to the idea. "I didn't have any plans for recording with Bad Company, but the re-releases have made me think again a little bit because it is such a creative outfit," he says. "I'm writing songs, and I'm sure Mick has some songs, when he decides to come and play with us. Who knows, I think would be the answer to that. And maybe."
See the Top 100 Rock Albums of the '70s
More From Ultimate Classic Rock